You Can Now Buy A $700 Dress That Looks Like A Dry Cleaning Bag Because Why The Hell Not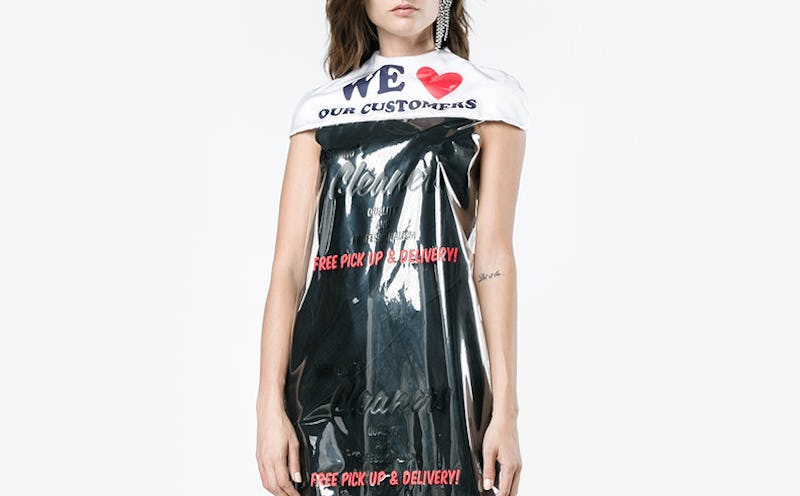 Browns
Here's some more proof rich people just don't know what to do with their money: You can now buy a couture dry cleaning bag. But the Moschino item isn't something you bundle your clothes into to protect them from the rough leather of your chauffeured Lincoln. Rather, it's something you, er, wear. Like on top of your dress. On purpose.
At first, the fashion world thought Moschino was merely showing the item on the Milan Fashion Week runway as a gag that poked fun at the lavish ridiculousness of the fashion industry. For the show, the brand sent their models down the runway wearing literal trash. Tissue boxes were smashed down on heads as hats. Toilet paper rolls were threaded through gold chains and worn like cross-body bags. Bubble wrap, cardboard boxes, and dry cleaning bags were fashioned into suits and dresses.
Those in the audience — and in the fashion industry — didn't know what to make of it. They cautiously wondered if there was a big gotcha at the end of the show. Was designer Jeremy Scott messing with us? Was he paying tribute to the concept of upcycling? Or did he pull one too many all-nighters and finally snap?
Or, wait, maybe he's genius? This is genius? Is this genius?
We still don't know the inspiration, but what we do know is that this sh*t is on sale now. Really. It's a literal trash collection you can shop.
Here we are as a society. We are now at that point where we have actual people spending thousands of dollars on literal rubbish that could be found on the floors of Bloomingdale's and Saks Fifth.
For instance, the dry cleaner bag — or, as Moschino calls it, the "cape sheer overlay dress" — is a whopping $700.
The description for the piece under online retailer Browns' listing will make you want to run your tongue over your seething teeth. The retailer wrote (while presumably bringing their monocle up to their eye,) "This clear Moschino dry cleaning cape overlay dress is the only kind of laundry you'd be willing to do (for your trusty au pair takes care of that kind of stuff)."
I swear to God, Browns.
Moschino Cape Sheer Overlay Dress, $734, Browns
While slightly ridiculous, it is pretty cool to see a designer be so brazenly weird and creative with their line, taking bold risks and having fun with fashion.
For those who decide to show up to a frenemie's fundraiser in a dry cleaner bag dress and a toilet paper roll handbag, the more power to you. And I kind of look up to you.
Moschino Cape Sheer Overlay Dress, $734, Browns
While the dry cleaning dress is so out there, the weirdness doesn't stop there. On the runway, a model walked down the catwalk wearing a gym sock for an evening bag — and honestly, that might even be more amazing than the "sheer shift." There's nothing more I would love to see than a woman named Genevieve dolled up in Cartier accessorizing with what looks like leftover laundry from a boys' locker room. It would make all her friends worry about her, which is exactly the response dear Genevieve is after.
Whether you think Moschino's new collection is brilliant or insulting, it will be interesting to see how these upcycled luxe pieces will sell. Maybe if we are lucky we'll see socialites in New York City and L.A. running around with bicycle wheels on their heads. One can only hope.