A New Poll Says Most Americans Think Trump Has Emboldened Racists To Be More Outspoken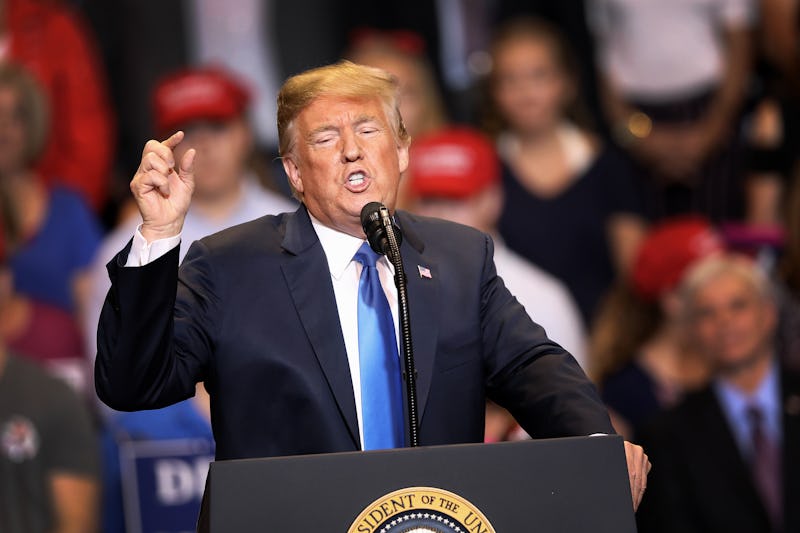 Rick Loomis/Getty Images News/Getty Images
The label "racist" has dogged Donald Trump long before he even became the president of the United States. Now, according to a Tuesday poll, majority of Americans believe Trump emboldened racists to express their bigoted views without hesitation. The poll conducted by Quinnipiac University asked their participants, "Do you think President Trump has emboldened people who hold racist beliefs to express those beliefs publicly or don't you think so?"
At 55 percent, participants answered "yes" to the question, and 39 percent answered "no." Only 6 percent answered "don't know." Of the 55 percent majority that said yes, 88 percent were Democrats, 22 percent were Republicans, and 57 percent were Independents.
When it came to the participants' gender makeup, 51 percent men said yes to the question, which was less than the 59 percent women who agreed that Trump had emboldened racists to publicly espouse their views.
Similarly, various age groups answered the question differently. Among on the younger people between 18 to 34, 61 percent answered yes. Among those between the age of 35 and 49, 59 percent agreed with the notion. Only 52 percent of those between the age of 50 to 64 answered yes while 53 percent of those above 65 years old said the same.
Racially, groups differed with their responses, too. 51 percent of white participants said yes to the question; meanwhile, 77 percent of black Americans and 67 percent of Hispanic people said the same.
The Tuesday poll doesn't spell anything new for many people. In February, the Associated Press and NORC Center for Public Affairs conducted a poll asking the same question in early 2018. Of the polled participants, 57 percent of American said that Trump was racist and his policies for Muslims had been damaging. This was referring to the 2017 travel ban Trump initially ordered for seven Muslim majority countries of Iraq, Syria, Iran, Libya, Somalia, Sudan, and Yemen.
Although it has been a year since the travel ban order and it has since expanded to include countries like North Korea, Chad, and Venezuela, it seemed as if the occurrence was crystal clear and still present in the participants' minds.
It looks like Trump's views haven't helped his public ratings either. In 2016, the then-Republican presidential nominee told Fox News' Brian Kilmeade that his call for a "complete and total shutdown of Muslims entering the United States" was "just a suggestion." At the time, he said, "We have a serious problem, and it's a temporary ban — it hasn't been called for yet, nobody's done it, this is just a suggestion until we find out what's going on."
According to the Quinnipiac University authors, the poll surveyed views from 1,020 Americans across the country and carries a margin of error of 3.7 percentage. Ultimately, when it came to how he was conducting presidential affairs, only 30 percent of the polled Americans said that they "approved strongly" of Trump's performance. Among them, 70 percent of Republicans approved strongly while only 2 percent of Democrats agreed.
If studies like this one can tell you how a nationwide demographic feels, the Quinnipiac University poll doesn't paint a pleasant picture.