Photos Of A "Most Stuf" Oreo Have Leaked & It's A Filling Lover's Dream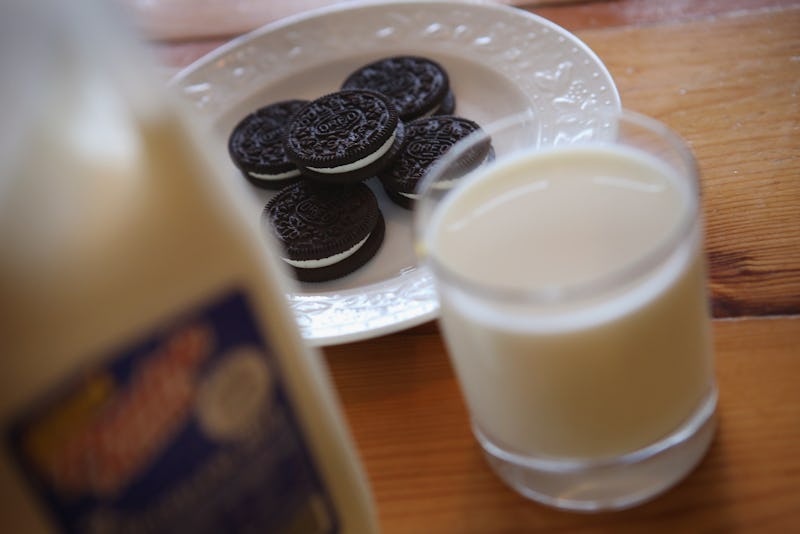 Scott Olson/Getty Images News/Getty Images
We can all agree that Oreos are the most iconic cookie in the nation — there's nothing quite like dunking a few Oreos into a glass of milk, eating rows and rows of them, and savoring the creme filling. Over the years, we've seen several renditions of the famous cookie: orange Halloween Oreos, Strawberry Shortcake Oreos, and, of course, the mega-big Double Stuf Oreos. If you're a fan of the extra-creme filled Double Stuf cookies, hold onto your seats and prepare for the best news of all time: there are rumors that Most Stuf Oreos may become a thing.
Bustle has reached out to a representative of Nabisco, and while they indicate that there is nothing to confirm at this time, the dessert world has still been buzzing online. The rumored upcoming Most Stuf Oreos will maintain the delicious original flavor — the only difference will be (amazing) extra layers of the beloved creme filling in the middle of the chocolate cookies. Food blogger TheJunkFoodAisle took to Instagram to let followers know that the super-sized Oreos will be hitting shelves soon (time to start keeping an eye out at the local grocery store). There aren't too many more details on the release of Most Stuf Oreos, but honestly, the mystery just makes the cookies look all the more enticing. Double Stuf Oreos, it's time to move aside — Most Stuf Oreos are here to save the day and make all of our dreams come true.
Back in 2013, a high school math class made the news when they discovered something strange about Double Stuf Oreos (I obviously went to the wrong high school, because we never studied cookies during algebra). During their project, which involved weighing the components of a ton of Oreos, they concluded that Double Stuf Oreos only had 1.86 times more "Stuf" than the original cookies. Oreo actually refuted the claim, stating that the Double Stuf Oreos did, in fact, have two times the amount of filling — all we can hope is that the Most Stuf Oreos will have a tower of creme in the cookies (all measurements aside).
While we (impatiently, of course) wait for more information to be released about Most Stuf Oreos, there's no harm in trying out a few more lesser-known Oreo variations. TheJunkFoodAisle is pretty much the go-to resource when on the hunt for rare, specialized Oreos — there's way, way more of them right under our noses than you'd think. Back in June, the food blog posted about the all-new Oreo Milka Double Chocolate Candy Bar, a scrumptious-looking treat that you can pick up from Amazon. Why weren't Oreo candy bars a thing sooner? Other beautifully unique Oreo treats include Chocolate Peanut Butter Pie Oreo cookies, an International Delight Oreo Iced Coffee Drink (dreams to come true), and even pistachio-flavored Oreo thins. I feel like that's something everyone simply must try at least once.
Oreo is no stranger to switching things up and creating delightful twists to their original cookie, and the rumored Most Stuf Oreo cookie is no exception. Keep a sharp eye out for the mysterious super-creme-filled cookie on shelves next time you go shopping — let's keep our fingers crossed that we don't have to wait too much longer to get our hands on them.