Jane Austen Fans Should Catch Up With This Korean Drama On Netflix While They Can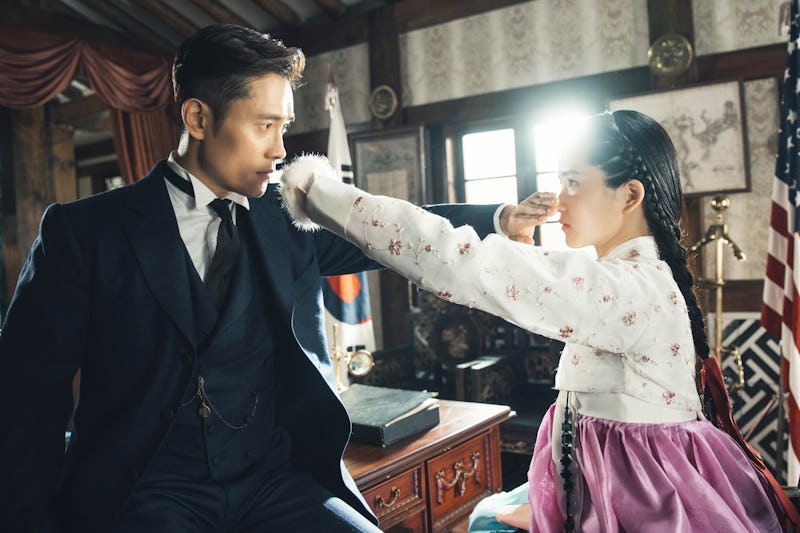 Jisun Park/Netflix
Period dramas and romance go together like Queen Bey and Jay-Z. Who can resist fantastic costumes, a historical setting, and a sweet flirtation between an unlikely pair? No one, obviously. So, it's no surprise that Netflix was able to roll out Mr. Sunshine, a series about Eugene Cho (Lee Byung-hun), a Korean-born United States Marine Corps soldier who returns to his native land in the late 19th century and falls in love with a beautiful woman named Go Ae-shin (Kim Tae-ri). The final episodes of Season 1 will drop on Sept. 29 and 30, but Mr. Sunshine will not return for Season 2 because the entire series was only ever supposed to be this long, according to Deadline.
The report confirms that Netflix acquired the rights to start streaming the Korean drama worldwide from production company Hwa&Dam Pictures and Studio Dragon. Netflix has been positioning itself to dominate the global streaming scene through beefing up their international show offerings recently with foreign-language series like The Rain, Dark, Undercover Law, and Deadwind. Mr. Sunshine was created by Kim Eun-sook and directed by Lee Eung-bok, who are both known for their international hit Descendants of the Sun and is currently airing in South Korea.
Mr. Sunshine debuts two episodes a week, so Netflix is deviating from its usual "binge" style format to make sure the releases run in tandem with the regular broadcast. This allows fans around the world to get new material at the same time and avoid those pesky spoilers.
And, it's a perfect time-frame for a summer mini-series because it will wrap up the story near the beginning of the fall TV rush on cable network as well as streaming services. So, if you want something to fill in that mini-gap in your TV schedule and make you get in your deepest feelings, then you should totally be watching this show.
Mr. Sunshine actually didn't drop new episodes on the week of Sept. 16 because of the Chuseok (Harvest Mood Festival) holiday, per Rove.me. That means fans of the love laden series are beyond read for these remaining episodes following the holiday break. A glance at the show's Twitter hashtag reveals fans' bittersweet emotions about the drama thus far and the inevitable end of this saga. There was a massive explosion and cliffhanger at the end of Episode 22, so there could possibly be some major deaths to reconcile. Viewers tweeted about their their hopes, dreams, fears, and theories for how it will all end in the series finale.
Mr. Sunshine may be ending soon, but it's visually stunning and melodramatic episodes are immortalized (sort of) on Netflix for future trips down memory lane. And, at least the show is able to have a definitive ending instead of leaving fans high and dry after a sudden cancellation. That's the beauty of a mini-series. Hopefully, this love story will deliver a finale that conjures up more heart-eyed emojis than crying faces.