A Major Bank Has Handed Mueller The Financial Records Of Trump & His Family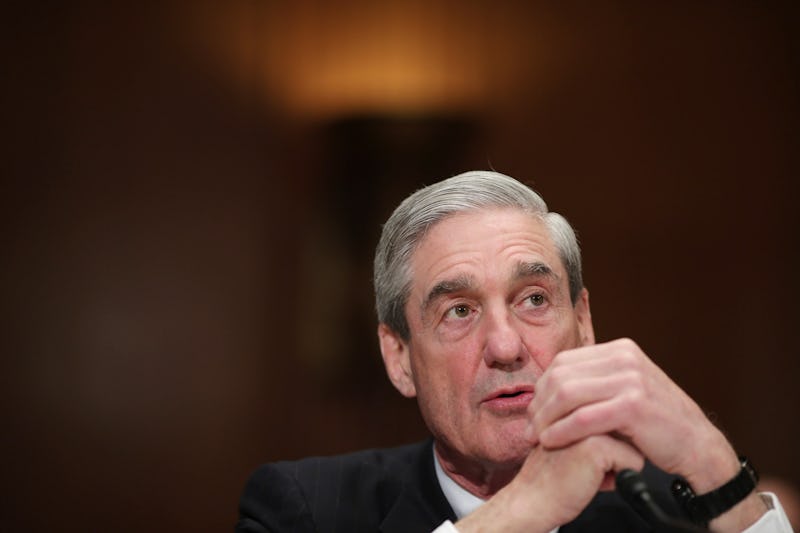 Chip Somodevilla/Getty Images News/Getty Images
Amid special counsel Robert Mueller's investigation into Russian interference in the 2016 election, he has subpoenaed Trump's financial records. News broke Tuesday morning that Deutsche Bank has given Mueller's investigation Trump's personal bank account information. It's unknown if the subpoena is related to Mueller's investigation into Russian meddling in the 2016 election or some part of a separate investigation.
Update: Trump's lawyer, Jay Sekulow, told Reuters Deutsche Bank did not receive any subpoena for bank records relating to the president. The Wall Street Journal reported that Mueller had subpoenaed the bank for "documents and data about accounts and other dealings tied to relationships with Mr. Trump and people close to him."
A person "briefed on the matter" who asked to remain anonymous told Bloomberg that Deutsche Bank had turned over Trump's personal bank accounts to Mueller's investigation. The bank itself has not yet made any formal announcement, but did issue a statement to Bloomberg:
Deutsche Bank always cooperates with investigating authorities in all countries.
The White House has not yet responded to requests for comment from Bloomberg.
The Deutsche Bank holds roughly half of Trump's debt, about $300 million. Some Democrats, including California Rep. Maxine Waters, have raised questions about whether some of Trump's financial ties with Deutsche Bank are connected to Russian business dealings.
In a May letter to the bank, Waters and other Democrats requested information on an internal review into Trump's finances conducted by Deutsche Bank.
Congress remains in the dark on whether loans Deutsche Bank made to President Trump were guaranteed by the Russian Government, or were in any way connected to Russia.
On matters of financial disclosure, Trump has been loathe to share many details. He has famously refused to release his tax returns, a practice common amongst serious presidential contenders since Jimmy Carter. News that Mueller now holds his personal banking data from Deutsche Bank is not likely to sit well with the president.
Trump himself indicated as much in July. In a summer interview with the New York Times, Trump was asked whether or not Mueller looking into his or his family's personal finances, unrelated to Russia's election interference, would constitute a "red line." Trump responded, "I would say yeah. I would say yes." Later, in a follow-up response reiterating the question, Trump said, "I think that's a violation."
Trump's relationship with the FBI and other top intelligence gathering agencies is already strained. The president has on several occasions throughout his candidacy and early tenure in the Oval Office attacked both individual members of D.C.'s intelligence community and the entire agencies themselves. In the early morning of Dec. 3, Trump issued a tweet describing the FBI as "in tatters," and blasting former FBI director James Comey specifically.
In the same July interview with the Times, Trump denies having any business dealings with Russia. It's a claim he's made publicly on numerous occasions. Yet subsequent reports have revealed the Trump Organization sold several properties to Russians and Russian investors. To take one example, in 2008, Trump sold a $95 million waterfront property in Sunny Isles, Florida, to Russian oligarch Dmitry Rybolovlev. Another Trump family moment with Russia came in the summer of 2008, when Donald Trump Jr. gave a keynote speech at the Russian Real Estate Summit in Moscow. "Russians make up a pretty disproportionate cross-section of a lot of our assets," Trump Jr. said.
It is not yet known if Mueller has subpoenaed Trump's Deutsche Bank records as part of his investigation into Russian election meddling, or as part of some off-shoot probe that has come about as a result of the original investigation.
But given the concerns voiced by Rep. Waters and several of her congressional Democratic colleagues, it seems at least plausible that the possible Russian backing of Trump's personal loans would fall within Mueller's original investigation. As in the cases of other pressing questions concerning the special counsel's investigation, the public will simply have to wait for more information.