I Dressed Like Cheryl Blossom From 'Riverdale' & It Changed My Style Forever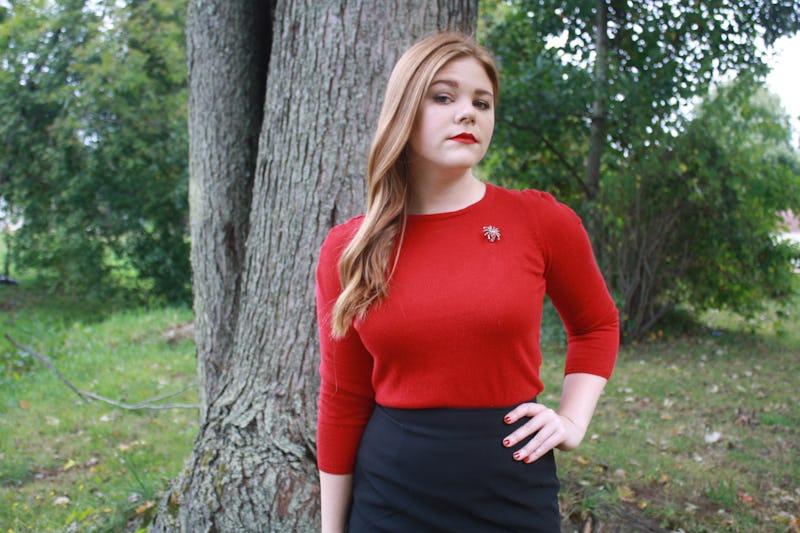 Kali Borovic
I never liked my red hair growing up. It was different which, throughout most of my schooling, meant "wrong." I was never seriously bullied for my fiery hair, but my peers made it clear that I was different than everyone else. Television characters didn't help either. Sure, there were fictional characters like Miss Frizzle, Ariel from The Little Mermaid, and Kim Possible. But they were quirky cartoons, not real people with real red hair like me.
Then came Riverdale — a show filled with redheads that weren't the butt of every joke. And it was an awakening.
Before the Riverdale craze, I embraced my red hair by wearing neutral colors. When it came to the color red, I avoided it at all costs. I was following an unspoken fashion "rule" that told me that red fashions would clash with my hair color. That is, until I started watching Riverdale. In a town filled with redheads, Cheryl Blossom and her entire family embraced the color red and they did it with so much style.
From the character's bright red lipstick to her oversized red capes, I was obsessed. The more I watched, the more inspired I was to try the color out for myself. When I decided to dress like Riverdale's Cheryl Blossom for Halloween, it completely changed the way I saw style and myself in the clothing.
I decided to go "full dark, no stars" and commit 100 percent to the look. If Cheryl can throw on a form-fitting skirt and a cherry red lip then I could, too.
In Riverdale, Cheryl's persona starts as what people think of when they envision the typical mean-girl, a girl who is dress perfectly and comes from an uppity family. But the more you get to know her character, the more you realize that she's a complex person who is just struggling through the hurt she's feeling about losing her brother.
As she goes through the season, more layers of her are exposed, but her impeccable style stays the same.
"[Cheryl] stands out," Rebekka Sorensen-Kjelstrup, costume director of Riverdale, said in a Fashionista interview. "It always feels like she's going to an event, even though it might not be an event."
Cheryl's signature look of thigh-high boots, bright red sweaters, and skirts is very different than my every day look. I tend to go towards oversized sweaters, Earth-tones, and high-waisted jeans. We both have a love for a really great brooch though, so there was that.
I knew that there was a good possibility that I would never wear these clothes again give our style differences, so I did what I do best and went to the thrift shop. I found the perfect cherry red sweater with the tags still on and a little black skirt that was the perfect mix between my minimalist style and Cheryl's flair.
I have to admit that there was something oddly liberating about slipping on a red sweater for the first time in my adult life. By the time I had the skirt, tights, and boots on, I was completely transformed on the outside and feeling pretty darn positive on the inside, too.
The combination of red lips, red shirt, and red hair was a whole lot to take in, but it was monochromatic in the most powerful way. It turned out that the color I steered the furthest away from turned out to be the one that made me feel the most comfortable.
I felt so good about this newfound style stage in my life that I slipped the skirt off, replaced it with a pair of high-waisted jeans — also a Cheryl fave — and was on my way out the door for the day.
If you were to tell me a week ago that I'd be wearing red in public, I would have laughed in your face. Now, I've got a whole section of the color in my closet.
People could notice that I was feeling great, too. I met my family for lunch the same day and they kept commenting on how happy I looked. It wasn't just the color of the clothing anymore, it was how I felt in it. This, my friends, is the definition of retail therapy.
While there's a good chance that I won't be rocking red nails, clothes, and lips all in the same day, giving the color a chance was definitely the style boost I needed to make my wardrobe feel fresh again. Next time you're looking to spice things up, try looking at your favorite characters for inspiration. Maybe they'll even encourage you to break a few worthless rules in the process.