My Dad Died By Suicide. This Is What I Wish People Wouldn't Say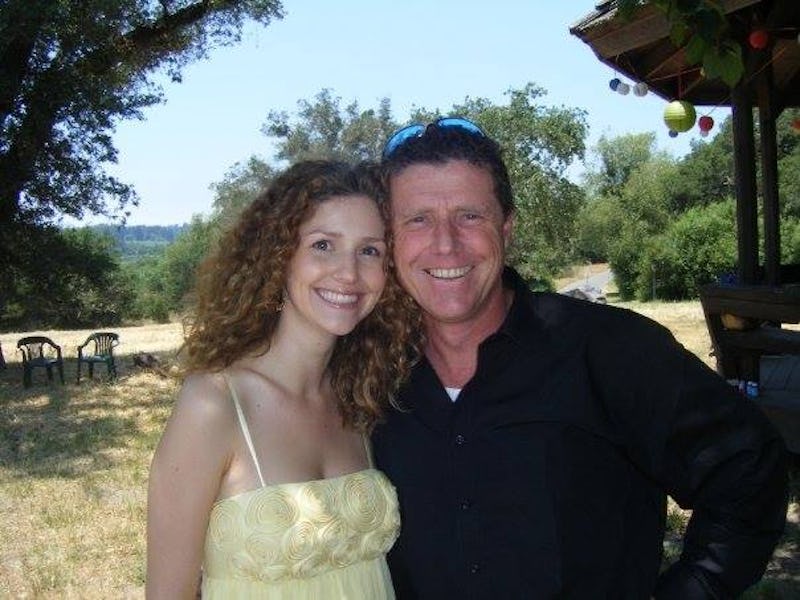 Courtesy of Sacha Sterling
In my earliest memories of my dad, I'm three or four years old. I remember him agreeing to drive a complete stranger to their destination. He was so full of love and kindness, but he couldn't find a way to extend that same love to himself. He was a brilliant man. He was an actor, a writer, a comedian — but he struggled with depression his entire life. He did his best to compartmentalize it. In the end, he was living alone, and I think it was just really hard to be alone with himself.
Warning: This article contains information about suicide, which some may find triggering.
He died by suicide on Valentine's Day this year. He was 56. It was also Ash Wednesday, which felt symbolic. The 40 days between the start of Lent and Easter are usually a positive thing for me — my mom went into labor with me at church on Easter in 1985. But this year, I spent those days learning how to mourn. My mentor told me, "You just haven't learned to do grief." Since then, I feel like I've had a big wakeup call and realized how much pain is happening. Now I'm wondering, how can we show up for each other?
But my grief after his death was complicated. People say suicide creates a different type of grief, and it isn't just an emotion. It's a process.
He always tried to keep the extent of his depression from me. I knew he had been hospitalized because of a suicide attempt in 2016, but it was still really, really upsetting when I found out the news.
I felt a lot of anger and disillusionment. I wondered how he could leave me. I have a seven- and nine-year-old, and he won't see them grow up. He won't ever get to meet his great-grandchildren. But it's been an absolute honor and privilege to be his daughter in life and in death.
What really made a difference was people just saying, "I love you. I'm so sorry. If there's any way I can support you just let me know." But some people tried to normalize it too fast. It was like they didn't know how to meet me in my pain. Some people sent flowers, and that was nice, but what really made a difference was people who would reach out periodically and say, "Hey, I'm thinking of you." When I first found out, no one really reached out to me for five days. Someone sent me a GIF on Facebook messenger of someone putting an arm around a crying girl — that was how they sent condolences. It was very disheartening.
Some people tried to normalize it too fast. It was like they didn't know how to meet me in my pain.
The day I found out, a friend said, "I'm surprised you're taking this so hard." But nothing that anyone says or does felt good for a while. People were making hurtful comments and avoiding me because they didn't know what to say. I felt lonely.
Now, I feel a big wake-up call in a good way. There are people in need right on my block, and I want us to feel a sense of community again. I really want to see a return of connection and community. I've had to ask myself, How am I contributing to the lack of connection? I didn't even know the names of all the students and parents in my kids' classes. I'm starting to ask how we can show up for the people who need help. It's a big job, but I know that we can do it.
If you or someone you know are experiencing suicidal thoughts, call 911, or call the National Suicide Prevention Hotline at 1-800-273-8255. You can find more resources about suicide prevention at the National Suicide Prevention Lifeline or the American Foundation for Suicide Prevention.
As told to Ayana Lage.
Bustle's 'Family Thread' series looks at the many ways our family relationships and our mental health are connected — and how that shapes us.