My Dog Tried OUAI's Pet Shampoo & OMG, He Smells So Rich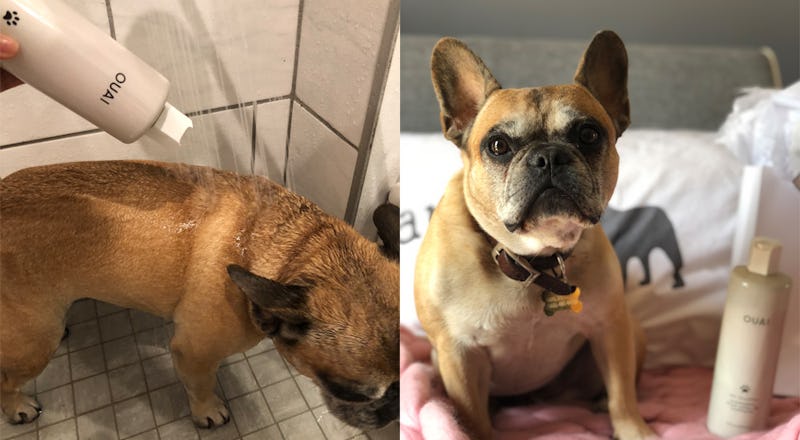 Sara Tan
There is absolutely no question about it — I am a crazy pet owner. I know it, my friends know it, even my dog (named Oliver James) knows it. I'm one of those people — the kind that schedules her day around her dog's meals and walks, who has a catalog of songs at the ready to sing for each of his moods, and whose camera roll is 99 percent photos of her fur "son." This is all to say that Oliver James the French Bulldog is a very spoiled pup. So when Jen Atkin and company released a OUAI Pet Shampoo, I knew Oliver had to try it out. What's better than designer dog shampoo? Nothing, that's what. And Oliver deserves the very best.
But there's a lot more to the shampoo than just its brand name. It's made with a lot of nourishing, good-for-your-hair ingredients, like apple cider vinegar (which has antibacterial properties), aloe leaf juice (to soothe itchy, dry skin), and tamarind seed extract (which acts like a hyaluronic acid to hydrate your pet's locks). All of this works together to create a gentle formula that cleanses your pet's coat while killing any odor and leaves the hair nice and shiny.
Perhaps the best part about the shampoo, however, is the scent. OUAI is famous for creating deliciously-scented hair products, but I have to say — of all of the products from OUAI's line, the pet shampoo fragrance is my favorite. I'm almost tempted to use it on my own hair (and heck, I probably should since I love a good a apple cider vinegar rinse). Most pet shampoos either smell like baby powder (which, yuck) or citrus, and Oliver and I are not fans of either.
OUAI describes the scent as being "sheer and airy, floral/musky." It has notes of Italian lemon, Turkish rose, Jasmine Sambac, iris, lily, and white musk. In other words, it's the best freaking dog shampoo I have ever smelled. But could it eat up all of the dirty dog smells that Oliver has collected from his walks and the dog park? We put it to the test.
Oliver isn't very fond of baths, so we try to keep them very quick, which can be difficult if we're using a shampoo that takes too long to foam and cleanse or has a scent that disappears almost immediately after touching his fur. We found that a little bit of the OUAI Pet Shampoo went a long way — it became sudsy quickly and was easy to spread across his body. And as I mentioned earlier, it smelled amazing.
After about five minutes of massaging the product into Oliver's fur, it seemed like he was pretty darn close to being as squeaky clean as he could possibly be. We rinsed him, towel-dried him, and gave him a quick little blow out with his favorite hair dryer (read: the hair dryer that terrifies him the least), the Dyson Supersonic.
We gave Oliver a bath in the evening, and while we did blow dry his fur as much as he let us (which is about a minute and a half), we felt it was best to determine how effective the shampoo was the next morning, after he air-dried overnight.
When I woke up, I found Oliver's head nudged against mine in bed. I leaned over to give him a whiff and was more than pleasantly surprised to find how good he smelled! His fur has literally never smelled better — it was as though Oliver had doused himself in a Le Labo perfume. I could not stop sniffing him! (He found this very strange.)
Oliver also looked extra handsome with his very shiny coat. As promised, the shampoo did not dry out his skin. Here's his before and after.
Sara Tan
Left: Before Oliver's bath; Right: After Oliver's bath using OUAI Pet Shampoo
Oliver will definitely be using OUAI's Pet Shampoo again. In fact, since it is limited edition, we might have to stock up on a box (or two) of them. While the shampoo does have a hefty price tag for a pet product, 15 percent of the proceeds will be donated to the Vanderpump Dog Foundation. Smelling good for a good cause? Oliver is in.