How My Over-Bleached Hair Became Healthy Again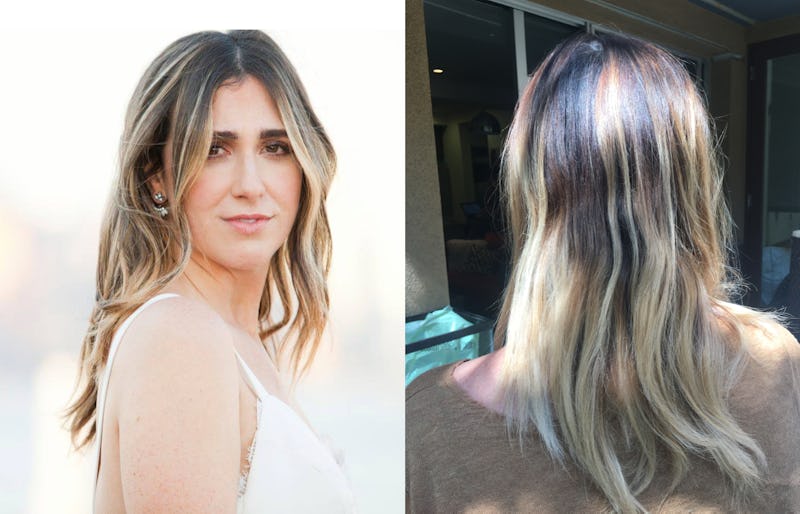 Recently, I took a few wrong turns with my color and ended up turning the bronde bayalage of my dreams into a brassy and brittle nightmare. After months of dealing with hair drama, I felt that I'd never get my over-bleached hair back to a healthy place until I found Benjamin Salon.
For years in NYC, I was working with an amazing colorist who helped me change my color while keeping my hair safe. But after moving to Los Angeles quite suddenly, I didn't know how to replace her. For the first time, I had no referrals, no leads, and no idea where to go to find someone to help me keep up with my color. So when a friend offered me a highly recommended solution she knew about within my budget, I jumped at the opportunity.
While trying to extend the life of my bayalage, there was a mishap or two which resulted in four very intense rounds of bleaching that ultimately damaged my hair beyond repair. Then, after months of dryness and breakage, an actual chunk of my hair was so fried that it had simply broken off. That was it, I was ready to see some professionals who could get my hair back to a healthy place.
I was lucky enough to work with stylist, Chase Nguyen and colorist, Courtney Anna Mason at Benjamin in the Arts District. Their helpful insight was enough for me to walk away with beautiful color and healthy locks. So what should you do if you find yourself in my shoes?
1. Seek Out The Help Of A Professional
It may seem simple to get back to your root color, but it's actually something that requires a lot of skill. If you're looking to make a successful change, it's best to find a colorist or stylist who can help get you where you want to go. Especially since, as Mason points out, many box dyes contain more ammonia and chemicals than what your salon is using.
"It's more of a complicated process than people think," says Mason about color correction. "It's better to leave it in the hands of a professional."
2. Do Your Research & Come Ready With Ideas
I walked in with a very specific idea of what I wanted, and I had the Pinterest board to prove it. I was looking for a dark all-over color with a long blunt lob and provided my stylist and colorist with several looks that I felt comfortable with.
So what should you do to prepare for your new look?
"Photos scream a thousand words," says Nguyen. "It helps figure out the elements of what you want to see in your new cut."
3. Be Realistic & Open-Minded About Changes
Be ready to collaborate with hair professionals, and trust that they know what they're talking about. Though I felt like I had made some strong choices, Mason and Nguyen were able to explain why I may want to refine those choices. Mason pointed out a dark all-over color would look less natural, and that we should add some highlights to my ends. While Nguyen noted that the damage was severe enough that I'd have to go a bit shorter than I was ready to. I felt comfortable enough to trust their advice and they knew what I wanted to see at the end of the day.
So in this collaboration, how do you know you've found your stylist soulmate?
"You should have a consultation first, and your stylist should be getting to know you," says Nguyen about how to know you're working with the right person. "It's all about you, your routine, and what your goals are — it isn't about what they want to try out."
4. Make Healthy Changes To Your Hair Routine
A few simple changes and additions can mean the world here. Mason recommends washing your hair less than you may be used to — twice a week is ideal, but every other day at the minimum, so no more nightly washes! She also recommends a Minu hair mask, as well as Minu shampoo and conditioner.
Minu Hair Mask, $13, Amazon; Minu Shampoo, $26, Amazon; Minu conditioner, $13, Amazon
Nguyen recommends using a scalp brush to remove build up and to detangle, Phyto's keratin leave-in treatment for heat styling, a texture styling cream, and a Fluoro5 serum to make your hair look and feel its absolute best.
Scalpmaster Brush, $3, Amazon; Phytokeratine Spray, $32, Amazon; Texture Styling Creme, $16, Amazon; Fluoro5 Elixir Restore & Repair Oil, $14, Amazon
At the end of the day, I left the salon with a natural, warm brunette color and the blunt lob of my dreams, but best of all I left all of my damaged hair on the salon floor and could finally see a future of healthy, long locks down the road. Lesson learned.
A stylist with experience and advice is always worth the splurge — especially when it comes to your hair's health. If you're working with a budget like me, do your research, save up a bit, and then treat yo' self — you deserve it.