My Iranian Family Was Helpless While My Uncle Died. Thanks To Trump, It Could Happen Again.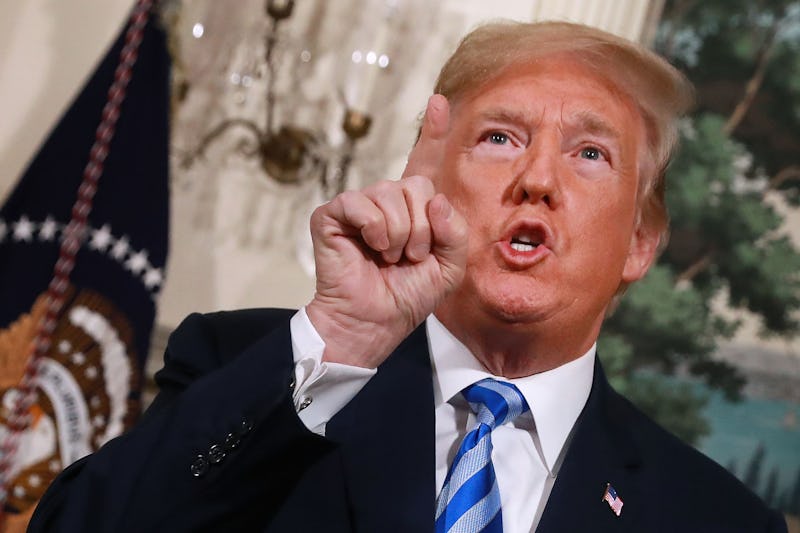 Chip Somodevilla/Getty Images News/Getty Images
The minute I found out that Trump had scrapped the Iran deal, I thought of my uncle. Like most of my mom's family, my uncle lived in Iran. He was happy, sociable, a humanitarian. He was a loving husband and father to three children. As an owner of a fish farm in northern Iran, he was a businessman who shared his wealth with people in the community. In 2012, sanctions were imposed on the Central Bank of Iran — and then things took a turn for the worse.
My uncle was utilizing bank loans, so he had two options: Pay everything off within a year, or have everything he owned repossessed. The stress began to consume his life. He developed ulcers, and was eventually diagnosed with stage 4 stomach cancer. The doctors tried to operate but discovered that the cancer has spread to other organs. There was nothing they could do, they said.
Now, another family would not be as helpless as mine had been, I thought.
We wanted to pursue chemotherapy, but Iran had been left incapacitated by the sanctions. The pharmaceutical supplies we wanted him to have, like medicine and proper equipment, just weren't available. In May 2013, my uncle died in his sleep.
When the Iran deal was signed in late 2013, I was relieved. Now, another family would not be as helpless as mine had been, I thought. Like many Iranian-Americans, I felt hope — hope for a peaceful future between the country we call home and our ancestral homeland.
Will I ever be able to visit the places I grew up hearing about?
Now that Trump has pulled the United States out of the deal, I am terrified for my family. If anyone gets sick, will they have access to the medicine they need? Will Trump further escalate tensions between our two countries and launch us into war? I've never visited Iran. What will happen to my family's homeland? Will I ever be able to visit the places I grew up hearing about? Or will those landmarks be destroyed with bombs? With the travel ban in place, my family can't even come to the United States to seek refuge with us.
According to Trump, his decision was made in an attempt to help the Iranian people. I don't buy it. One of his first moves in office was the infamous travel ban, which banned Iranians from even entering the States. This ban is still in place and continues to tear families apart. How does banning Iranians, and then reimposing sanctions in Iran, help the Iranian people? How on earth does Trump surrounding himself with Iran war hawks like John Bolton and Mike Pompeo show goodwill? And what can I do now?
We need our community and our allies to organize and mobile. Congress can still pass legislation to stop Trump from doing any more damage to the deal, and can make clear to Trump that he does not have the authority to start a war.
There is plenty to do. We can sign petitions, call our representatives, set up constituent meetings, show up to town halls. And if, after all of that, if our members of Congress refuse to listen, we need to go to the polls this November and vote for candidates that will.
This op-ed solely reflects the views of the author, and is part of a larger, feminist discourse.