Nabra Hassanen's Father Believes She Was Killed Because Of Her Faith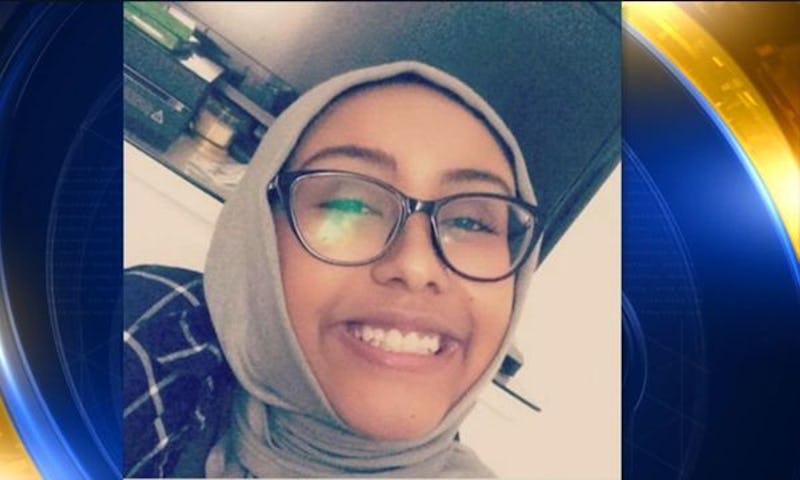 Fox 5 DC
In an interview with the Guardian, the father of Nabra Hassanen said he's absolutely certain his daughter was killed because of her Muslim faith. Mohmoud Hassanen added that when he confronts his daughter's killer in court, he will "forgive him and leave him to God's face."
Nabra was abducted in Virginia while returning home from her mosque Sunday, and police later found a body that they believe to be hers. A 22-year-old man has been charged with her murder.
"He followed the girls, and all of them had head cloths, meaning they are Muslim, and he had a baseball stick," Mohmoud said of his daughter's killer. "He was running behind these kids. I told the detective, 'I want to ask him one question: Why did he do that? Because he doesn't like Muslims, or what?' He tells me he has no answer for that. This answer is going to be in the court."
Darwin Martinez Torres has been charged with Nabra's murder. When asked if he believed that his daughter was targeted because she was Muslim, Mohmoud was unequivocal. "I believe so, 100%... In the McDonald's there's a lot of kids, a lot of people; why did he run behind this girl especially? For what?"
In a statement, the Council on American-Islamic Relations said that anti-Muslim hate crimes increased 44 percent from 2015 to 2016. However, the police are not currently investigating Nabra's killing as a hate crime, with a police spokeswoman telling the Guardian that "there's nothing so far that points to hate or bias incident."
According to the Washington Post, police told Nabra's mother, Sawsan Gazzar, that Nabra was assaulted with a metal bat before being killed. On Sunday afternoon, police discovered remains in a nearby pond that they believe to be Nabra's, although the medical examiner's office hasn't yet confirmed this.
"When I go to court I'm going to look him in the eye," Mohmoud told the Guardian. "'Why did you do this to my daughter?' Then I'm going to forgive him and leave him to God's face. The lord is going to judge him."
The day after Nabra's killing, a van plowed into a group of people outside a mosque in London, killing at least one and leaving 10 more injured. The assailant was quickly subdued after the incident, but a local imam told the Guardian that he and other worshippers prevented a group of people from attacking the driver until the police arrived.
As of this writing, a GoFundMe page to cover the costs of Nabra's funeral has raised over $65,165.