Caffeine-Infused Nail Polish Now Exists For You Coffee Lovers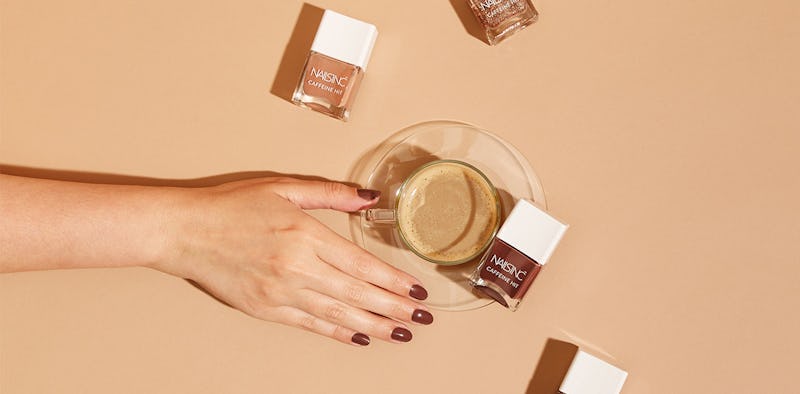 Courtesy of Nails Inc
If you thought your caffeine addiction was bad before, just wait until you get your hands on Nail Inc's caffeine-infused nail polish. Nail Inc's new collection features four trendy shades of nail polish and a hand and foot scrub, which all utilize caffeine's many benefits to give you a manicure worth bragging about.
Now, you won't get a caffeine high if you bite your painted nails, but as an active ingredient, the caffeine helps stimulate cell regeneration so your nails can grow long and strong. And aside from the health benefits of a caffeine-infused manicure, the Nail Inc Caffeine Hit Collection includes four coffee-inspired shades: a shimmery gold called Rise & Grind, a light brown aptly named Afternoon Mocha, a subtle nude named Chai Kiss, and a rich dark brown named after your favorite coffee cocktail — Espresso Martini.
Caffeine Hit Collection, $11 each, Sephora
Quite possibly one of the most crucial aspects of a manicure are the exfoliating and moisturizing steps before the polish goes on your nails, which is where Nail Inc's Caffeine Hit Hand And Foot Scrub comes in. The scrub uses coffee grains to gently exfoliate dead skin cells, making your mitts look radiant and smooth — the perfect canvas for a coffee-colored manicure.
Caffeine Hit Hand and Foot Scrub, $15, Sephora
Nail Inc's Caffeine Hit nail polish costs $11 and the Caffeine Hit Hand And Foot Scrub costs $15 and both are available at Sephora.com and Nailsinc.com.
These coffee-inspired shades are perfect for fall, not to mention they work with all skin tones, which is a feat on its own.
Caffeine Hit Collection, $11 each, Sephora
So if you're in love with all things coffee, you'll definitely want to check out these caffeine-infused nail polishes and the hand and foot scrub by Nail Inc. And while you're at it, you might like some of these other coffee-inspired products.
This Coffee Bean Eye Cream
Coffee Bean Caffeine Eye Cream, $26, Amazon
This caffeine rich eye cream de-puffs your tired eyes thanks to the green tea and coffee extract. It also helps lighten dark circles, which is always a plus.
This LUSH Face & Body Mask
Cup O' Coffee Face And Body Mask, $12, Lush
Not only does this face and body mask smell like a delicious cup of joe, but coffee grinds are one of the main ingredients, which help exfoliate your skin for a morning pick me up.
This Frank Body Coffee Body Scrub
Original Coffee Body Scrub, $20, Amazon
Smell like a delicious cappuccino after you exfoliate your skin in the shower with Frank Body's original coffee body scrub. It also comes in peppermint coffee (yum!), cacao coffee, and coconut coffee varieties, so you can customize your exfoliating experience.
This Coffee Lip Polish
Nyakio Kenyan Coffee Lip Polish, $24, Ulta
If you haven't caught on yet, coffee makes a great exfoliator, so it's only natural that it would make an amazing lip scrub. Just try not to lick your lips while you're applying as it's not actually edible, although it will definitely be tempting.
This Shea Moisture Coffee Cherry Shampoo
Shea Moisture Dragon's Blood & Coffee Cherry Volume Shampoo, $11, Ulta
Apparently coffee cherries are the outer skin of a coffee bean and they are filled with antioxidants and caffeine to volumize your limp tresses. It probably smells delicious too. Shea Moisture also makes a conditioner, body cream, and face cream using this super ingredient.
This Coffee Milk Sheet Mask
A'Pieu Coffee Milk Firming Sheet Mask, $2.50, Misshaus
With the increasing popularity of sheet masks, it only makes sense that there is a coffee version. This coffee milk sheet mask is made from two main ingredients: milk, which hydrates the skin, and coffee, which helps improve skin's radiance and smoothness.