Nancy Pelosi Just Hired The First Woman Chief Of Staff To A House Speaker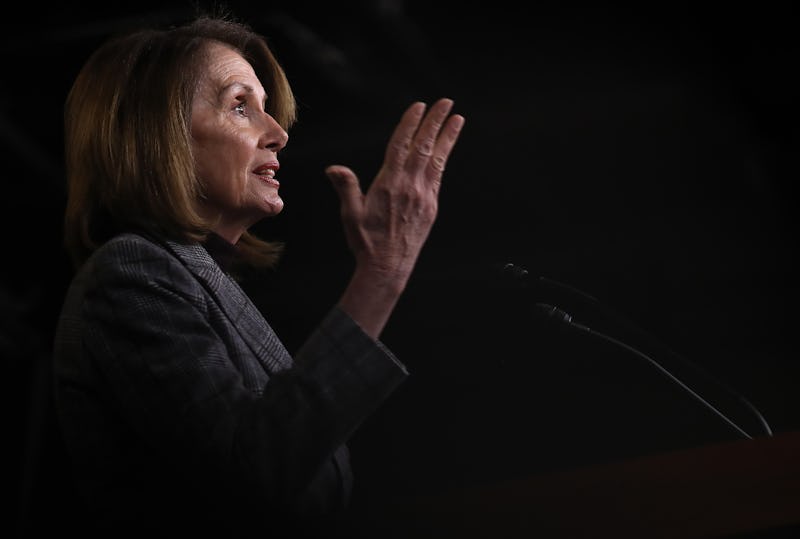 Win McNamee/Getty Images News/Getty Images
On Friday, House Speaker Nancy Pelosi announced that Danny Weiss — her outgoing chief of staff — would be replaced by Terri McCullough by the end of the month. When she assumes the position on March 25, Pelosi's new chief of staff will be the first woman to serve as a paid, full-time chief of staff to a modern Speaker of the House, according to a Friday statement from Pelosi's office.
"As we wish Danny well in his next chapter, I am proud to announce the appointment of Terri McCullough as my new Chief of Staff," Pelosi said. "Terri's far-ranging leadership and deep Congressional experience will be an invaluable resource for our Majority, and I am thrilled to welcome her back to my office in this new capacity."
The Speaker's statement indicated that McCullough has 25 years of experience in government and nonprofit organizations. Once an intern in Pelosi's San Francisco district office, McCullough served as chief of staff in Pelosi's personal office from 2003 to 2011, Politico reported. She most recently served as the CEO of a Clinton Foundation gender equality initiative called No Ceilings: The Full Participation Project, per Politico, and was previously the executive director of the Tory Burch Foundation for empowering women entrepreneurs.
In her statement, Pelosi described McCullough as an "exemplary manager, motivator and mentor," and lauded her for her work in advancing global gender equity.
"Her wisdom and strategic insight will strengthen our Democratic Majority and our institution, especially in this transformational Congress led by a historic number of women serving in the House of Representatives," Pelosi said.
Pelosi was referring to the fact that a record number of women were elected to Congress during the 2018 midterm elections, enabling Democrats to take back the majority in the House of Representatives. In addition to working for Pelosi, Politico reported that McCullough has also worked at NARAL Pro-Choice America and PENCIL, a program that brings together public school students, educators, and business professionals.
McCullough is the first woman in modern times to serve as the Speaker's chief of staff in a paid, full-time capacity, but other women have served as top aides to the Speaker in the past, per Politico. For example, Heather Foley was her husband Tom Foley's unpaid chief of staff when he was Speaker, though her role was not as formal as McCullough's will be.
In addition to welcoming McCullough back to her staff, Pelosi's statement included a sendoff filled with praise for Weiss, who will be leaving the chief of staff position after 19 months.
"Danny's efforts were vital to our Caucus' strength and unity throughout his time as Chief of Staff, as Democrats developed our For The People agenda and won an historic midterm victory," Pelosi said. "I am especially indebted to him for his masterful work orchestrating the transition to the Speaker's office."
According to Pelosi's statement, McCullough has spent years advocating for reproductive health care access and supporting women-owned businesses across the country. She will assume her new position as Pelosi's chief of staff by the end of the month, per Pelosi's office.