Naomi Osaka *Finally* Ate This Iconic Snack & Japanese Twitter Flipped Out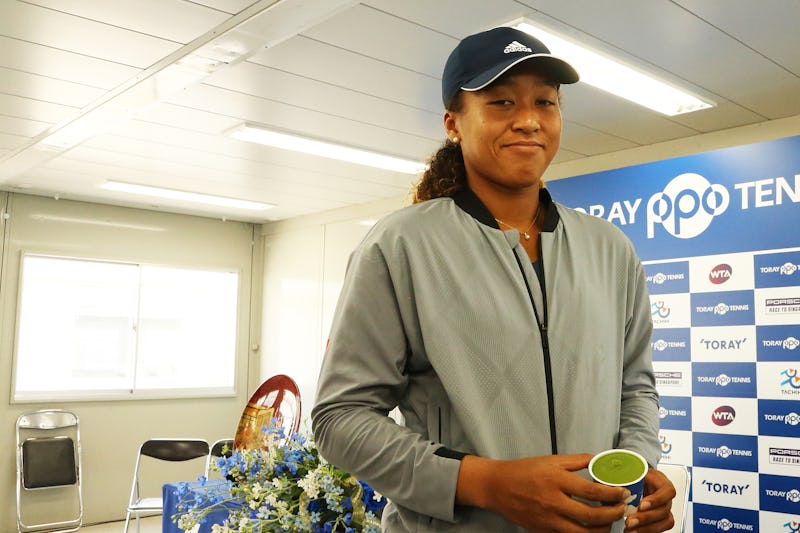 Koji Watanabe/Getty Images Sport/Getty Images
In some kawaii news of the day, Japanese fans are psyched that Naomi Osaka finally ate green tea ice cream, according to a tweet by the 20-year-old tennis star. She announced her frozen foodie journey this week, jokingly telling her devoted fans that they can now stop tagging her in their green tea ice cream pictures because she has officially tasted the dish. "So I finally ate green tea ice cream haha. You can stop tagging me in your ice cream pics now lol 💀😩😂," Osaka said in her tweet.
For background: This is basically like that time Jimmy Fallon had Gal Gadot try a Reese's Peanut Butter Cup for the very first time. Green tea ice cream is a dessert staple in Japan. It's as commonplace as, well, Reese's Peanut Butter Cups, so everyone who's ever been to Japan needs to try it at least once. Though it's not clear whether or not Osaka had eaten the treat before, the mention prompted scores of Japanese Twitter users to bombard her with photos of the dessert.
According to CNN, Osaka had originally mentioned her desire to eat green tea ice cream right after her controversial win against Serena Williams at the US Open earlier this year. During the event, says CNN, Williams was struck with a code violation for coaching, causing Williams to have a verbal altercation with chair umpire Carlos Ramos. When it came time to celebrate Osaka's victory, her moment was shadowed by boos from the crowd for what they believed was Ramos' sexist treatment toward Williams, CNN reports.
When asked by WTA Insider what Osaka was most looking forward to after her victory, says CNN, she said, "I really want to eat green tea ice cream right now, so hopefully my life can change to eat green tea ice cream." After hearing she wanted to eat the traditional Japanese dessert, internet users were thrilled, sharing matcha ice cream photos in Osaka's honor, The Japan Times reports.
Apparently their persistence paid off, because Osaka announced on Twitter that everyone can cool their ice cream jets because she's now experienced the joys of matcha ice cream. Japanese users were pretty excited, with most asking the obvious question: how did she like it?
"And what did you think of it? 😋🍧," asks Twitter user SylviaKacan.
Twitter user @10nisshiro said, "I'm relieved to hear this news from you. You deserve it👍."
"Hey, my husband loves 🍵 🍦 too! And I don't even like it, though I'm Japanese 😂. I'm glad you finally got to eat it 👍," said Twitter user chocoalatv.]
So far, Osaka hasn't posted any feedback on her experience, so we're left with more questions than answers. Like, was this her first time eating matcha ice cream? Did she love it or hate it? Has she had other matcha-flavored snacks, like the oh-so-delicious matcha-flavored KitKats? The world needs to know.
Green tea ice cream, more commonly known as matcha ice cream in Japan, is not actually made out of green tea, according to The Spruce Eats. It's made out of matcha powder, says The Spruce Eats, which is actually ground up green tea leaves, and that's why you'll hear people in the West say green tea ice cream but people in Japan say matcha ice cream.
According to WTA Insider, when Osaka mentioned wanting to eat green tea ice cream, she also said she wanted to eat katsu-don or katsu curry, which are deep-fried pork cutlets. So other responses to her matcha ice cream tweet included tweets asking her if katsu-don was next. Whatever Naomi-san chooses to eat, the internet is obviously behind her.