Here's Why You Keep Hearing About 20-Year-Old Tennis Star Naomi Osaka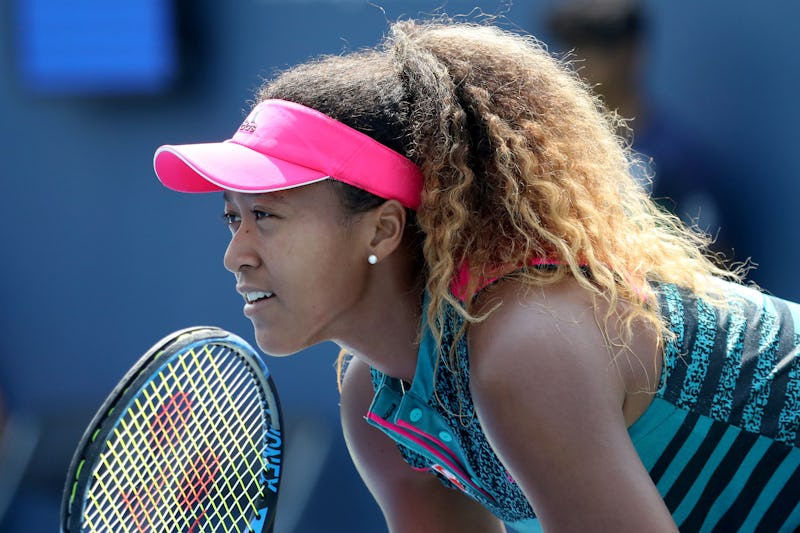 Rob Carr/Getty Images Sport/Getty Images
The world of tennis is sometimes described as "exclusive," but a young player is breaking through those barriers to become one of the most talked-about players in the sport. Tennis star Naomi Osaka is only 20 years old and is already a global phenomenon, defeating her lifelong idol Serena Williams in the first round of the Miami Open in March and earning nearly $2 million in prize money so far this year, according to the Bleacher Report. According to Fortune, Osaka is currently the youngest woman in the world's top 20 tennis players.
But it isn't just Osaka's amazing tennis skills that are captivating global audiences. According to The New York Times, Osaka is half-Japanese and half-Haitian. She was born in Osaka, Japan, says The New York Times, but grew up in the United States. She plays not for the U.S., though, but for Japan. That's a big deal for Japan, which has not always been welcoming to multi-racial people as representatives of the country, reports The New York Times. "I hope that she's changed cultural perceptions of multiracial people in Japan," Stuart Duguid, Osaka's agent at I.M.G., told The New York Times. "I hope she's opened the door for other people to follow, not just in tennis or sports, but for all society. She can be an ambassador for change."
Although Osaka is now Japan's highest ranked female player in more than a decade, the decision to play for Japan hasn't comes without challenges, Fortune reports. According to The New York Times, "the decision to play for Japan has had major repercussions in Osaka's life, from the way she is perceived in Japan and the United States to the size of the endorsement contracts she can now command as a top Japanese athlete ahead of the 2020 Olympics." Osaka has deals with Adidas, Yonex, Nissin, and Japanese TV outlet Wowow. She also just announced a multiyear deal in which she will become a global brand ambassador for watch brand Citizen, Sports Business Daily reports. Despite these endorsements, and Osaka's skill on the court, Nao Hibino, a 23-year-old Japanese tennis player, told The New York Times that she finds it difficult to see Osaka as a Japanese player because Osaka looks so different from other Japanese players, and because she isn't completely fluent in Japanese.
It's the way Osaka is handling this success — and the response to it — that's catching everyone's attention. You'd think beating your idol would be cause for celebration, but the Bleacher Report says you're most likely to hear a healthy dose of modesty from the tennis star. Osaka actually apologized for beating Serena Williams, telling the Bleacher Report, "I just feel it's something I'd have to be apologetic about. I still want Serena and Venus to be the main guys." Osaka's own announcement on Instagram after the match with Williams was a candid photo of the two shaking hands with the simple caption: "Omg."
GQ describes her as a "soft-spoken nerd with a penchant for tennis." The Bleacher Report says she's just "chill." Both news outlets speak to her love of gaming, especially her fave Overwatch, which she plays with her sister Mari. She once told a reporter that her ambition was "to be the very best, like no one ever was," says The New York Times, a quote from the Pokémon theme song that hints at her quirkiness. According to GQ, Osaka is a classic Gemini: aggressive and fearless on the court but soft-spoken and shy off the court. She told GQ she separates her two selves by treating tennis like a job or, in video game terms, a "mission" she needs to complete. "I just sort of tune everything out and just try my best to complete the mission," Osaka told GQ.
Osaka slakes our thirst for something different in a sport that's historically given viewers a lot of the same. Not only is she pushing the boundaries of cultural norms in Japan, but she's always unabashedly her nerdy, quirky self.