Naomie Harris Receives A Very Important Honor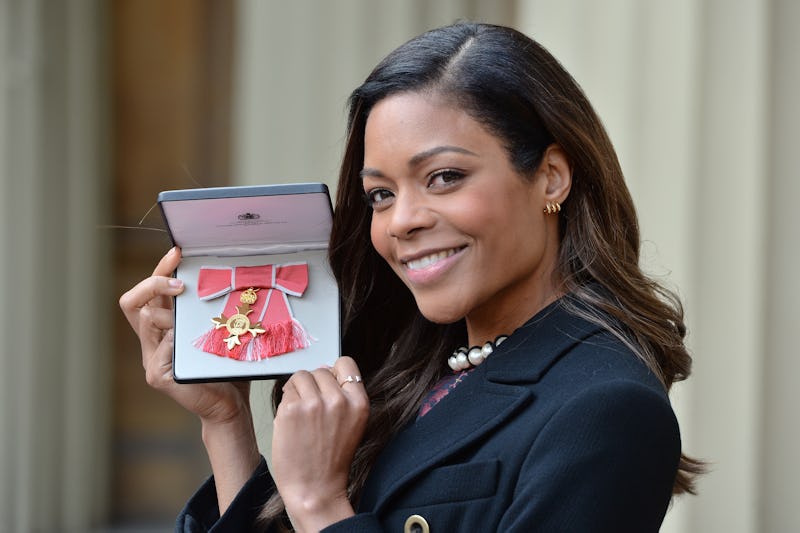 WPA Pool/Getty Images Entertainment/Getty Images
To some, awards season might epitomize the self-congratulatory nature of Hollywood. Entertainers are already talented, rich, and famous — so what do they need additional validation for, anyway? But medals and statues can hold a much greater meaning. Upon receiving the Order of the British Empire for services in drama at Buckingham Palace on Thursday, Feb. 23, Academy Award nominee Naomie Harris said that the OBE symbolizes more than her accomplishments in the arts. "This is representing my country and being recognized for having made a contribution to the nation," Harris told reporters, according to the Belfast Telegraph. "It can't get better than that."
The BBC reports the Moonlight star said her OBE made "a very powerful statement" to disadvantaged youth. "As a black actress from the background I came from... I think it's incredibly important," she told the BBC.
The BBC reported Harris was raised by a single mother in north London. Her father left the family when her mother became pregnant at 19. In spite of her early struggles, Harris went on to find great success in Hollywood starring in such films as 28 Days Later, Miami Vice, Skyfall, and Spectre.
Although the Best Supporting Actress nominee delivers a tour de force performance as a drug-addicted mother in Moonlight, she told The Hollywood Reporter she initially was wary of taking the role: "I grew up with very strong, intelligent, powerful women and I don't feel as though they're reflected enough on screen, so I sort of made it my mission that I was going to make my choices based on portraying positive images of women in general, and black women in particular. I didn't feel as if a crack addict fitted into that." Yet the 40-year-old told THR she had the ability to give her character Paula "complexity" and "full humanity" regardless of her trepidations.
For Harris to view her OBE honor as a "powerful statement" is a statement in and of itself. As opposed to getting caught up in collecting accolades for excellence, she sees her acting as a service to audiences and a dedication to her homeland. The actor has managed to adopt an attitude of sincerity, mindfulness, and sensitivity for depictions of black women that far exceeds the praise she's received throughout her career. Being able to not only identify a character's intricacies but also spotlight their vulnerabilities in a way that is honest and sympathetic are the qualities of a true actor. Harris told the BBC she does not believe she has "a chance at winning at all" on Sunday, but her awareness of the power of acting to the public is undoubted also a great reward.