How NASA Honored Katherine Johnson's Legacy During Black History Month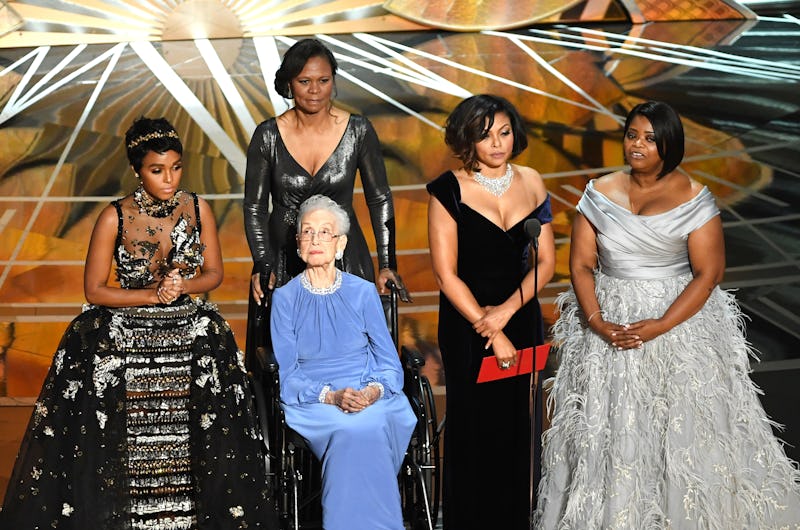 Kevin Winter/Getty Images Entertainment/Getty Images
The National Aeronautics and Space Administration (NASA) has honored Katherine Johnson during Black History Month by renaming a building in her honor. Johnson, whose contributions were critical to a number of NASA projects, is one of the real-life female African American mathematicians the highly acclaimed 2016 film Hidden Figures was based on. To preserve Johnson's legacy, NASA has renamed a facility in West Virginia — the mathematician's home state — as the Katherine Johnson Independent Verification and Validation Facility.
"I am thrilled we are honoring Katherine Johnson in this way as she is a true American icon who overcame incredible obstacles and inspired so many," NASA Administrator Jim Bridenstine said in a statement released Friday. "It's a fitting tribute to name the facility that carries on her legacy of mission-critical computations in her honor."
NASA IV&V Program Director Gregory Blaney said the designation was a way for the aeronautics agency to "recognize Katherine's career and contributions not just during Black History Month, but every day, every year."
The newly designated Katherine Johnson Independent Verification and Validation Facility in Fairmont, West Virginia, serves as NASA IV&V Program's primary facility. As it did during Johnson's time at the agency, the IV&V Program provide a key safety contribution to NASA missions by ensuring mission software performs as designed.
According to The New York Times, Joylette Hylick, one of Johnson's daughters, said her mother "remains in awe and [is] honored by" the various accolades she has received throughout her life. Among those accolades is the Presidential Medal of Freedom, the nation's highest civilian honor, bestowed upon her in 2015 by then-President Barack Obama. The Times reported Hylick said Johnson "can't imagine why people would want to honor her for just doing a good job."
Johnson's career with NASA began in 1953 when she was hired to do calculations by NASA's predecessor, the National Advisory Committee for Aeronautics (NACA). She was in many ways, including title, a computer before computers as we know them existed. According to NASA, Johnson calculated trajectories for both Alan Shepard, the first American in space, and John Glenn, the first American to orbit the Earth.
In fact, Glenn reportedly requested that Johnson personally double check the calculations a computer had made of his trajectory before Friendship 7 lifted off. The work she completed over the course of her more than 30-year career at the agency has remained a critical key to NASA's success.
"Her calculations proved as critical to the success of the Apollo Moon landing program and the start of the Space Shuttle program, as they did to those first steps on the country's journey into space," NASA wrote of Johnson's work.
West Virginia Sen. Shelley Moore Capito hailed the building's name in Johnson's honor on Twitter, noting Johnson was "#HiddenNoMore. "So happy and proud to see Katherine Johnson's legacy cemented at @NASAIVV, and even more so during #BlackHistoryMonth."
According to NASA, an act of Congress calling for the building's new name was signed into law by President Donald Trump in December. The agency said its IV&V Program plans to hold a rededication ceremony soon.