Natalia Dyer's SAG Awards Dress Is Probably The Coolest Thing You'll See All Week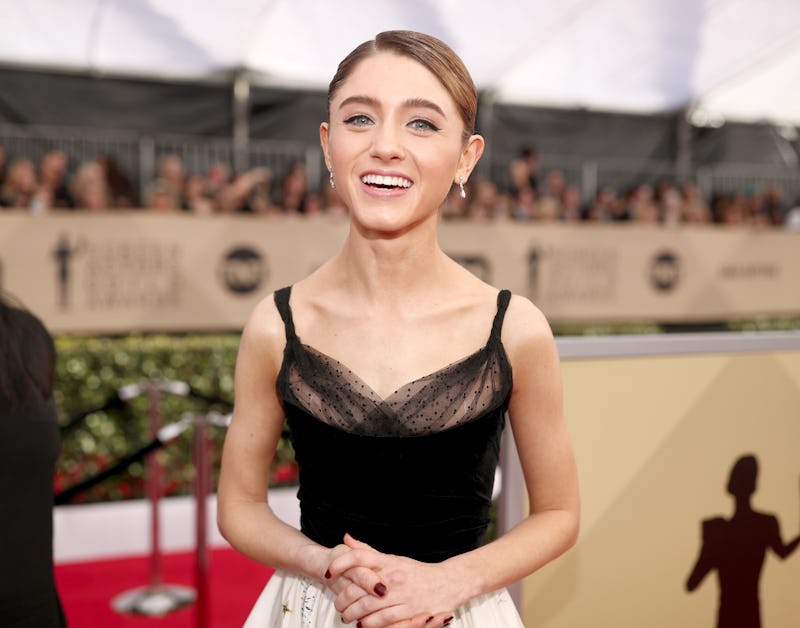 Christopher Polk/Getty Images Entertainment/Getty Images
Actors and actresses have skipped the all-black ensembles for the second awards show of the season, but that doesn't mean that people have given up the shade. Stranger Things' Natalia Dyer's astrological SAG Awards dress is basically two dresses in one and the coolest thing you'll see all week. It's your classic black dress mixed with one of the biggest trends — astrology.
If you look closely, you might just be your star sign in Dyer's Dior gown. While most people chose to play it safe with a one colored, print-less dress, Dyer hit the red carpet ready to make a statement — or at least keep people entertained. The Stranger Things star's dress is the best of both worlds, really. The top is all black with a dainty, mesh embellishment, while the bottom is splattered with an astrological print.
The more you look at this dress, the better it gets. Right away, you can see the astrological signs depicted on the dress. But the closer you look, the more stars, moon, and sun begin to shine. The colors are what really make this dress pop is the colors. It's a gorgeous mix of gold, black, and gray embroidering, which gives it a lot of dimension.
Here's the gown in all of it's glory, so you can see for yourself.
Despite the top and the bottom giving completely different vibes, they fit perfectly together. It's a mix of dreamy and quirky all in one. You almost don't notice that she's wearing tiny teardrop earrings and nothing else. The print is basically an accessory and dress all in one, which is what makes it so unique.
She paired the outfit with minimalist makeup as well. She stepped out with a gorgeous, glowy but subtle shadow with a classic cat-eye liner that will make you want to drop everything and go practice yours right now. You know, if you're not mesmerized by trying to spot every single detail in the bottom of the skirt.
Dyer hasn't done a full spin on the red carpet, so it unclear whether or not all 12 astrological signs are accounted for on the dress. Four of them can be seen from the front of the dress though, and at least two from behind.
This isn't the first time this awards season that Dyer has brought the prints to the red carpet. She rocked the most gorgeous floral, embellished dress to the Critics Choice Awards. She joked about the vintage-y print by captioning her Instagram photo with a grandma icon, but gave it a perfect modern feel.
She also recently wore a brightly colored, polka-dotted dress on her Instagram. This comes after wearing mainly solid-colored dresses for many of her red carpet moments. This could be a trend for her through the rest of awards season. One thing is for sure — we will be seeing a whole lot more of her.
She showed up at the SAG Awards with the rest of the Stranger Things cast for their nomination for Outstanding Performance by an Ensemble in a Drama Series. They didn't all show up together, but stopped to get some photos together. Almost the entire cast wore black and white, which is either a happy coincidence or shows how tight-knit the cast is.
Dyer was one of the first people to show up on the red carpet, but this could just be the quirkiest dress of the night. Good look noticing anyone else though, because you'll want to keep staring at her all night long. Because, let's be honest, you could get lost in this galaxy-inspired gown.