Natalie Portman Reacted To Her 'Annihilation' Character's Whitewashing & She Is PISSED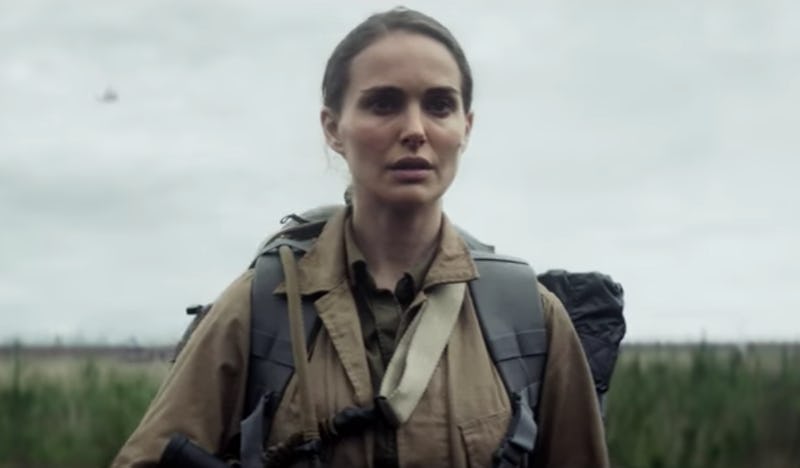 Paramount Pictures/YouTube
The new movie Annihilation was being celebrated for its mostly women-led cast, but soon an Annihilation whitewashing controversy began to brew. That's because director Alex Garland cast white actors to play the leading roles, roles that were written as women of color in Jeff VanderMeer's Southern Reach trilogy that the film is adapted from. Star Natalie Portman reacted to the Annihilation whitewashing when she found out about it this week, agreeing that it is a problem not just for her movie, but for all of Hollywood.
In an interview with Yahoo! Entertainment, Portman was asked about her controversial casting. "Well, that does sound problematic," she said, "but I'm hearing it here first." Despite not knowing about her character's ethnicity prior to the interview, she didn't ignore the question. Instead, she said:
"We need more representation of Asians on film, of Hispanics on film, of blacks on film, women — and particularly women of color — Native Americans... I mean, we just don't have enough representation."
Portman noted that categories like "white" and "nonwhite" are limiting. "They're imagined classifications," she said, "but have real-life consequences. I hope that begins to change, because I think everyone is becoming more conscious of it, which hopefully will make change."
In 2014's Authority, the second book of VanderMeer's series, it's revealed that Portman's character, biologist Lena, who volunteers for an expedition into a mysterious environmental disaster zone to save her husband, is of "Asian descent." Her casting, along with Jennifer Jason Leigh's as a character described as being "half-Native American," led Media Action Network for Asian Americans and American Indians in Film and Television to call out the film, specifically Garland, Paramount Pictures and production company, Skydance, according to E! News.
After the controversy arose over the film's cast, which also features Jane The Virgin's Gina Rodriguez and Thor: Ragnarok's Tessa Thompson, Garland released a statement to Deadline saying, "This is an awkward problem for me, because I think whitewashing is a serious and real issue, and I fully support the groups drawing attention to it." He explained that the characters in the book he read "were not given names or ethnicities" and that he cast those he felt were right for the role. "There was no studio pressure to cast white," he stated. "The casting choices were entirely mine."
While he admits that "as a middle-aged white man, I can believe I might at times be guilty of unconscious racism, in the way that potentially we all are. But there was nothing cynical or conspiratorial about the way I cast this movie."
Regardless of intention, it's true that women of color are under-represented in Hollywood films. Last year, a new study from the University of Southern California found that only 34 out of the top 100 grossing films in 2016 featured women in lead roles. Only three of those films featured women of colors as the lead character. So it's no surprise that advocacy groups like Media Action Network for Asian Americans and American Indians in Film and Television would be upset to hear that a film like Annihilation missed an opportunity to cast a woman of color in a leading role. Especially one that was originally written for a woman of color.
Garland told Yahoo in December that he had read Annihilation, the first book in the series, before it was published and loosely based his film on it it. That book doesn't include physical descriptions or even the names of the characters, who are referred to by their jobs. That comes in the second book, which Garland never read, concerned it would influence his film too much. In fact, he didn't even re-read Annihilation before writing the script. "I thought, I'm not going to re-read the book," he told Yahoo. "I'm going to adapt it like a dream of the book."
But, in a statement via Deadline, MANAA board member Alieesa Badreshia criticized Garland's take on the novel. "He exploits the story but fails to take advantage of the true identities of each character," Badreshia stated. "Hollywood rarely writes prominent parts for Asian American and American Indian characters, and those roles could've bolstered the careers of women from those communities."
So, yes, Annihilation may have cast women of color in supporting roles, but the film missed an opportunity to do more with its casting. Just as Portman pointed out, there is a need for more representation. Now Hollywood needs to start heeding that call any chance it gets.