Natalie Portman Just Defended The 'Star Wars' Prequels During Her 'SNL' Rap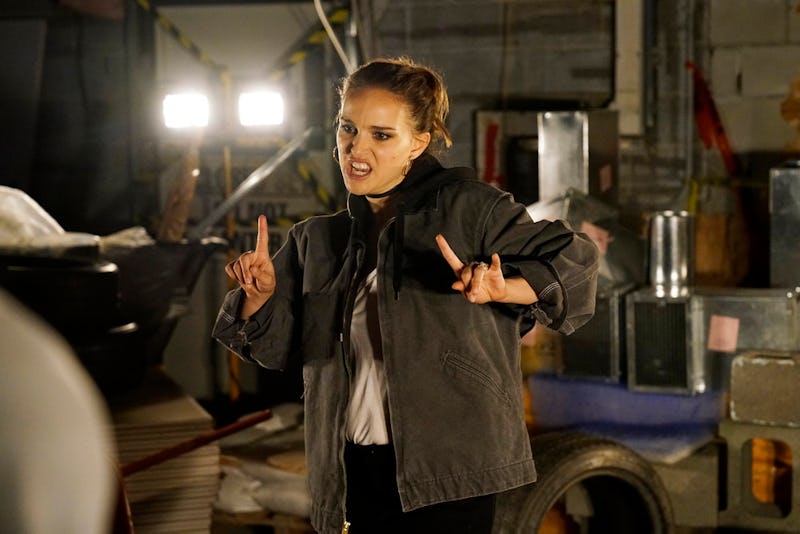 Rosalind O'Connor/NBC
Natalie Portman hosted Saturday Night Live on Feb. 3 — her first time hosting since 2006. In her first appearance back then, she performed an epic rap for the ages. Twelve years later, Portman followed it up with a new rap. Natalie Portman's SNL rap defended the Star Wars prequels and even showed her in costume as Queen Amidala once again. Yes, Portman can rap, so someone add that skill to the Oscar-winning actor's already stacked resume.
The sketch begins a lot like the one in 2006: Portman is dressed in business casual and sits down with an interviewer (played by Beck Bennett), and they acknowledge that about 12 years have passed. "Last time you were here, I heard things got a little out of control?" Bennett asks. Portman responds, "I was going through a really weird time then, but I've matured a lot." The interview is interspersed with the rap, in which Portman gets down. Her new rap references clickbait, Xanax, Tide pods, male ballet dancers, burritos, and going Black Swan on someone.
Bennett, though, isn't impressed. "It seems like you're almost exactly the same, but with current references." Portman responds, "Untrue. I'm a mother now. It's really changed my perspective." In a Cardi B. reference, Portman raps that she now makes "mommy moves."
After rapping about her hardcore experience giving birth, Bennett asks Portman if she saw the new Star Wars films. Portman, as you may recall, starred in three prequel movies as Queen Padmé Amidala, the mother of twins Luke and Leia. She tells him that she hasn't seen them and Bennett responds, "They're really good. They're much better than..." He trails off. "Better than what?" she asks intensely.
And this is where Portman gives a full-on defense of the Star Wars prequels, dressed in Queen Amidala's senate gown. "Say something about the motherf*cking prequels, b*tch," she raps as she is dressed in Queen Amidala senate gown and aiming a gun at SNL cast member Alex Moffat. "They were good!" he screams, but she doesn't seem convinced.
"Say something f*cking nice about Jar Jar Binks," she continues as Jar Jar Binks appears. "He's tall?" Bennett says.
The rest of the Star Wars portion of the rap is pretty explicit, but includes a weird relevaltion about Binks and a demonstration of how strongly Portman believes in the prequels.
Former SNL cast member Andy Samberg stops by to perform the bridge (just like he did back in the 2006 Portman rap), dressed in a Viking hat. He introduces Portman to their seven-year-old son (also wearing a Viking hat), but she says that's not her son. Samberg continues singing, saying how it's been 12 years since she last hosted SNL and catching her up on his life.
For the grand finale, Bennett asks Portman if the Time's Up pins are making any kind of impact — and then, well, she gives one to him in a very unconventional way. You'll have to watch the song in the video below to see exactly what she does.
Portman's monologue also referenced that it's been 12 years since she last hosted SNL — back then, she was promoting the film V for Vendetta. In that 2006 episode, Portman's first rap attempts to shed her professional image, throwing many chairs and claiming to cheat while she was in college at Harvard University.
You can watch the video below to see how far Portman has come in the past 12 years.
It's great that SNL brought back the Portman rap — and updated it for 2018. As for Portman herself, the rap just shows she's as super talented as always — and a big believer in those Star Wars prequels, no matter what people say.