Native American Leaders Are Tearing Into Trump For His Racist "Pocahontas" Slur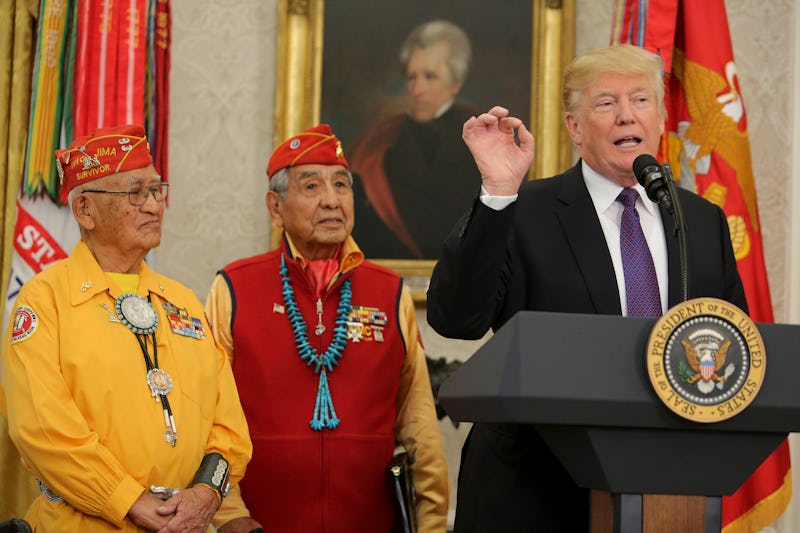 Pool/Getty Images News/Getty Images
On Monday, President Donald Trump waded into a firestorm of criticism and controversy by dusting off one of the oldest and most inflammatory attacks of his entire political career. Namely, he referred to Massachusetts senator Elizabeth Warren as "Pocahontas," a racist jab at her family's past claims of Native American heritage, and he did so at an event explicitly honoring the Navajo code talkers that served the U.S. heroically in World War II. And on Tuesday, a number of Native American leaders and groups reacted to Trump's "Pocahontas" slur, condemning the president for turning what was meant to be a solemn and respectful occasion into a racist controversy.
Family members of the code talkers ― bilingual Navajos who helped transmit covert communications for U.S. forces during World War II ― spoke out following Trump's remarks. For example, as detailed by CBS News on Tuesday morning, Marty Thompson, a great-nephew of a Navajo code talker, who called Trump's jab at Warren "uncalled for" given when and where it took place.
It was uncalled for. He can say what he wants when he's out doing his presidential business among his people, but when it comes to honoring veterans or any kind of people, he needs to grow up and quit saying things like that.
Trump made the offending remark while flanked by a pair of surviving Najavo code talkers, and it was met with a decidedly silent, chilly reception, as demonstrated in the video embedded above.
Speaking to CNN's New Day the morning after Trump's attack on Warren, the president of the Navajo Nation, Russell Begaye, described the president's words as "unnecessary and culturally insensitive." He also reminded that the name Pocahontas refers to an actual historical figure, a human being, not something Trump or anyone else "just made up."
This was a day when the code talkers were being honored, they're war heroes, they helped put an end to the war. We are enjoying freedom today as it is, because of their work, because of what they did, their sacrifices, some of them did not return. ... This was a day to honor them. And to insert something like that, the word Pocahontas as a jab to a senator, that belongs on a campaign trail. Doesn't belong in the room when our war heroes are being honored.
Begaye acknowledged that it was a "good gesture" on the part of Trump and the White House to invite the code talkers in, but also that the way the president used the name constituted an ethnic slur.
The way it was used, yes it was [an ethnic slur]. Because Pocahontas is a real person, it's not a caricature, it's not someone, something that's just made up, this is a person who's a young lady, a Native American woman, that played a critical role in the life of this nation. ... To use that person in this way is unnecessary, and is culturally insensitive.
Trump's remarks also drew fire from the Alliance of Colonial Era Tribes, with the group's general secretary, John Norwood, saying that the remark "smacks of racism," according to NBC News.
"The reference is using a historic American Indian figure as a derogatory insult and that's insulting to all American Indians," Norwood reportedly said.
The vice president of the Navajo Nation, Mihio Manus, also weighed in on Trump's racially charged barb. As detailed by The Washington Post, Manus noted that while Pocahontas was not Navajo, the group objects to any Native American name being reduced to a "punchline."
It's unfortunate that President Trump would refer to Sen. Elizabeth Warren as Pocahontas in a joking way. Pocahontas, although she wasn't Navajo, definitely was a historical figure in the foundation of this nation who is misrepresented in history. And so we as the Navajo Nation don't feel any member of any tribal nation should be used as the punchline of a joke.
The event was also controversial for the fact that it was held in front of a portrait of former president Andrew Jackson, who signed the Indian Removal Act of 1830, the law that precipitated the Trail of Tears. In modern times, Jackson is viewed by many as one of the most objectionable presidents in American history, thanks to his role in the ethnic cleansing of Native tribes.
The White House, for its part, has challenged the notion that there was anything wrong with Trump attacking a political rival this way during an event honoring the Navajo code talkers. Specifically, Press Secretary Sarah Huckabee Sanders called it "ridiculous" to interpret the president's use of the name Pocahontas as a racial slur.