Natural Disasters & Domestic Violence May Have An Alarming Connection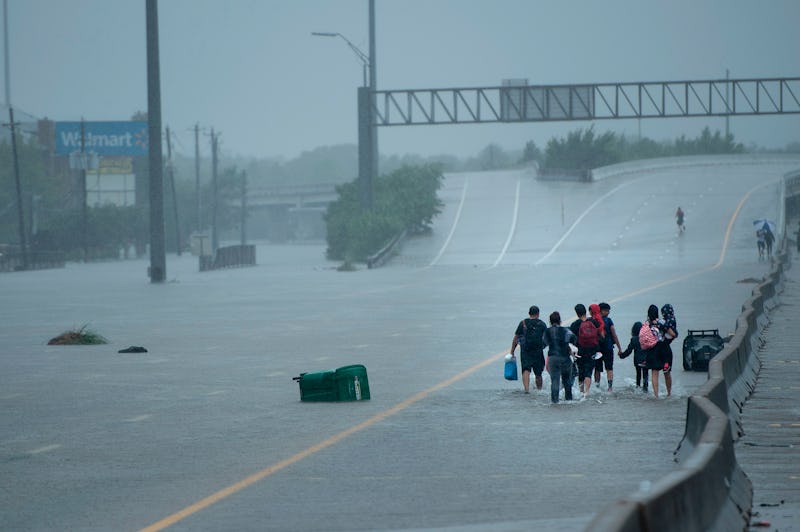 BRENDAN SMIALOWSKI/AFP/Getty Images
The consequences of a natural disaster like Hurricane Harvey are, unfortunately, many. Lives are lost, people are injured, property is damaged, and it can take years to return to a true sense of normalcy. However, some impact of natural disasters are often overlooked, including the unfortunate connection between natural disasters and domestic violence.
There is evidence that shows that an uptick in domestic violence often occurs post-natural disaster. For example, according to a 2005 World Health Organization (WHO) publication, several reports, mostly from the United States, reveal that "anecdotal evidence and a small number of systematics studies indicate that intimate partner violence, child abuse and sexual violence are highly prevalent after disasters."
Moreover, the University of Miami's Disaster and Community Crisis Center noted in a publication that following Hurricane Andrew in Florida in 1992, domestic violence calls to the community helpline increased by 50 percent. The publication also observed that domestic violence increased by 45 percent in the wake of Hurricane Katrina in 2005.
There are a myriad of factors that contribute to increased incidents of domestic violence following a natural disaster. As the Disaster and Community Crisis Center pointed out, natural disasters produce extreme stress as a result of trauma experienced during the disaster, home loss and displacement, and job loss, among other factors. These stressors can result in individuals experiencing a sense of loss of control, and can contribute to an abuser seeking to regain control in his or her life by engaging in domestic violence.
WHO also noted that increased mental health problems — including post-traumatic stress disorder — can contribute to an uptick in domestic violence in the wake of a disaster. Finally, disruption of social and family structures, economic uncertainty, and limited availability of police and domestic violence victim assistance services can all also contribute to an increase in domestic violence rates post-disaster.
In addition to the increased likelihood of domestic violence incidents post-natural disaster, those who have already fled domestic violence situations, or were in the process of fleeing them when natural disaster struck, also face complex hurdles in the wake of a disaster.
The Atlantic outlined this issue following catastrophic flooding in Louisiana last year. According to its report, abuse victims who evacuate from shelters to relief centers face extreme vulnerability as they run the risk of having their whereabouts being detected by their abuser. Furthermore, in the wake of a disaster, abusers can sometimes convince their victims to return to co-habitating with them, particularly if the victim's residence has been affected by the natural disaster and the abuser's has not.
Finally, similarly to the WHO, The Atlantic also noted that those facing abuse during a disaster or in its immediate aftermath face particular challenges in getting assistance. Logistically, domestic violence assistance programs may have trouble reaching survivors (or vice versa) and police units are stretched thin as they deal with the disaster's aftermath.
While an uptick in domestic violence post-natural disaster is unfortunately a possibility, there are steps that responders to natural disasters can take to help mitigate this threat. According to the University of Missouri's Disaster and Community Crisis Center, public awareness about domestic violence (and domestic violence prevention) should be raised in the community affected by the disaster. This should occur through distribution of written and electronic materials as well as through television and radio ads. Moreover, those working in relief and recovery services should be able to connect victims of domestic violence with long-term recovery resources and should proactively disseminate this information.
Though there has not yet been any documented increase in domestic violence in the wake of Hurricane Harvey, past disasters demonstrate that the possibility for such an occurrence certainly exists. Hopefully domestic violence assistance organizations and organizations involved in relief and recovery services will proactively address the issue and seek to counter any potential violence before it begins.