This '90s Nail Polish Line Is The Throwback You Didn't Know You Needed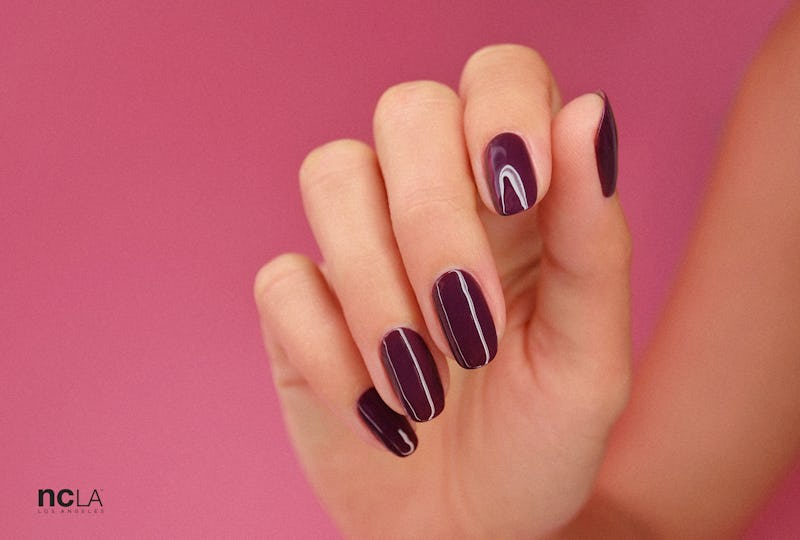 Courtesy NCLA
You might not be able to jump in your DeLorean and head back to your favorite decade, but channeling your favorite '90s beauty trends is one way to take an effortless trip back in time. NCLA's 'Just A Girl' nail polish collection is the '90s inspired beauty flashback that you never knew you needed. Everything from the stunning shades to the cheeky names is all about the decade, and will let you relive some of the best '90s moments. Ya know, without the fried crimped hair.
NCLA's five-piece nail collection is filled with deep plum shades, pinks, and a white hue that are a perfect mix of '90s colors and modern trends. There's even a light pink glitter that's reminiscent of a shade you probably owned back in the day. All good trends come back again, and this nail polish line is proof.
The nostalgia isn't just about iconic colors though. Not only is the name of the collection — "Just A Girl" — a girl power anthem of the decade, but every shade is named after an iconic '90s lyrics as well.
There's a magenta shade called She's Overboard & Self-Assured from Nirvana's "Smells Like Teen Spirit" and a deep purple called Best Friend With Benefits from Alanis Morissette's "Head Over Feet." It's a match made in beauty heaven.
"We've been loving all-things '90s lately, especially after seeing the runways at BYFW this week (um, HEL-LO scrunchies)," Elin Dannerstedt, CEO and co-founder of NCLA, tells Bustle. "So we say, "Bring on the nostalgia!" We labeled each shade of our new 5-piece 'Just A Girl' collection with lyrics from some of out most-played '90s rock songs — from Hole, Nirvana, and Metallica — these lacquers will have you ready to rock — literally and figuratively."
These colors are the perfect mix of classic with a little bit of '90s grunge and pop flair, which is exactly what makes them so great as modern throwbacks.
"The collection as a whole works so well together," Dannerstedt says. "But we're obsessing over dark nails right now, so 'Best Friends With Benefits' is what we're wearing at the moment."
Like the amazing decade itself, these nail polishes offerings will eventually come to an end. The NCLA 'Just A Girl' nail polish collection will only be available for a short time, according to the company, so you'll want to snag the '90s items while you still can.
If all of that wasn't already enough, the colors are also cruelty-free. You can feel good about the colors on your fingers knowing you aren't harming animals in the process. Plus, the colors are also seven-free, making them even more coveted.
If you're unfamiliar with the term, let me fill you in. Seven-free means that the nail polish is made without the three common chemicals found in nail polishes — Toluene, Dibutyl Phthalate (DBP), Formaldehyde. It's also made without four other very dangerous chemicals — Formaldehyde Resin, Camphor, TPHP, and Xylene.
These ingredients can harm nails and be dangerous to accidently ingest. Toluene, for example, is also found in gasoline, according to Into The Gloss. That one ingredient you want to steer clear of — and this polish helps you do that.
Between the incredible shade names, formula, and colors, you really can't go wrong with this nostalgic buy. As of Sept. 19, all of the colors are currently in stock on the brands website. But with all the '90s love out there, they definitely won't be for long though.
Go stock up on this incredible '90s beauty find before it goes back to the era from which it came.