Women Are Being Sent Unwanted Sexual Photos Way More Than You'd Think & It's Not OK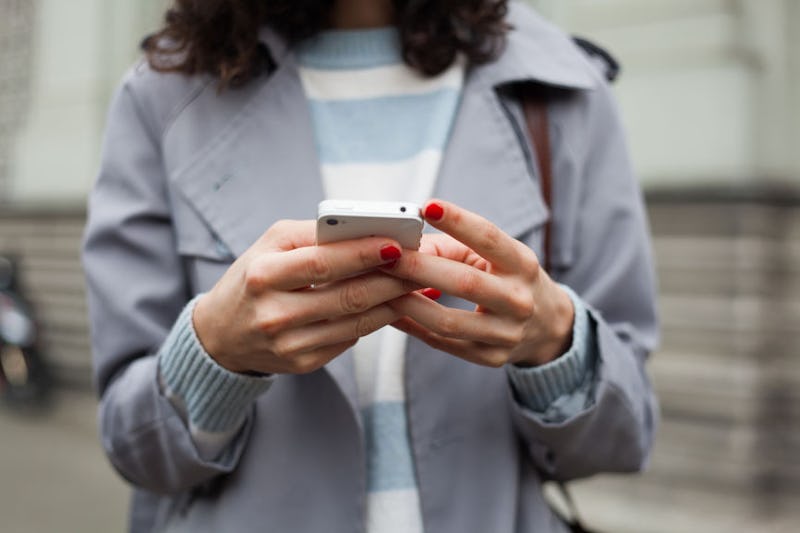 VeaVea/Stocksy
If you've ever received a naked photo you didn't request, you belong to an unhappily large proportion of British women, a new survey indicates. In the age group 18-34, four in 10 women have received unsolicited sexual photos from someone who wasn't a romantic partner, according to YouGov — that's 40 percent of millennial women. The report comes in the wake of a call to criminalise the behaviour by a group of MPs, who argue that legislation is failing to keep pace with new forms of sexual harassment enabled by technology.
The polling company surveyed over 1,600 adults in November 2018, finding that one in five women (or 20 percent) across all age groups have received an explicit photo they didn't ask for. In comparison, 15 percent of British men have received an unsolicited sexual photo, with the figure rising to 26 per cent among 18- to 34-year-olds.
YouGov also asked those affected about the method used to send the unsolicited images, finding that 62 percent of respondents received them via text message or a comparable messaging app, such as WhatsApp. Over a third (35 percent) received an unsolicited photo on social media — and in unsurprising news for women on the internet — that number rose to 48 percent for millennial women. Eighteen percent of those who received a photo they didn't request said they were sent it via email.
Though distressing reports about "cyberflashing" — in which the victim is sent an unsolicited explicit photo over AirDrop or a similar service — have recently made the news, this remains one of the least common means of reception at present, with under one percent of those surveyed saying they'd experienced it.
Earlier this year, YouGov reported that the majority of millennial women who had received a "dick pic" did not request it. Polling over 2,300 women between the ages of 18 and 36, from July to September 2017, YouGov found that 46 percent had received a "dick pic" — and 89 percent of them didn't ask for it. At the same time, YouGov polled over 1,300 millennial men, only 22 percent of whom acknowledged sending such an image. Only five percent of male millennials admitted to sending a dick pic they weren't asked for.
According to The Guardian, the Women and Equalities Select Committee called for the sending of unsolicited explicit photos to be criminalised back in October. A report from the committee also highlighted other forms of "image-based sexual abuse" including upskirting (taking nonconsensual photos or videos up a victim's skirt), the distribution of revenge porn, and the creation of photoshopped explicit images without the subject's consent.
"Laws on image-based sexual abuse are not based on an understanding of power and entitlement […] they focus too narrowly on the perpetrator motivations and do not provide the protection of anonymity of complainants," the report said. The MPs argued for a new law centred on the "victim's lack of consent and not on perpetrator motivation," which guarantees lifelong anonymity for victims. Seems a little overdue, doesn't it?