Gorsuch Disapproves Of Trump's Judge Comments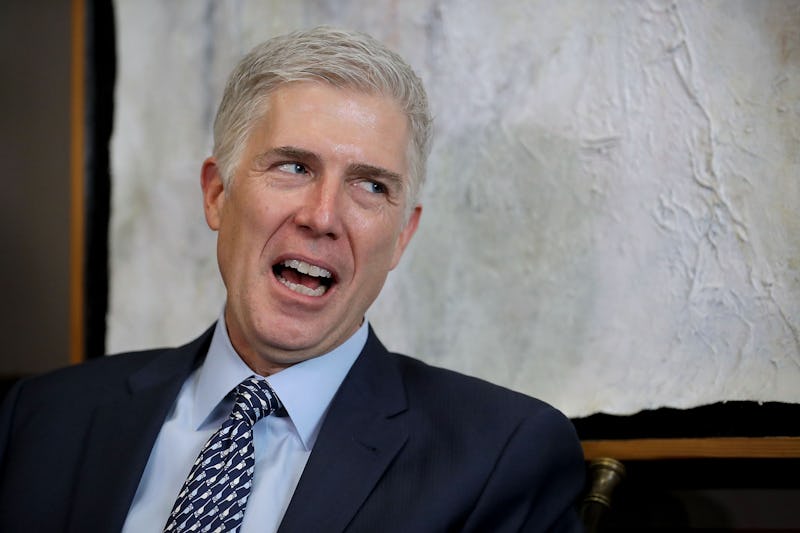 Chip Somodevilla/Getty Images News/Getty Images
Despite bucks from the Republican establishment throughout his campaign, Capitol Hill Republicans have largely remained loyal to President Trump since Inauguration Day. Many have praised the new president's more traditional choices — such as the nomination of Neil Gorsuch to the vacant Supreme Court Senate seat — and backed away from outright criticizing his controversial immigration order. But that tendency to remain loyal beyond all fault may stop with the judiciary branch. In fact, Gorsuch's comments about Trump's tweets may show signs of an early rift between the president and the judiciary branch at large.
CNN reports that in a private meeting with Senator Richard Blumenthal, Gorsuch conveyed that he found Trump's recent tweets about a federal judge "demoralizing" and "disheartening."
The president criticized federal Judge James Robart for issuing a restraining order that put a halt to his immigration executive order. In a series of tweets, Trump said "the opinion of this so-called judge, which essentially takes law-enforcement away from our country, is ridiculous and will be overturned!"
Calling the credibility of a federal judge into question has not sat well with many Republicans, including fellow judge Gorsuch. Sen. Blumenthal told CNN that Gorsuch was very clear in expressing his disapproval of the comments in their meeting.
The Connecticut Democrat hopes that the Supreme Court nominee takes his criticism out in the public realm, reportedly advising Gorsuch that the comments were "more than disheartening and I said to him that he has an obligation to make his views clear to the American people, so they understand how abhorrent or unacceptable President Trump's attacks on the judiciary are."
This may be a positive sign, at least, for Democrats hoping that the powerhouse president will not receive unquestionable loyalty from all three branches of government. It could even be an indicator — though it will likely go untested for some time — that Gorsuch will be less of a hard-line conservative than Trump had hoped.
Time will only tell if this is the case, but Trump's early marks with the judiciary branch have obviously been less than stellar. On Wednesday, he chalked up the 9th Circuit Court of Appeals' hearing on his immigration executive order as political fervor, another sign that he may continue to be dismissive of such judicial matters.
"If the U.S. does not win this case as it so obviously should, we can never have the security and safety to which we are entitled. Politics!" Trump tweeted. It's possible that remarks such as these might not fly among Trump's fellow Republican colleagues in the future.