'Nerdy Nummies' Star Rosanna Pansino Credits THIS Food With Inspiring Her Career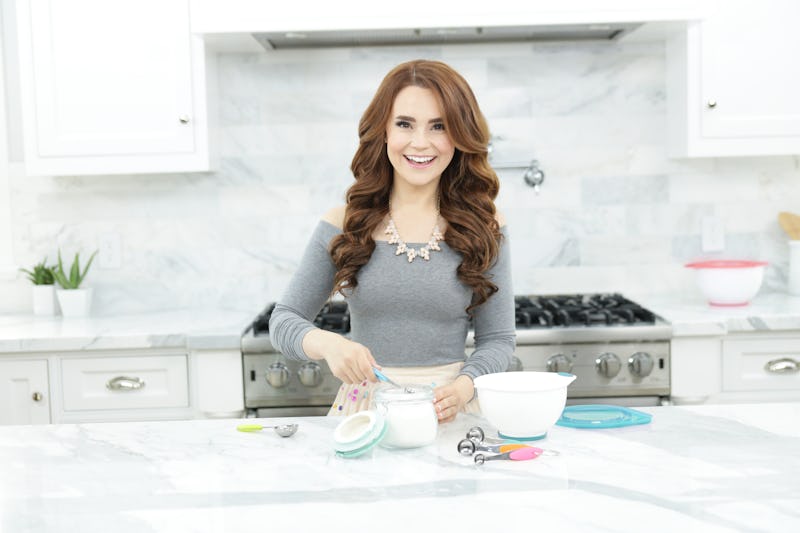 Courtesy of Rosanna Pansino
She may be best known as a baker thanks to the delectable desserts she dreams up for her YouTube cooking series 'Nerdy Nummies,' but for chef, author, actor, and YouTube personality Rosanna Pansino, it wasn't actually sweet treats that got her interested in the art of cooking. After spending her childhood making this meal with her dad, it's now a staple in both her series as well as her kitchen. Her favorite food? Pizza.
I'm always making pizza with different toppings on it, and it's probably the one food I could eat every day and never get tired of. It's simple, warm, and very comforting. It always just makes me happy! I think my current favorite is a Margherita pizza — I eat it for dinner every night!
My First Memory Of Pizza
I have so many good memories of sitting down with my family and eating pizza with them. We had pizza nights every Friday. My dad and I would make homemade, themed pizzas. It was our bonding time — when we all got to see each other. At dinner time, we would share stories of what had gone on that day, and it was something that was consistent throughout my upbringing.
Most of my memories of growing up are of making pizza with my dad. His nickname is actually "Papa Pizza"! It's what I call him, and it's his name in my phone. So pizza is my go-to meal because it always makes me happy, and I associate it with good memories.
My dad and I still make so many pizzas together — I tell him that we're doing it, like, "I want to make a snowman, Dad!" So we make a snowman, a Christmas tree, a candy cane pizza — anything. He earns his name "Papa Pizza"!
It's Inspired My Cooking Series, Nerdy Nummies
My dad loves to cook and my mom loves to bake — and we still do! Making and having dinner together is something my family really valued, and it's definitely influenced me today. It's influenced a lot of what I do. When I was a kid, my dad would make a lot of themed pizzas with me because I was little and would be like, "I want to eat Mickey Mouse!" So, he would make a Mickey Mouse pizza for me. He was always making food cute because I liked it. And we're still doing it! So, it's influenced a lot of my videos. For instance, we did a Nerdy Nummies episode of us making a Batman-themed pizza, using cheddar cheese to make a logo, mozzarella cheese to cover the rest of the pizza, and chopped olives for the middle. We took the bat symbol pizza cutter and just lifted it up!
Rosanna Pansino
Courtesy of Rosanna Pansino
Now that I'm older, I sometimes have themed parties, which are definitely influenced by the themed pizzas I would cook with my dad. One of the first I ever threw was a Game Of Thrones viewing party where I made four different pizzas that were decorated to look like the different houses. We had a Stark house pizza, which was chicken barbecue. Then there was one for the Baratheons, the Targaryans, and the Lannisters. It was just pizza, but I wanted to spice it up a little bit because you know, I'm on a budget and had a lot of friends come over — and it ended up being so fun! Pizza is very affordable, and you can "zhoosh" it up by decorating it. It resulted in some great memories. Simple, but themed. It reminded me of my dad, because it's what we do.
It's A Family Affair
When I was growing up, in our backyard we had a little tomato garden, and every year my dad would grow fresh tomatoes and harvest them all to make his own sauce. He made pizza sauces and marinara sauces for pasta, then he canned them. It was the one thing he canned, grew, and harvested every year. It fits with his "Papa Pizza" vibes!
Then, when I moved out, he came to visit me at the first home I moved into. And the first thing he did was go to Home Depot, buy a plant, and then he planted it in my backyard. One afternoon, I just opened the door, and there was a tomato plant right there! And he just goes, "It's for pizza sauce!" Anytime anyone is thinking of making a pizza, he just shows up. Like, let the pizza making begin!
As told to Associate Lifestyle Editor Tanya Ghahremani.
Bustle's series My Favorite Meal asks famous chefs, bloggers, and tastemakers to describe the one dish, recipe, or ingredient they can't live without — and why.