Jennifer Aniston Is The Mother Of All Beauty Queens In Netflix's 'Dumplin'' Trailer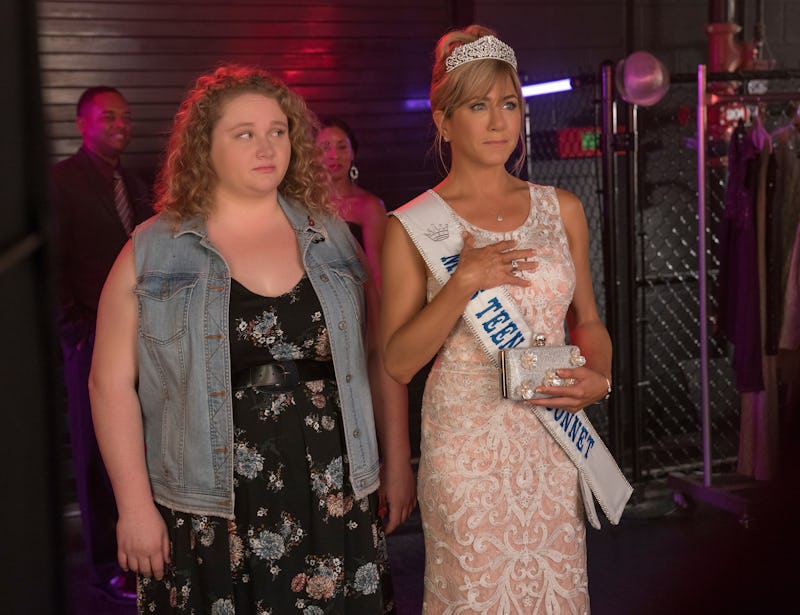 Bob Mahoney / Netflix
Just in case you had any doubts that Jennifer Aniston and Danielle Macdonald would make for the perfect mother-daughter duo, Netflix's new Dumplin' trailer is here to put those worries to rest. Based on Julie Murphy's 2015 novel of the same name, Dumplin' centers around former beauty queen star, Rosie (Aniston) and her plus-size teenage daughter Willowdean, aka Dumplin', (Macdonald), who decides to revolutionize the world's traditional standard of beauty by entering into one of her mom's pageants. However, not everyone in town is receptive to her idea, which challenges Willowdean's confidence and overall mission.
It's a coming of age story that women of all ages will be able to relate to. (Seriously, those teen years of insecurities and self doubt were brutal at times.) And while it'd be easy to write off Aniston's Dumplin' character as a mother who is way too wrapped up in herself and her glory days as a teen beauty queen, the trailer proves that there is one thing she loves more than pageants: her daughter. Rosie may not initially understand why her daughter is choosing to wage war against an institution that encourages young girls to try and obtain impossible beauty standards on themselves, but that doesn't mean she can't come around on the idea and maybe even learn something in the process.
Netflix's official synopsis for Dumplin' reads as follows:
"Dumplin' (Danielle Macdonald) is the plus-size, teenage daughter of a former beauty queen (Jennifer Aniston), who signs up for her mom's pageant as a protest that escalates when other contestants follow her footsteps, revolutionizing the pageant and their small Texas town."
On the one hand, Willowdean's decision to join the pageant world is an attempt to connect with her mother, given that it's such an important part of her life. But on the other hand, it's a chance to show all the other girls in town — who perhaps didn't think they were what some would call "beauty pageant material" — that they have just as much of a right to participate as anyone else out there. In many ways, this film can be labeled as a comedy, but as the trailer instantly indicates, it becomes something so much more than that.
In addition to Macdonald and Aniston, both of whom prove to be tried and true scene stealers in the trailer alone, the Netflix Original also stars the likes of Dove Cameron and Odeya Rush. And if you're looking for your next big crush on the streaming service, To All The Boys I've Loved Before's Noah Centenio may find himself partaking in a little friendly competition with Luke Benward, who appears to be playing the part of Willowdean's love interest. That is, if she wants to give him the time of day. (It's hard to tell from the trailer if she's truly interested in him or not.) You'll just have to wait for the film to come out and see how all these various storylines unfold.
Dumplin' is set to hit Netflix on Friday, Dec. 7. And, if the trailer isn't enough to convince you to watch it, then the original songs from Dolly Parton just might. Get ready to topple the pageant-archy and dance to some new classics, because Dumplin' is coming, and the world will never be the same.