Have A Feeling? There's A Netflix Marvel Show For That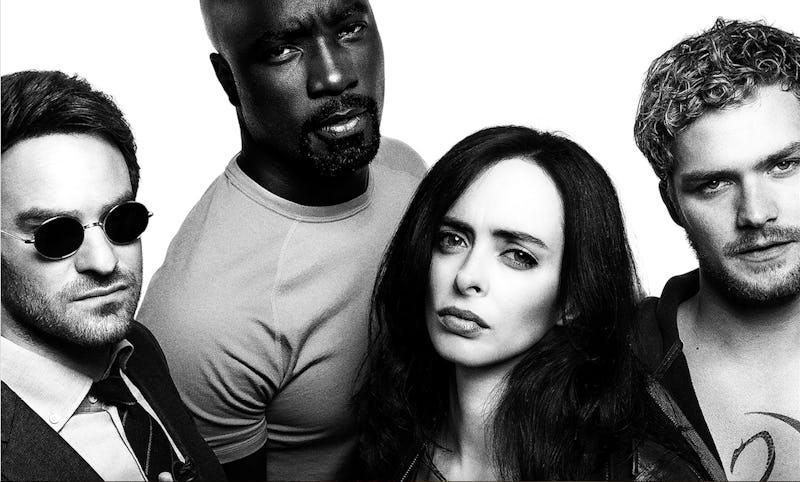 Netflix
If there's one thing that the onslaught of superhero programming has taught us, it's that there's something for everyone. That's the beauty of choice. According to a recent Netflix press release, one in eight Marvel Television viewers was new to, or at least not a huge fan of, the comic book genre before tuning into one of the shows in the Defenders universe. And, that's because there's a Marvel show for everyone on Netflix — even those previously uninterested in the genre.
While it may seem as though the categories you scroll through on Netflix are overly specific, they actually break down genre stereotypes and sometimes categorize shows in unexpected ways. That makes finding those hidden gems and trying something new that much easier.
These paths aren't too difficult to recognize, if you think about it. Jessica Jones may have super strength, but she's also a complex female protagonist with dark humor and a noir story. Luke Cage has a rich world that stands alone, and an element of science fiction. Daredevil is a show about conflicted men. There's not enough room to swing a cat on Netflix without hitting a show like that. Finally, Iron Fist is all about coming of age — or at least, that's the goal.
So, you may start by watching one show... but chances are you'll eventually land on a superhero series. And, if you haven't yet — maybe you should. There truly is something for everyone.
According to Netflix, some other unexpected connections include: Fans of Unbreakable Kimmy Schmidt love Daredevil, those who watch Friends enjoy both Daredevil and Jessica Jones, while The 100 draws folks to both Jessica Jones and Iron Fist. An interesting choice for those who enjoy Luke Cage is Once Upon A Time — though he could use a happy ending more than anybody.
Marvel characters are known for being realistic and relatable people. For example, even if you're not as rich as Tony Stark, his thirst for knowledge and attention is a familiar feeling for many. Misty Knight is just a regular cop who cares about her neighborhood. Star-Lord may have been abducted by aliens, but deep down he's just a kid who misses his parents and loves his tunes.
That's what makes these movies and these shows so accessible. Even if you didn't grow up hanging around the comic book store or trying to crawl up the walls like Spider-Man, there's a hero out there whose journey is for you — and it's only a click away.