Netflix's New Movie 'Roxanne, Roxanne' Tells The Powerful Story Of A Pioneering Female Rapper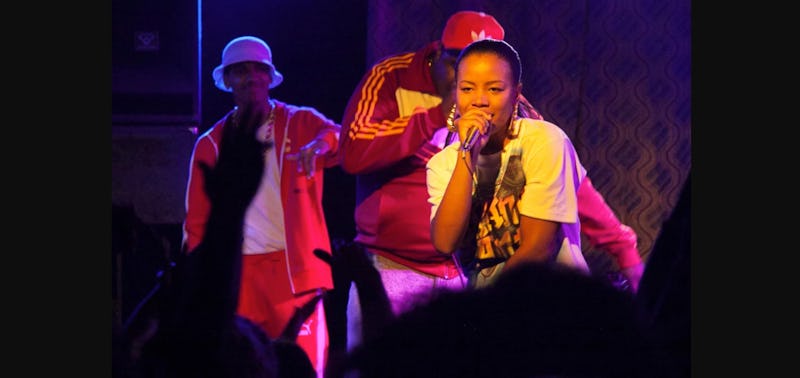 Netflix
These days, hip-hop music is thriving as a mainstream genre, with both male and female rappers like A$AP Rocky, Travis Scott, Nicki Minaj, and Cardi B dominating the charts. However, that music scene was not always so inclusive for women. Back in the '80s, a young girl from Queens wanted to become a star in the male-dominated hip-hop world, but faced intense pushback; luckily, she persevered, and Roxanne Shante ultimately paved the way for countless other female rappers who emerged in the following years. The new Netflix movie Roxanne, Roxanne chronicles Shante's inspiring story, showing how she pushed through sexism and other challenges to become a major star.
The film, streaming on Netflix March 23, originally premiered at the 2017 Sundance Film Festival, where star Chanté Adams won the festival's Special Jury Award for Breakthrough Performance. Oscar-winner Mahershala Ali and actor Nia Long also star in the biopic, which begins with a middle school-aged Shante taking part in an impromptu rap battle against older male neighborhood rappers — and single-handedly crushing her competition. It's just one instance of Shante going up against men who doubted her abilities due to her gender; throughout the film, male rappers call her derogatory names and make fun of her career path. But their sexism just added fuel to Shante's fire.
In real life, as the movie depicts, her path to success was far from easy. As she pursued rap over the years, Shante also balanced school, family responsibilities, poverty, pregnancy, and domestic abuse. Her stardom rocketed when she met rappers Tyrone Williams and D.J. Mr. Magic, and record producer Marley Marl, and her first success came after she worked with Marley to record a response to U.T.F.O's then-popular song, "Roxanne, Roxanne." Her version, which the movie depicts as being freestyled in Marley's apartment between laundry loads, was titled "Roxanne's Revenge" and became her breakthrough hit. The single sold 250,000 copies, and over a span of two years, other MCs produced nearly 50 songs in response to the original Roxanne rivalry.
In showing Shante's story, Roxanne, Roxanne provides a powerful look about what it means to overcome adversity and be independent as a young woman in a male-dominated field. Although Shante was respected in the rap world for her talent, she encountered unequal treatment in not getting paid for performances while her male counterparts did. Multiple times in the film, Shante deals with sexual gestures and pressures from older men, and in real life, she was lured into a romance with Cross (Ali), who preyed on her due to her young age and got her pregnant.
Shante struggled for freedom and success in a world where she was so often brought down and unfairly forced to deal with challenge after challenge. Yet she hustled and stretched her creative muscles nonetheless, even during times where she had to care for her siblings, raise a child as a teenager, and fight for equal pay and treatment during rap performances. As the movie depicts, the toughness that life threw at her gave Shante a strength that makes her character so inspiring, and so relatable to watch for many women who've had to work extra hard in male-dominated fields. She overcame some of life's biggest roadblocks in order to have the success she knew she could, and pursue her dreams of becoming a pioneering female rapper.
Netflix's Roxanne, Roxanne gives a moving glimpse of what it's like to be a young female trailblazer in a world that refuses to provide support, and Shante's story will most certainly leave a lasting emotional impact on viewers no matter what careers they're pursuing or what dreams they have.