Netflix's New Horror Baking Show Is Sure To Fulfill Your Halloween Sweet Tooth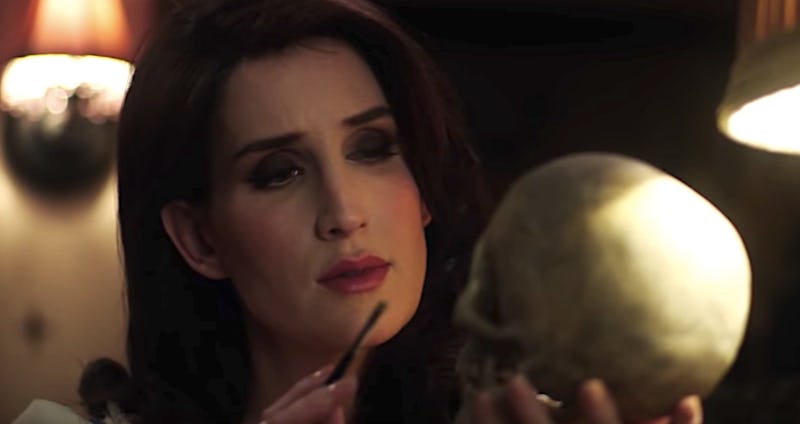 Netflix
October has finally arrived, which means Halloween is just around the corner. And what better way to get an equal amount of both tricks and treats than by watching Netflix's new horror baking show trailer that's guaranteed to satisfy any horror (and baking) enthusiast's sweet tooth? The series is titled The Curious Creations of Christine McConnell, and gives viewers an up close look inside the home of baking artist extraordinaire Christine McConnell where she makes all of her extraordinarily spooky creations.
However, in the trailer it soon becomes clear that she isn't alone inside that lavish big house of hers. There are creatures living among her, which, according to Nerdist, are made by The Jim Henson Company, Henson Alternative. (Think of them like if The Labyrinth celebrated Halloween.) They're there to support Christine with all of her exciting baking endeavors, which look just as spooky as they do delicious. The creativity and imagination that goes into each and every savory item makes her creations just as easy on the eyes as we're sure they are on the taste buds. They may not be the type of food items Morticia Addams herself would serve, but she's certainly be able to appreciate the complex artwork and craftsmanship.
Those unfamiliar with Christine McConnell's work should make their way over to her Instagram account to get a little taste (get it?) of her talents and what you'll be in for if you tune in for her horror baking show. From lavish three-tier cakes to alien pies that are truly out of this world, there appears to be nothing this woman can't create to help make your Halloween eating fantasies come to life. She even makes Hocus Pocus inspired treats if you can believe it or not, such as this amazing Billy the Butcherson sundae that almost looks too good to eat. Almost.
It only further proves just how incredible this spooky-themed baking show of hers is going to be. So if you love Halloween and you love baked goods (and quite honestly, who doesn't?) then be sure to tune in for The Curious Creations of Christine McConnell, which debuts on Netflix on Friday, Oct. 12. However, it only seems fair to warn you that watching the series has the possible side effect of making you incredibly hungry.
The official Netflix synopsis of The Curious Creations of Christine McConnell is described as follows:
"Wickedly talented baker and artist, Christine McConnell welcomes you into her terrifyingly delicious home to create delectable confections and hauntingly disturbing decor with the help of her colorful collection of creatures."
As luck would have it, there are a plethora of Halloween movies and shows coming to Netflix throughout the month, ranging from the spine-tingling horrors of The Shining to the highly anticipated Netflix Original, The Chilling Adventures of Sabrina. So, as you can see, Christine McConnell's show is the perfect ingredient to help break up some of your more nightmare-inducing watching endeavors.
As of now, there's no word on whether or not there will be any more future seasons down the line, but if the trailer is any indication, there's no doubt that viewers will be wanting seconds.