Photos From Emma Stone & Jonah Hill's New Show Will Give You Major 'Superbad' Flashbacks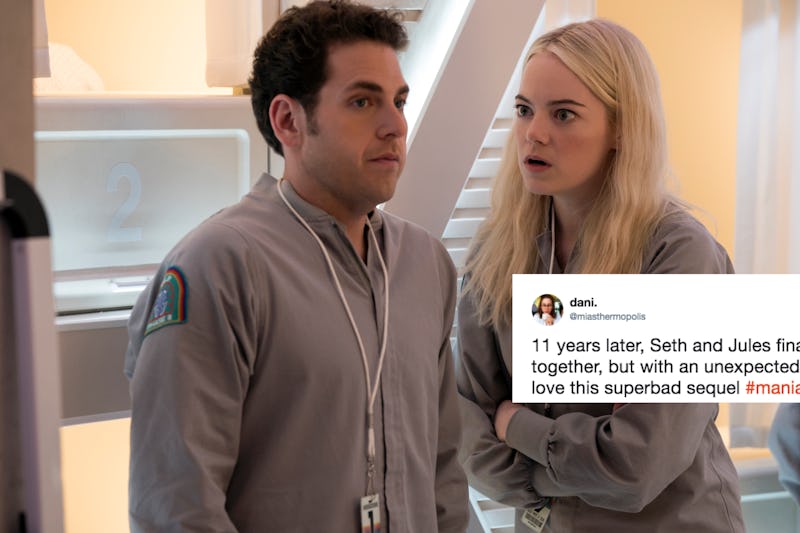 Michele K. Short/Netflix; miasthermopolis/Twitter
Reunions and revivals of beloved shows and movies abound these days, from the cast of Dawson's Creek to the Roseanne reboot. However, sometimes your favorite film's co-stars come back together in unlikely circumstances. On Wednesday, photos from Netflix's new show Maniac, starring Emma Stone and Jonah Hill, were released. And Twitter is loving seeing the two, who previously appeared in Superbad together, reunited.
Stone and Hill played Jules and Seth, respectively, in the 2007 film about two teens — Hill and co-star Michael Cera — who want throw one rager before they graduate high school. The movie, which was written by Seth Rogen and Evan Goldberg and co-produced by Judd Apatow, was a huge hit, and marked a professional milestone for both Hill and Stone. Maniac, which also stars Justin Theroux and Sally Field, is a new version of a Norwegian series of the same name that aired in 2014, and is directed by Cary Fukunaga, known for his work on Season 1 of the HBO show True Detective.
According to W, the original show revolved around a man in a mental institution who believed he was living out the dreams he had, and experienced them as reality. The 10-episode version starring Stone and Hill will follow two strangers who find themselves caught up in a pharmaceutical trial that transports them inside their dreams and allows them to live out their fantasies.
As soon Netflix released photos from the show, fans of the '07 film expressed their joy at seeing Hill and Stone together again.
One user wrote of the pairing, "11 years later, Seth and Jules finally stayed together, but with an unexpected turn wow I love this superbad sequel". Another tweeted shots from the new series and joked, "SUPERBAD 2 CONFIRMED!! JK LOL It's just one of @netflix's new series called #Maniac."
Fans quickly took to posting photos of Stone and Hill from their Superbad days next to shots from Maniac, waxing nostalgic about the comedy film and playing on the contrast between the tones of the two.
In one of the newly released photos from the Netflix show, Stone and Hill wear matching grey garments as they sit with their heads between two large panels, and the four panels of the picture are each backlit a different color. In another still, Stone and Hill walk arm in arm.
Both Stone and Hill have kept plenty busy since their first turn onscreen together. Hill co-starred alongside Channing Tatum in 21 Jump Street and its sequel, and roles in Martin Scorsese's 2013 film The Wolf of Wall Street and the Coen Brothers' star-studded comedy, Hail, Caesar! in 2016.
Stone, meanwhile, has garnered critical acclaim in numerous roles, including as Michael Keaton's daughter in the Oscar-winning 2014 movie Birdman, and most recently as tennis champion Billie Jean King in Battle of the Sexes, opposite Steve Carrell, which earned her a nomination for Best Actress at the 2018 Oscars.
However, Maniac doesn't mark the only time Stone and Hill have reunited. In January 2017, Hill presented Stone with the SAG award for Outstanding Performance by a Female Actor in a Leading Role, and the two shared a hug when she walked onstage.
It's no surprise that Stone and Hill were cast opposite each other in a show like Maniac. Both actors have been lauded for their comedic and dramatic skills, and from the sound of the plot, it seems they will be able to put both to good use.
While there's no official word on a release date, Maniac will be available to stream on Netflix later this year.