Details About Netflix's Next Creepy Adaptation Will Have You On The Edge Of Your Seat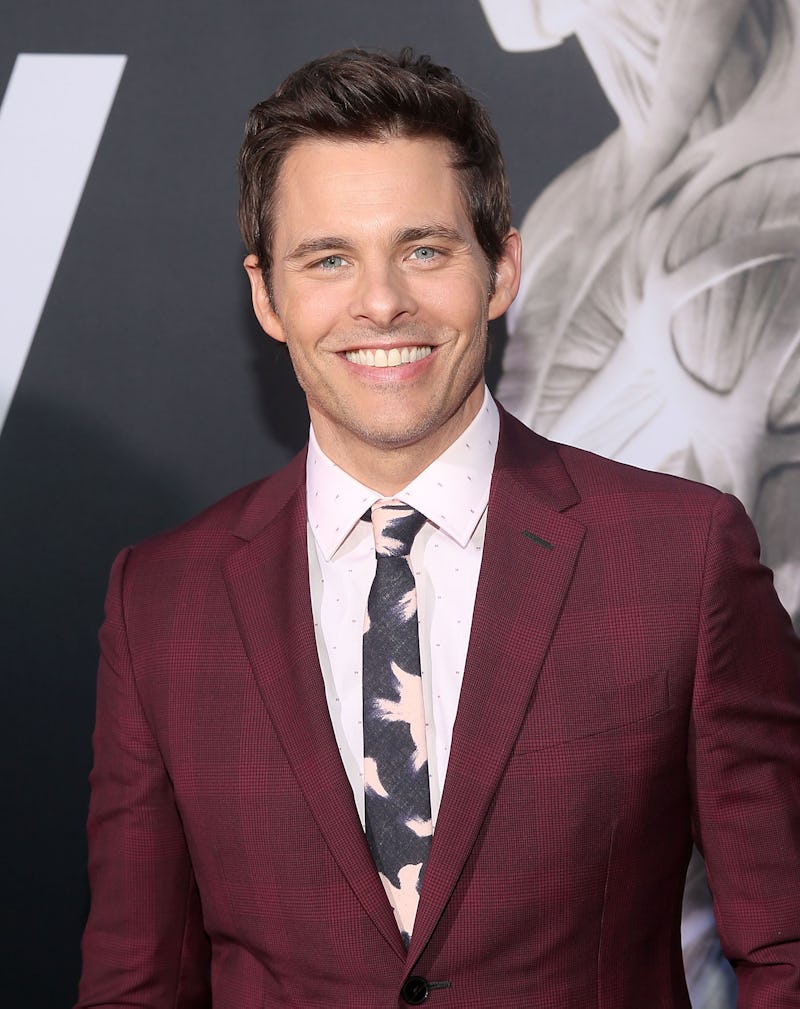 Jesse Grant/Getty Images Entertainment/Getty Images
Whether they're true crime or fiction, Netflix has enough marathon-worthy scary shows and movies to keep any horror fan up at night. On Tuesday, Netflix announced a new scary film, In the Tall Grass, an adaptation of a novella by veteran horror storyteller Stephen King and his son, Joe Hill, according to Deadline. Westworld's James Marsden is in negotiations to star in the upcoming movie, while Vincenzo Natali, known for working on science-fiction films like Cube and Splice, will reportedly direct.
The story follows two siblings, Cal and Becky Demuth, who are inseparable. During her sophomore year of college, Becky learns she is pregnant, and her parents suggest that she go live with her aunt and uncle until the baby is born. Because the trip happens to fall over spring break, Cal decides to tag along. After they've been traveling for three days, they pull off of the road while driving through Kansas when they hear a young boy named Tobin screaming for help in the tall grass nearby. They run in to help the child, but they get separated and find themselves lost and confused, unsure if they'll ever find their way out.
The novella was originally published in two parts in the June/July and August 2012 issues of Esquire. The film marks the third time Netflix has adapted a work by King for the streaming service, following psychological thriller Gerald's Game, which starred Carla Gugino and Bruce Greenwood and was based on the author's novel of the same name, and the horror drama 1922 starring Thomas Jane, which was based on a King novella. Both films were released in 2017.
Likewise, when King and Hill — who is a successful horror author in his own right — wrote In the Tall Grass, it was the second time the father and son had worked together, as they also co-authored the 2009 novella Throttle, which was optioned for the big screen in 2017, according to THR.
King's work has been adapted for the screen countless times, perhaps most famously in films like It — which became the most successful King adaptation ever in 2017 according to Variety, raking in $700 million worldwide at the box office — and The Shining. He has numerous other projects in the works. Jason Clarke and John Lithgow are slated to star in a new adaptation of his novel Pet Sematary, which was previously made into a film in 1989, and Universal Pictures won a bidding war for the rights to his science-fiction book The Tommyknockers in April, the Los Angeles Times reported.
King's 1979 book, The Long Walk and his 1978 novel The Stand are also being adapted into a movie and limited series, respectively.
King is an indisputable legend in the horror world, but even for him, the past year has marked something of a professional milestone. In a Vanity Fair interview published in August 2017, the author said, "In a way, yeah, it does feel like I'm having a moment, but not anything that I'm trying to get a puffy head about ... It's just the way things happen. You sow your seeds, and sometimes they all come up at the same time, and that's a great thing. It's my lucky year ... what can I say?"
While there's no official word on who Marsden — whose show Westworld, returned to HBO in April — will play or when the film will be released. Deadline reported that the movie will begin shooting this summer in Toronto, and it's possible that it will be readily available to stream everywhere later this year.