Netflix's 'Unfortunate Events' Vs. The 2004 Movie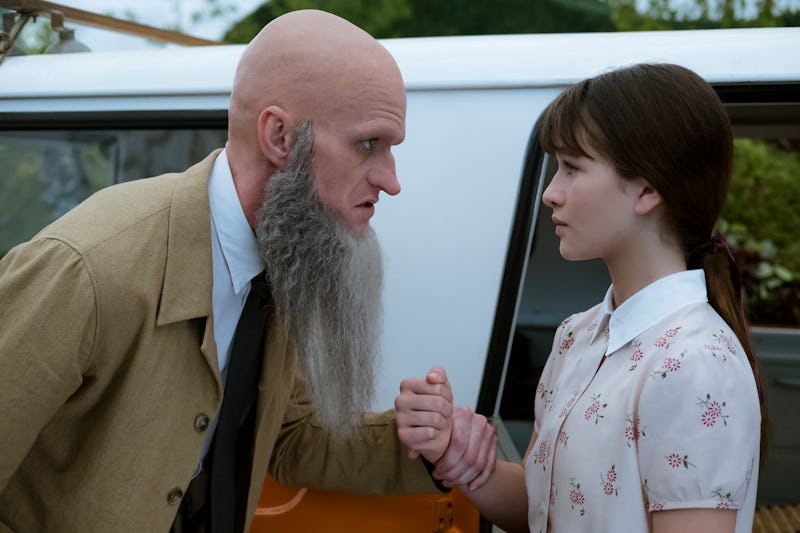 I remember reading Lemony Snicket's A Series Of Unfortunate Events in rapid succession. They were different than other young adult fiction, thanks to their dark tone and the world they built that felt like an imaginative nightmare, and they became incredibly popular. So it came as no surprise when A Series Of Unfortunate Events became a movie in 2004. The problem is, with such tricky and darkly humorous source material, the movie struggled to find its voice. But a new adaptation is coming to make its own attempt at capturing what made the books so special, and while Netflix's A Series Of Unfortunate Events and the movie aren't connected and have many differences, they will have some overlap thanks to their shared source material.
There are bound to be some similarities between the 2004 film and Netflix's show, which premieres on Friday, Jan. 13. One is that they don't attempt to cover the entire 13-book series all in one go. The film was based on the first three books, The Bad Beginning, The Reptile Room, and The Wide Window, and the Netflix series adapts the first four, adding The Miserable Mill.
With eight episodes in its first season, each book will span two episodes of the Netflix series, which adds up to about 90 minutes each. Considering that the film was only 107 minutes in total, that gives the TV show much more time to go into detail on every story.
The man behind those stories is also more involved in the TV show than he was with the movie. In a 2005 interview with The A.V. Club, Daniel Handler — the actual author of A Series of Unfortunate Events — explained how he wrote multiple drafts of a script for the movie, but none were used after a "changing of the guard" behind the scenes. Instead, Robert Gordon rewrote it and became the credited screenwriter.
When it comes to the Netflix series, however, Handler was much more involved with the finished product. He is both a writer and producer of all eight episodes, and star Neil Patrick Harris told Collider that Handler is a big part of the series:
"He was very involved with a lot of stuff. He even helped write the theme song. And he's in the show, you'll see him in the actual piece. He's our own little Alfred Hitchcock. He was very involved in the writing, as he should have been."
Harris also brings a similarity between the Unfortunate Events adaptations. Both the movie and show cast a well-known comedic lead as Count Olaf while surrounding him with lesser known child actors. Jim Carrey took on the villain in the movie, who, like Harris, is known for having a wide range of acting abilities.
Carrey was joined by Emily Browning as Violet and Liam Aiken as Claus, who both had multiple credits to their name but weren't very well known. Harris, on the other hand, plays opposite Malina Weissman and Louis Hynes, who each only have a few previous roles (or in Hynes' case, one), making A Series Of Unfortunate Events their biggest project to date.
The biggest potential difference between the movie and series is something hard to predict: tone. Fans of the books won't know if the series is able to capture their distinct voice until it premieres and we can see it for ourselves. It's a difficult feat — the books feature an impossibly perfect combination of horror, humor, and wit. Too much or too little of any of these elements and the adaption doesn't work.
Though awful things happen to the Baudelaires, A Series of Unfortunate Events is still always fun to read. That's what the Netflix series must capture, a children's horror story with levity and playfulness. The film struggled with that balance, so I hope that Netflix's adaptation, guided by Handler, finds that winning combination. If it doesn't stand out by nailing that tone, that would be, well, unfortunate.