Hey 'Nailed It' Fans! Netflix Has A New Baking Show Coming Out Of The Oven ASAP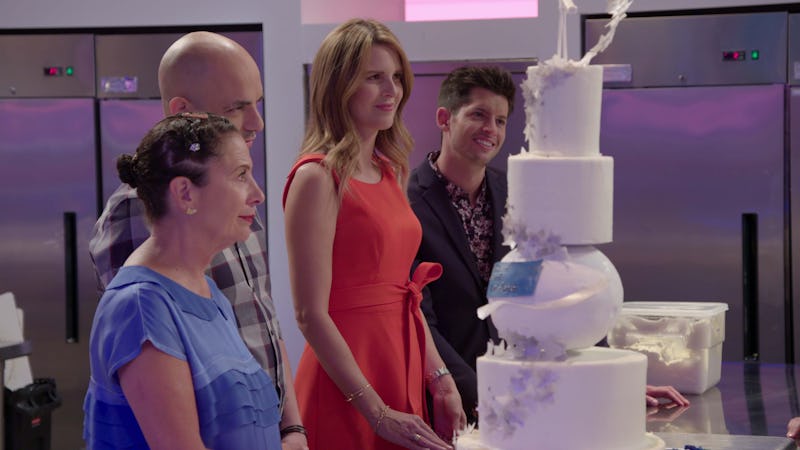 Netflix
If you already miss Nailed It because you rushed through the 12 available episodes, those same producers have something else baking for you right now. On July 13, Sugar Rush hits Netflix, and the show will have you on the edge of your seat. Also a competition baking show, this one focuses on beating the clock while having the best dessert. So, it's not Nailed It, because these bakers are well-established talents with a lot of skill and creativity, but you still won't be able to stop watching.
Here's how it works: Four teams of two compete in three rounds, with one team getting cut after each round. The winner of the final round gets $10,000. The rounds are cupcakes, confections (think cookies, candy), and cake. The teams get three hours for the first two rounds, and three hours for the final round. But, here's where the "rush" of Sugar Rush comes in — if you work more quickly in the first two rounds, you can use any leftover time in the final round. For example, one team in Episode 1 finished an hour and a half early, so they had four and a half hours to do their cake vs. the other team's three and a half.
So, it's a bit like Chopped and a bit like Masterchef and any other cooking/baking show you can think of, because they are all sorta similar. What's not the same is the creativity. While contestants don't have to contend with any mystery ingredients like on Chopped or Iron Chef, they do have themes for each round and they are meant to be as innovative as possible. The theme of Episode 1 is "surprise," and you will be.
From cupcakes with wasabi centers to a dessert that looks just like avocado toast but is actually cake, the show delivers on the surprise portion.
And, you'll also learn new baking techniques yourself, like putting a small amount of cupcake dough in the microwave for 30 seconds to taste it before baking the whole batch.
While Nailed It helps make bad bakers feel better — who hasn't had a bad day in the kitchen? — Sugar Rush will make viewers' skills stronger and their ideas more innovative. Or, if you're not a baker yourself and just enjoy watching other people excel in the art of cake-making, there's plenty for you to see too. In Episode 1 you can look forward to a stark white tiered cake that, when cut open, reveals the deep purples and blues and silvers of a swirling galaxy — complete with miniature planets tucked into the batter.
Honestly, Nailed it and Sugar Rush would do well to team up on an episode. The winning Sugar Rush cake can be the model cake for the Nailed It contestants. Then you get to see what bakers doing both their best and worst with the same material looks like. Free idea, Netflix!
And, if you're really just all about the cake fails, there are some of those too, judging from the season's trailer. They probably won't be quite as spectacular as those on Nailed It, but still. In the first episode, there's some cake surgery after the pieces refuse to come out of the pan — and the trailer hints at some Nailed It-level end product gooeyness. (Sometimes frosting won't behave even for the most-skilled of bakers.)
So, if you want to see some interesting baking (with a little mess and stress thrown in) Sugar Rush is a great follow-up to Nailed It. They may have different flavors, but they have the same super fun entertainment value.