The 'Trollhunters' Cast Features So Many Stars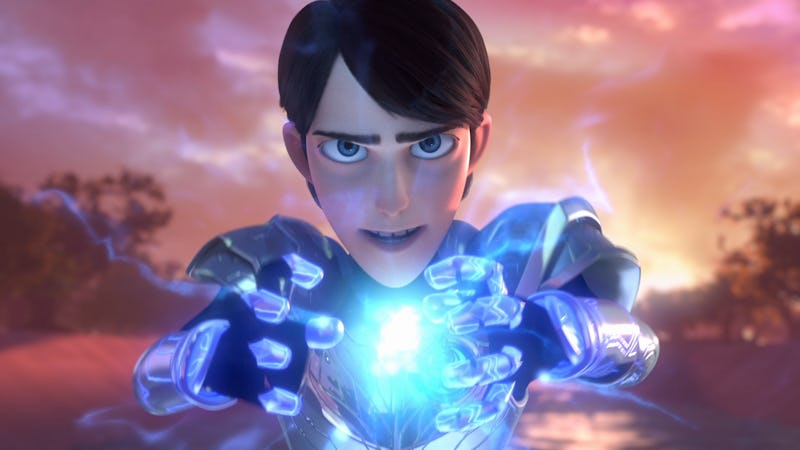 Netflix
Across the span of his 30-year career, filmmaker Guillermo del Toro has dipped into a grab bag of different genres, from dark fantasy and gothic horror to high-thrill action. His latest endeavor, Netflix's Trollhunters, will tread a more family-friendly path, following the story of Jim Lake Jr., an average-teen-turned-hero at the heart of the animated show's fantastical plot. The Trollhunters voice cast is backed mostly by established actors, and includes one very special voice: Anton Yelchin, who died in June, stars as Jim, making the series one of his final projects.
Del Toro refused to replace the late actor's recordings, telling the New York Daily News, "We need[ed] to keep him. He was a great guy to work with, he was proud of what he did, we were proud of what he did. The last sessions were some of the best work he did." Yelchin's character, a high schooler, is unwittingly crowned the defender of the world beneath his town, a mythical civilization populated by trolls. The ensemble roster runs the gamut, including Frasier alum Kelsey Grammer, frequent del Toro collaborator Ron Perlman, and Transparent standout Amy Landecker. Before the series unveils its whopping 26 episodes on Dec. 23, get to know the cast below.
Anton Yelchin As Jim Lake Jr.
As mentioned above, Anton Yelchin leads as Jim Lake Jr. He rose to fame performing in films such as Alpha Dog (2006), Charlie Bartlett (2007), and Like Crazy (2011), and is perhaps best known for his turn as Pavel Chekov in the rebooted Star Trek franchise. He also voiced Clumsy Smurf in The Smurfs movies. Sadly, Yelchin died in a tragic accident in June.
Charlie Saxton As Toby Domzalski
The role of Toby, Jim's best friend, went to Charlie Saxton. He first gained prominence as Damon Drecker in HBO dramedy Hung, going on to pick up stints in Workaholics and Silicon Valley, plus a series regular gig on Amazon's Betas. Most recently, he starred in short-lived Fox comedy Cooper Barrett's Guide To Surviving Life as the title character's unlucky in love roommate, Neal Fissley.
Kelsey Grammer As Blinky
Kelsey Grammer's name will be familiar from his collective two decade run as Dr. Frasier Crane on classic sitcoms Cheers and Frasier. His extensive 30-plus year career has landed him parts in the X-Men series, Transformers: Age of Extinction (2014), and Neighbors 2: Sorority Rising (2016), among many others. He also has deep roots in voice work, having appeared as Sideshow Bob in The Simpsons since 1990. He's won five Emmys, three Golden Globe Awards, and one Tony. Here, he plays Blinky, Jim's six-eyed troll ally.
Ron Perlman As Bular
Trollhunter's villain, Bular, is portrayed by Ron Perlman. The veteran actor has frequently collaborated with del Toro throughout his career, beginning with 1993's Cronos and continuing through Blade II (2002), the Hellboy series, and Pacific Rim (2013). He's also appeared in major titles like Alien: Resurrection (1997), Fantastic Beasts and Where To Find Them (2016),and Sons of Anarchy, in which he played Clay Morrow. His voice work is wide-ranging, too: He's contributed to Batman, Justice League, Adventure Time, and Tangled, among many others.
Steven Yeun As Steve
Yeun broke out on television back in 2010 as The Walking Dead's Glen Rhee, though he also nabbed episodic parts in The Big Bang Theory and Law and Order. Behind screen, he's voiced Avatar Wan in The Legend of Korra and Charles in American Dad!, and currently stars as Keith in Netflix animated series Voltron: Legendary Defender. In Trollhunters, he plays bully Steve.
Jonathan Hyde As Mr. Strickler
Jonathan Hyde's Mr. Strickler doubles as Jim's history teacher and a troll spy, acting as both a caring mentor and his closest threat. Hyde currently stars as Eldritch Palmer in FX horror drama The Strain, but his credits date back to 1977. He's most prominently known for his roles as loyal butler Herbert Cadbury in Richie Rich (1994), Sam Parrish and Van Pelt in Jumanji (1995), and J. Bruce Ismay in Titanic (1997).
Lexi Medrano As Claire Nuñez
Newcomer Lexi Medrano tackles the part of Claire, Enrique's protective older sister. This marks Medrano's first major role, as she's previously only scored episodic turns in series such as Modern Family, Good Luck Charlie, and Sullivan & Son.
Amy Landecker As Barbara
Transparent standout Amy Landecker takes on the role of Jim's mom, Barbara. Before starring as Sarah Pfefferman in Transparent, she picked up stints in Law & Order, The Paul Reiser Show, and Revenge, as well as supporting roles in Dan In Real Life (2007), A Serious Man (2009), and All Is Bright (2013). Most recently, she portrayed anesthesiologist Dr. Bruner in this year's Doctor Strange.
Fred Tatasciore As Aaarrrgghh!
Fred Tatasciore landed the role of gentle giant Aaarrrgghh!, a reformed fighter who's since adopted a zen-like attitude. Tatasciore is a voice acting pro. He's lent his voice to nearly every animated property imaginable, including Family Guy, Robot Chicken, Teenage Mutant Ninja Turtles, Bojack Horseman, Tangled (2010), Frozen (2013), and The Angry Birds Movie (2016).
If you want to hear these stars in action, Trollhunters hits Netflix on Dec. 23.
Editor's Note: a previous version of this article incorrectly stated that Claire was Jim's sister. She is Enrique's sister.