Detention Disrupts Immigrants' Lives. Activists Want ICE To Know What That's Like.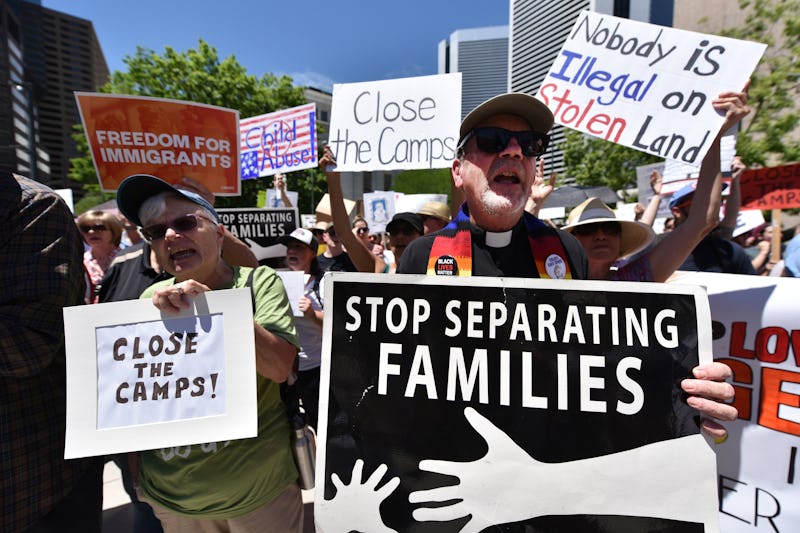 Tom Cooper/Getty Images Entertainment/Getty Images
A Jewish activist group has been protesting outside of immigrant detention centers across the country with a simple message: "Never again." On Tuesday, the group, Never Again Action, held its largest protest yet at the National Mall in Washington D.C., with an estimated 1,000 people attending, according to a tweet from the organization. Community activists have been organizing vigils and protests outside of detention centers for years, but "Never Again" protests against ICE have grown larger recently, as lawyers and local media continue to report on mistreatment and poor conditions at these facilities.
Though the protests are usually peaceful, some protesters at a detention facility in Elizabeth, New Jersey, were arrested in early July for blocking entrances to buildings. Some of the protesters at Never Again Action's D.C. protest, who marched from the National Mall to Department of Homeland Security headquarters, were arrested for occupying the lobby of the building, according to Never Again Action organizer Serena Adlerstein.
Adlerstein tells Bustle that protesting at detention facilities and DHS offices is important to draw attention to the conditions there, but also to create a "physical disruption of these systems that are disrupting immigrant families' lives every day."
"It's very much about ... calling attention to the crises happening everywhere, and also about actually making folks' lives who have these jobs — and who are carrying out the work of these very violent institutions that are terrorizing immigrant families every day —actually making their lives harder and making their jobs harder to do," she says.
Why Jewish Activists Are Protesting ICE
Adlerstein posted a Facebook status in late June calling on Jews to occupy Immigration and Customs Enforcement (ICE) detention centers under the banner of "Never again," which is a call to ensure that a mass genocide like the Holocaust, in which 6 million Jews were murdered in state-sanctioned violence, never happens again.
The comparison between the crisis in U.S. immigrant detention centers and the Holocaust started to gain national attention when Rep. Alexandria Ocasio-Cortez (D-NY) called border facilities "concentration camps" in June. She faced backlash from political opponents and some Jewish people, who believed the phrase should be reserved only for the atrocities of the Holocaust.
We are not going to allow them to continue as if their jobs are not perpetuating the system that is murdering families every day.
Jewish activists like Adlerstein and Emilia Feldman disagree, saying the "process of dehumanization" that allowed Jews to be murdered in the Holocaust is being repeated again with the U.S. government's treatment of immigrants. Feldman, another Never Again Action organizer who also works with the immigrant rights group Movimiento Cosecha, tells Bustle that Jews and Latinx people are organizing to say, "we've seen these signs before and we're not going to let it get any further than this."
Both Adlerstein and Feldman were involved in protests in D.C., where some activists peacefully sat in the parking lot of DHS headquarters to block vehicles from getting in and out, physically disrupting "business as usual," Adlerstein says. As a result, she says the headquarters had to close and send employees home early. Though none of the peaceful protesters sitting in the parking lot were arrested, she says some of them were "trampled" on by law enforcement officers.
"Even though those folks who were blocking traffic didn't get arrested, that's not the point," she says. "The point is to expose this state-sanctioned violence. ... And we still saw that in the really like unnecessarily violent way that the DHS officers really trampled this group of protesters." Bustle has reached out to DHS for comment.
Neither Movimiento Cosecha nor Never Again Action is asking activists to risk arrest while protesting. But Feldman says she is willing to be arrested while protesting at a detention center, or a DHS or ICE office, because it puts additional pressure on the government and sets an example for anyone who might be watching.
"It's also showing everybody in this country, the people who are sitting on their couches watching us on the news or sitting on Facebook and looking at our news articles, and showing them we are willing to put our bodies on the line," she says. "If we are willing to go to jail for this and to be detained and to go through the motions of dealing with that, then, you know, there's so many other ways that are smaller for people to plug in."
What To Know About Your Right To Protest
Vera Eidelman, staff attorney with the American Civil Liberties Union's Speech, Privacy, and Technology Project, tells Bustle that your right to protest without a permit is the strongest on "traditional public forums," which are public streets, sidewalks, and public parks (though some parks require a permit depending on the size of the group).
"The general rule is that if people are not obstructing traffic or otherwise disrupting the way that business is being conducted — so blocking entrances would probably fall into this category — they should be able to protest without a permit," she says. The rules might be different depending on the location of the building or parking lot, Eidelman points out, "but if what we're talking about is people on public streets or sidewalks that aren't blocking traffic, that aren't obstructing any entrances, they shouldn't need a permit to be able to make their voices heard."
If you're considering protesting at a local DHS or ICE office, or a detention facility, and you're unsure about what part of the property would be considered a public forum, you could call the detention center or DHS office directly, or else call your state ACLU.
Some organizers of other detention center or federal office protests are taking extra steps to ensure the safety of their participants. Ro Adler, a coordinator at the Philly Childcare Collective, which provides free child care for people who want to protest or organize, has planned a "Playdate Protest" outside of Philadelphia's ICE office on July 24 to center children in activism and to "show that kids are activated and are watching and understand what's happening."
Adler says they've taken special precautions for the event because it involves children. First, all of the organizers for the protest have organized before, so they're well-versed in how the Philadelphia police and civil affairs interact with protesters. Additionally, they will also have a police liaison at the protest and safety monitors.
Adler, who is an early childhood educator, says their event hopes to connect children who aren't detained to those in detention. They plan to read letters written by children in detention, and have children at the protest color images for children being held at Berks County detention center.
"I would argue that if we're wanting to set up our children to have a real and honest understanding of how the world works and to feel empowered to take action and fight for what they believe in, that there are ways to start those conversations from when a person is very, very small and may not even have many words," Adler says.
Regardless of the nature of the event, Feldman says protests at detention centers and government offices will continue to be important so that federal employees and elected officials see that "we will keep having these events and these actions, wherever it is they are, that we are not going to allow them to continue as if their jobs are not perpetuating the system that is murdering families every day."
"We will go wherever they are," she says. "Our voices won't be drowned out by the walls that they hide behind... no matter how many riot police come out and try to calm our crowds, our numbers are just expanding and that's going to keep happening until the system falls."