How 'New Amsterdam' Gives Real, Neglected Patients A Platform To Be Heard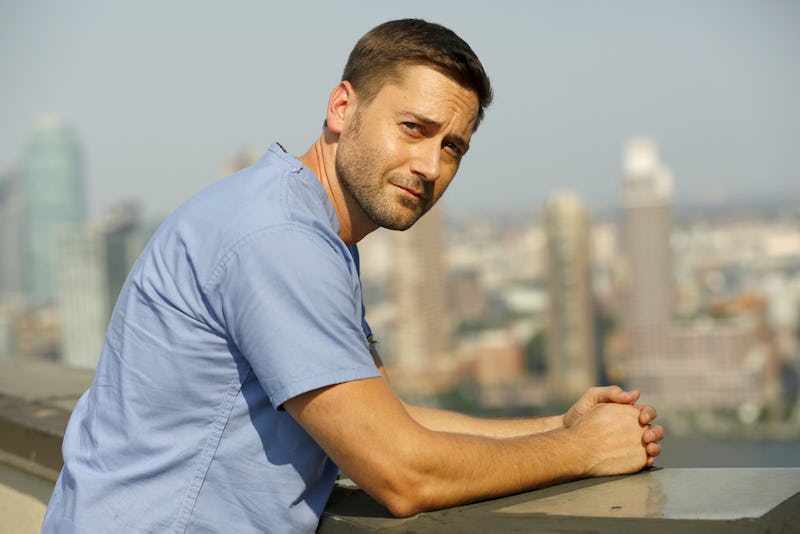 NBC
Attention, Grey's Anatomy fans: A new medical drama has arrived to add to your TV lineup, but with an added twist. New Amsterdam is based on a true story, a real doctor, and a real New York hospital. So, it's bound to be a heart-tugging — and likely tearful — watch.
He may be no McDreamy (RIP), but Dr. Max Goodwin leads the helm of the NBC series. He's fresh to his role as the chief medical director of New Amsterdam Hospital, which, according to Deadline, is inspired by New York's Bellevue Hospital — the oldest public hospital in America. In the show, the New Amsterdam staff is uninspired, underfunded, and under-appreciated, which, over time, has led to a decline in the quality of patient care.
Per Variety, Dr. Goodwin's character is based on Dr. Eric Manheimer, who wrote a memoir titled Twelve Patients: Life & Death at Bellevue Hospital. "The origin of the book was really my experiences at Bellevue hospital where I was the chief medical director for 15 years," Manheimer, who serves as a producer on the show, said in a teaser. "So for me, this is all about the stories and patients." That applies to Manheimer himself, too, as he was diagnosed with throat cancer during his tenure at Bellevue and received treatment under the same roof.
Manheimer's on-screen counterpart, Dr. Goodwin, is portrayed by Ryan Eggold, who said in the same clip that he was drawn to the character's mix of optimism and tenacity. When you're running a hospital that cares for some of the country's most underserved populations, you need to be fueled by positivity to survive, but Goodwin knows how to keep it real when it comes to getting the work done.
"He's got this caution to the wind attitude," Eggold explained in the sneak peek. "It's like, roll the sleeves up, get your hands dirty. If that gets you fired, then that gets you fired … There are people who are reaching to make real change in the world. That's really what I love about the show."
And Goodwin's no-nonsense commitment certainly shines through, when, in the teaser video, he publicly fires an entire department. "Every department that places billing above care will be terminated," he says to a room full of doctors. "We all feel like the system is too big to change, but guess what, we are the system. And we need to change. Let's get into some trouble, let's be doctors."
That narrative feels especially relevant not just because it's inspired by real events, but because it furthers the conversation around trust and transparency within the medical field. According to the New England Journal of Medicine, "In 1966, more than three-fourths of Americans had great confidence in medical leaders; today, only 34 percent do." Their research also concludes that people in other developed countries are more likely to trust medical professionals than Americans.
New Amsterdam may not solve those trust issues outright, but it will do the patient-doctor relationship justice by elevating real voices and real stories still existent at Bellevue today.