The London Attack Heroes Inspired A New Facebook Feature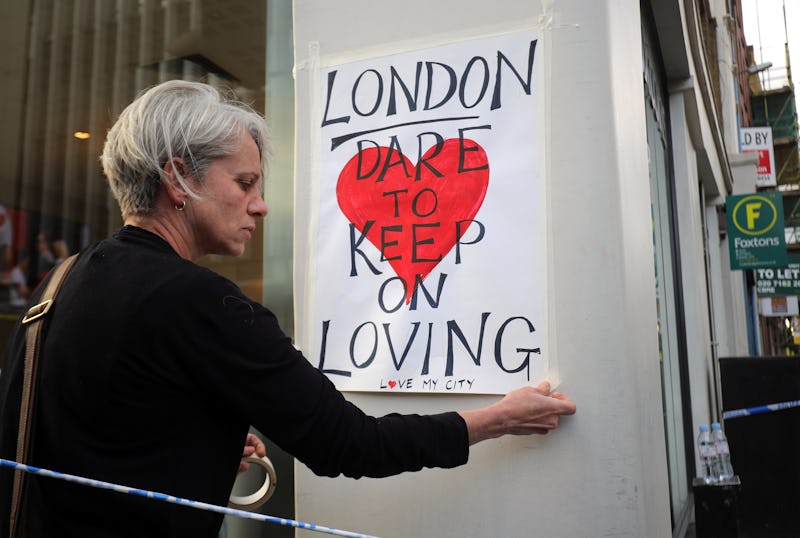 Christopher Furlong/Getty Images News/Getty Images
At least seven people lost their lives in the London Bridge attack on Saturday while at least 48 were injured. While the prime minister of the United Kingdom, Theresa May, has characterized the attack as an act of Islamic extremism, no Islamic extremist group has claimed responsibility for the London attack so far. As Britain endures the aftermath of the third attack in several months, messages of solidarity and compassion have poured in from the international community. Now, there is a new Facebook feature to help London Bridge attack victims, as well as victims in any future attacks.
The purpose of the new feature is to geolocate locals with other locals in the wake of an attack by using the safety check feature on mobile. The safety check on the mobile activates only when "enough people in an affected area post about an incident," according to Facebook. Once it is activated, the safety check feature will offer an option saying "find help or provide help to your community." This allows you to pick between the options to "find help" or "provide help," which appears on the side bar of the safety check screen.
It's user-intuitive, so navigation on the page is smooth and quick with both options listed at the top and a location-enabled map below.
Users who have enabled their location and activated either option will appear at the bottom of the page. While shelter would seem to be the primary form of help needed or offered during a chaotic event like the London Bridge attack, the feature is also great for other forms of support to those grappling with such a disconcerting event. You can offer shelter but also a ride to a safe place, food in case they are seeking it, and even an option to donate blood. The post will be public which allows others to see it and contact the person directly through messages.
Locals in London have been extremely generous with their help so far. Tweets from various accounts offering shelter and safe rides back home have appeared all over Twitter. But this feature from Facebook is a game changer. It carries the ability to bring all offers of and requests for shelter, safe rides, food, and even a shoulder to cry on to one singular point for people to navigate and select.
In a time where social stability and peace is not exactly guaranteed, technology can be a powerful source of bringing vulnerable people closer to those who can help.