Max Greenfield Will Still Be Playing Schmidt Long After 'New Girl' Ends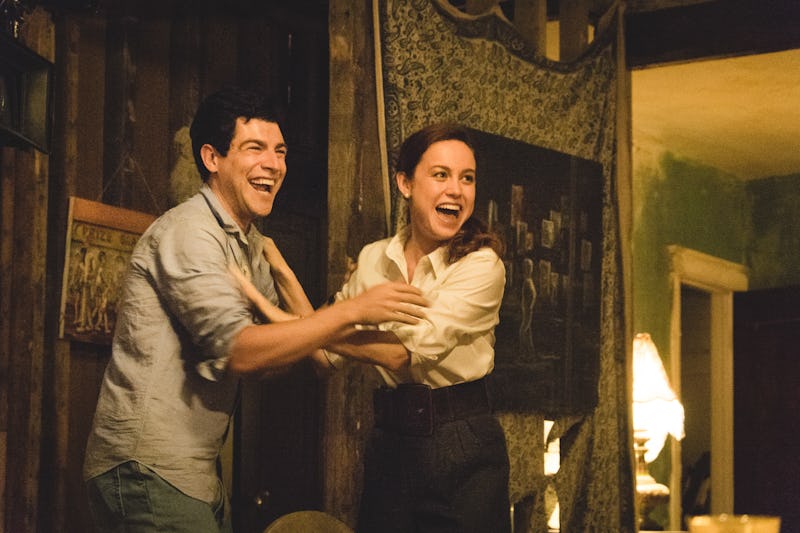 Lionsgate
In the upcoming based-on-a-true-story film The Glass Castle, Max Greenfield plays David, a wealthy, pretentious, image-conscious, well-groomed Wall Street type. Sound familiar? If you've tuned into FOX's New Girl, it just might. Because some fans know Greenfield mainly as Schmidt, one of three roommates bunking with Zooey Deschanel's Jess. And Schmidt encompasses all of the not-so-pleasant characteristics above. "I don't think they are light years away," Greenfield says over the phone when comparing the two roles. "I just think that the context is very different."
The Glass Castle, which is based on the memoir by Jeannette Walls, is set in 1989 New York City — versus New Girl's modern LA. The film follows Jeannette (Brie Larson) as she grapples with coming to terms with her unorthodox upbringing and her extremely unconventional family.
While time and place separate these two characters, David and Schmidt are both much more than the stereotypical, money-hungry douchebags they appear to be at first glance. In fact, there's a whole lot to be admired about both characters.
"One of the things we did with Schmidt was we took a character who easily could have been so very unlikeable and we really tried to find the ways to give him a heart... give him well meaning intentions," he says. "And that's what we did with David as well."
Because David isn't entirely unlikable, and at times, audiences may find themselves rooting for David's relationship with Jeanette. "It was a tough balance because we had to make you believe that Jeanette would be with this guy — but also at the same time you know that this isn't going to last."
As the fiance of Larson's character, David represents an alternative lifestyle for our protagonist. Growing up with parents who were squatters, Jeanette never knew where her next bed would be or where her next meal would come from. Her parents didn't put her or her siblings in school, but instead, taught them their own (sometimes outlandish) philosophies about life and living. When Jeanette meets David — a man who plays by the rules, has money, security, and style — it's an attractive alternative to the life she's known for most of her years.
"He's the one character not based on somebody in real life. He loosely represents a relationship Jeanette had at the time, but he also represents this alternative life that she was escaping into," Greenfield says.
It's an interesting turn to see Greenfield in a major motion picture. The last time audiences saw him on the big screen he was starring opposite Sally Field in Hello, My Name is Doris. (Save a bit part as a banker — again, so on brand — in The Big Short.) And while Greenfield would love to take on more roles in feature films, he still holds Schmidt near and dear to his heart.
"Jake and I will be doing Instagram videos as Nick and Schmidt well into the future," he assures. "Already discussed it."
Even Greenfield isn't quite sure what's coming down the pipe for his acting career — "I don't know! What do you think I should do?" he asks — but whatever it is, you can be sure that no matter what douche-y role he takes on next, the character will have a heart of gold underneath that perfectly pressed suit. Or, you know, a wad of cash and a witty one-liner.