There Are New Editions Of Harry Potter Coming Out & This Is Not A Drill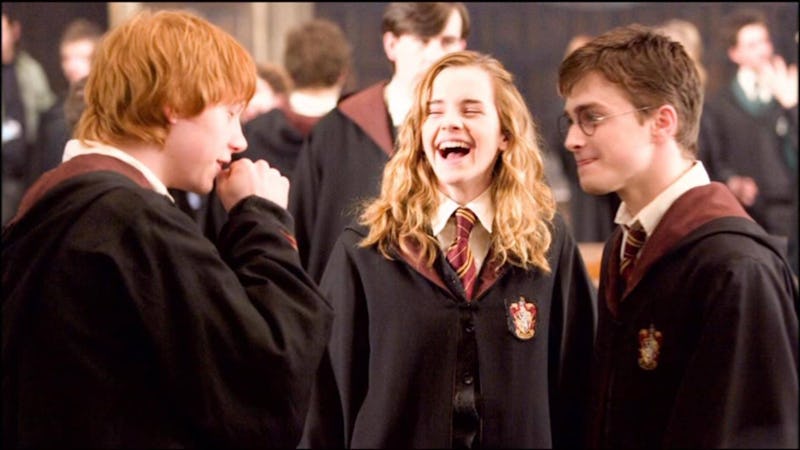 Warner Bros. Pictures
Hold on to your hats, witches, because this news just might blow you off your broomsticks: Scholastic is publishing new editions of the Harry Potter series, and Caldecott Medal-winning artist Brian Selznick is illustrating the covers. The special 20th anniversary paperback editions of J.K. Rowling's worldwide bestselling books will be published in July 2018, and as if that isn't enough good news, Scholastic is also releasing a collectible boxed set designed by Selznick in September. Has anyone rigged a Time-Turner to go to the future yet, because this Potterhead can't wait another moment to get her hands on the latest collectibles.
In honor of the 20th anniversary of the U.S. publication of Harry Potter and the Sorcerer's Stone, American publisher Scholastic is planning a year-long bookish celebration intended to commemorate the incredible impact of J.K. Rowling's beloved series and as well as introduce the author's magical wizarding world to a whole new generation of readers. All around the country, Potterheads new and old will have the opportunity to attend major celebration events at bookstores, libraries, schools, festivals, and more. In New York, the exhibition of Harry Potter: A History of Magic, will open in October at the New-York Historical Society. The acclaimed stage play Harry Potter and the Cursed Child will also be heading to New York where it will premiere on Broadway in April, and all across the nation, fans will be able so see the second installment of the Fantastic Beasts movie series when The Crimes of Grindelwald opens in November.
Events, movies, and plays aside, the very best part of Scholastic's 20th anniversary celebration is true to the fantastical series' original form: books. In the same vein as U.K. publisher Bloomsbury, who is celebrating the significant Harry Potter anniversary with special Hogwarts House themed versions of the series, Scholastic has decided to mark the momentous occasion by releasing new paperback editions of the Harry Potter series, and global bestselling artist Brian Selznick will be designing the covers. Best known for his New York Times bestsellers The Invention of Hugo Cabret, Wonderstruck, and The Marvels, Selznick has received a number of accolades over his illustrious career as a writer, creator, and artist, including the Caldecott Medal in 2008. A self-proclaimed Potterhead himself, Selznick expressed his elation over illustrating a series he loves so much. "I'm a big Harry Potter fan and it is an incredible honor to illustrate J.K. Rowling's iconic series," said illustrator Brian Selznick in a press release sent to Bustle by Scholastic. "I am thrilled to play a part in this exciting 20th anniversary celebration and look forward to meeting Harry Potter fans and readers across the country."
The Invention of Hugo Cabret by Brian Selznick, $16.85, Amazon / Wonderstruck by Brian Selznick, $19.04, Amazon
In addition to illustrating seven covers for the 20th anniversary paperback editions — which will be released in July, just in time for Harry's birthday — Selznick will also design a special box set for Scholastic that will be available in September. "Brian Selznick, with his unique and cinematic approach, is a visionary and the perfect artist to illustrate these new Harry Potter editions, for readers of all ages," Scholastic Trade President Ellie Berger said in the press release about the forthcoming books.
As if Potterhead's shelves weren't full enough already, Scholastic is giving fans even more reasons to make space for the ever-expanding Harry Potter library. In addition to the newly commissioned covers and boxed set from Selznick, the publisher will also be releasing additional Harry Potter tie-in books related to the new Fantastic Beasts movie and the exhibition at New York's Historical Society.
Time to start saving, Muggles, because the first set of these special edition books will be available in July, and trust me when I say, you're going to want them all.
Correction: A previous version of this article said the Harry Potter: A History of Magic exhibition opened in October 2017. It actually opens in October 2018 at the New-York Historical Society.