New 'Looney Tunes' Shorts Are Coming Soon & Saturday Mornings Just Got A Lot Better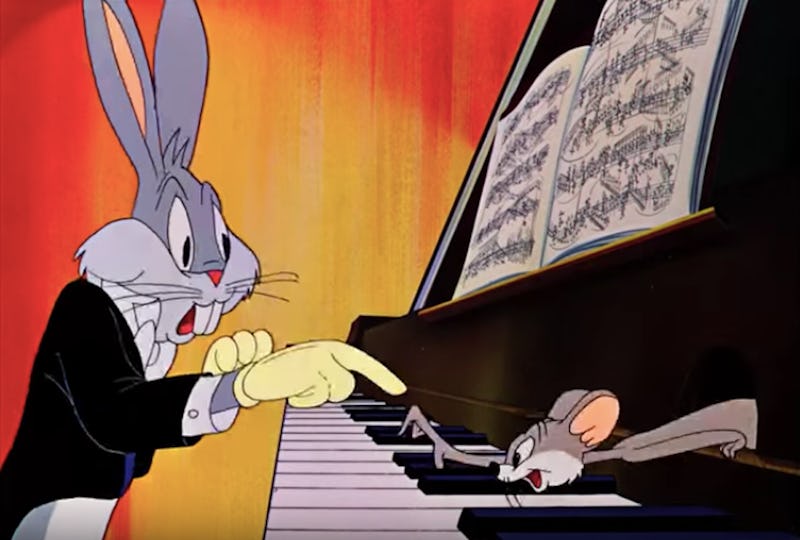 Warner Bros, WB Kids/YouTube
Is it duck hunting season, or rabbit hunting season? No matter where your allegiances lie, fans of beloved cartoon characters like Bugs Bunny and Daffy Duck are in for a treat. According to Deadline, new Looney Tunes shorts are coming in 2019, and not only will they feature veteran voice actors, but they'll also be getting revamped by some of the best artists in the business, too.
Warner Bros. Animation announced their plans for a new short-form Looney Tunes series on June 11. "The Looney Tunes are one of the most beloved group of animated characters in the world," said Sam Register, president of Warner Bros Animation and Warner Digital Series. "Looney Tunes Cartoons places these characters into the hands of some of the best artists in the business and into an animated shorts format that will remind many of the time when they first fell in love with Bugs, Daffy, Porky and the rest of the gang."
While additional specifics of the new series have yet to be released, Warner Brothers Animation did note that Eric Bauza, Jeff Bergman, and Bob Bergen are all on board. Bauza is known for voicing Marvin the Martian on The Looney Tunes Show from 2011 - 2014, Bergman has voiced Bugs Bunny on a variety of Looney Tunes projects over the years, and Bergen voiced Porky Pig in films, shows, and video games since the early 2000s (he even appeared in Space Jam).
The series plans to put together 1,000 minutes of animated shorts each "season," according to Deadline, with each short running between 1 - 6 minutes. It's not totally clear how fans will be able to access the new content, but its distribution will reportedly range across several platforms including digital, mobile, and broadcast.
Fans can likely expect the iconic cartoons to have the same heart and soul that they've grown-up loving, but it sounds like they'll be straying from the original look and over-all design format a bit. The studio revealed that they've recruited multiple artists to write and draw the new Looney Tunes series, and that each artist has been encouraged to allow their own style and personality shine through.
As per Encyclopedia Brittanica, the first Looney Tunes short film, Sinkin' in the Bathtub, popped up in 1930, and starred a young African American character named Bosko. Bosko was originally created in 1927, the Vintage News noted, in response to both the success of Walt Disney's Mickey Mouse cartoons, as well as the high demand for talking pictures ("talkies") at the time.
Bosko is also credited as the originator of the trademark Looney Tunes phrase, "That's all, folks," and starred in a total of 39 animated musical cartoons in the early 1930s. The character was eventually retired in 1933, though, primarily due to negative reactions about how African Americans were being portrayed through the character.
It's also worth noting that the early years of Looney Tunes, while reflective "of America's feelings during the Great Depression, World War II, and the early stages of the Civil Rights movement," as per Ranker, have long-been criticized for their repeated use of offensive racial stereotypes. They've seemingly made an effort to change with the times, though. Several offensive shorts from the series — known as the "Censored Eleven" — were removed from syndication and have not been shown since 1968, as reported by Vulture. And no doubt the new episodes will strive to steer clear of the ugly stereotypes of the past.
It'll undoubtedly be exciting to see how this new wave of artists are able to put a fresh spin on the long-beloved Looney Tunes characters. Will Wile E. Coyote ever catch the Road Runner? Will Porky Pig overcome his stutter? Will Elmer Fudd finally outsmart that "scwewy wabbit," Bugs Bunny? Eh, probably not, but who knows what they have in store. Either way, it sounds like this could be the beginning of a beauuuu-tiful friendship, as Bugs would say.