New Mexico Is Protecting Women's Access To Birth Control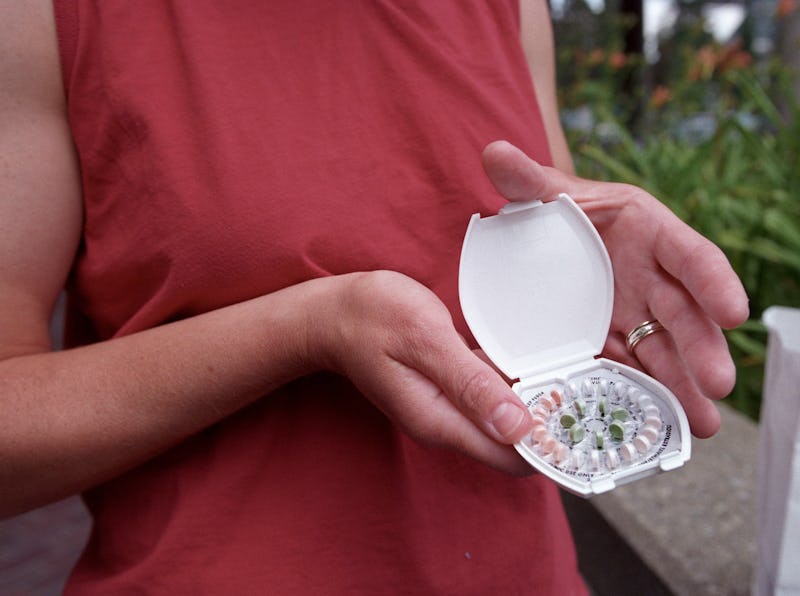 Tim Matsui/Getty Images News/Getty Images
As the fate of an Obama-era rule which requires employers to provide birth control coverage hangs in the balance, a few states are stepping up to safeguard women's access to contraception. New Mexico pharmacists can now prescribe birth control to patients directly, thanks to a law passed in April.
According to leaked documents from the White House published by Vox, President Donald Trump's administration may allow employers to claim religious or moral exemptions from providing birth control coverage in insurance plans for employees. The document is unverified, but it would work to roll back the birth control mandate created by former President Barack Obama as part of the Affordable Care Act.
However, women can't afford to wait around to see if the federal government will protect their access. So states are taking up the charge. The New Mexico Pharmacy Board adopted the pharmacist regulation in part because of the lack of primary care doctors, gynecologists, and obstetricians in the state, which officials have linked to higher pregnancy rates. Pharmacists will be able to prescribe hormonal birth control in the form of a pill, patch, or ring.
The Santa Fe New Mexican reported that out of 33 counties, two New Mexican counties had no primary care doctors, while 11 lacked gynecologists and obstetricians.
According to the Las Cruces Sun-News, New Mexico pharmacists will be eligible to participate in a nine-hour training session in order to prescribe contraception to patients. In order for pharmacists to prescribe birth control, they'll have to assess the patient's needs and take blood pressure, but won't perform other physical exams.
Patients will also need written consent from a parent or guardian if the recipient is underage, and the pharmacist will send the patient's information to their designated primary care physician. Because it isn't mandatory for pharmacists to participate, only time will tell how many will become certified.
New Mexico joins states like Nevada, Colorado, New York, Washington, and Massachusetts, which enforce Obamacare's birth control mandate on a state level by requiring insurance to provide birth control without a copay. Maryland, on the other hand, is fighting the defunding of Planned Parenthood by setting aside state money to reimburse Planned Parenthood for federal cuts.
The New Mexico new rule could be a more convenient way for women to get birth control prescriptions and then fill them simultaneously, as long as enough pharmacists participate. This is just one step that states can take to secure contraceptives for residents. Hopefully, more states will join in the effort to protect women's reproductive rights, especially with mounting threats from the current administration and restrictive abortion legislation circulating in various states.