New 'Opt-Out' Policy Could Put Books Like 'Night' At Risk Of Not Being Taught To Students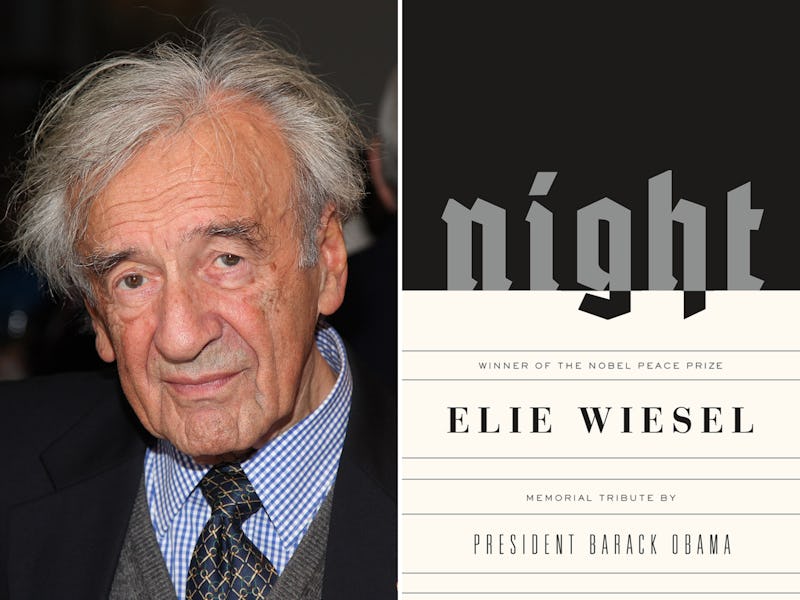 Taylor Hill/Getty Images Entertainment/Getty Images
For many American students, reading Nobel Prize winner Elie Wiesel's acclaimed Holocaust memoir in school is one of those academic experiences that is never forgotten, but now, a group of eighth grade students might not be able to take part in that educational tradition, according to the National Coalition Against Censorship. Conejo Valley Unified School District in California has a new "opt-out" policy that could put that book — and others — at risk of not being taught, according to the National Coalition Against Censorship.
UPDATE: In a statement to Bustle, a representative for Conejo Valley Unified School District says that the book has not been removed from the 8th grade core literature list, nor the 8th grade college prep or honor curriculum. They add that no discussion has taken place regarding the alleged removal of Night from the core literature list.
UPDATE: In a statement to Bustle, a representative for The National Coalition Against Censorship says, "The National Coalition Against Censorship received information from a local activist organization, as well as a Conejo Valley high school teacher, that, during an articulation meeting, representatives from a local middle school noted that so many families had opted their students out of reading Night by Elie Wiesel that the teacher was unable to teach the book to the rest of the class. However, the Conejo Valley School District later informed us that the book remains on the curriculum for its 8th grade honors English classes and has not been pulled from any classrooms. The district claims to have a record of only one "opt-out" for the book. Our source who attended the original meeting stands by her memory of the conversation and meeting minutes support that Night was discussed as raising concern with a growing number of families. We hope that all teachers who want to teach this remarkable book are able to do so and will continue to work with the community members in Conejo who are committed to supporting the First Amendment rights of students."
Like many other school districts, the Conejo Valley Unified School District (CVUSD) has long held a policy that allows parents to request alternate books for their children if they object to the class assignment. Last November, however, the CVUSD adopted a new policy of "red-flagging" books with "mature content," a practice that has been known to increase the likelihood of parental objections. Under the new guidelines, parents can also request different reading for their children without meeting with teachers and administrators about their decision to have their children opt-out. Despite heavy objection from the NCAC who feared the change may lead to increased censorship, CVUSD finalized the new policy last week. Before being flagged for its mature content as a result of the new policy, Night had never received a challenge from parents or educators at Los Cerritos Middle School. In the fall of 2017, after adopting the new CVUSD policy, it allegedly received 10 parental objections in a single class, according to information supplied to Bustle by The National Coalition Against Censorship. The Conejo Valley Unified School District disputes this claim.
The NCAC released a statement condemning the school district's "red-flag" policy. "Parents have a right to be informed about what their children read," said Svetlana Mintecheva, NCAC's Director of Programs, in the press release. "But red-flag policies stoke anxiety over isolated words or passages and invite parents to request alternative assignments, wreaking havoc on the curriculum. The losers are, as always, the students."
Night: A Memoir by Elie Wiesel, $13, Amazon
Released in the United States nearly 60 years ago, Night tells the horrific story of Wiesel's experience in Nazi Germany, where he and his family were sent to concentration camps and subjected to the atrocities of Auschwitz and Buchenwald. Classified as many things by different readers — a memoir, a novel, a fictional autobiography, a personal testimony — Night has been heralded as both a literary masterpiece and a crucial piece of history. Raw and powerful, it has become one of the most important pieces of Holocaust literature, and a vital learning tool in American education systems.
When it was published in the U.S. in 1960, Elie Wiesel's Holocaust memoir took three years to sell the first print run of 3,000 books. By 1997, Night was a popular book, especially in schools, that sold 300,000 copies every year. In 2006 after being selected by Oprah's Book Club, it sat comfortably in the #1 spot on The New York Times bestseller list for a year and a half. To date, it has sold over ten million copies and continues to be one of the most widely taught texts in the classroom.
This isn't the first time the CVUSD has been part of a controversy surrounding access to books. In 2017, Mike Dunn, President of CVUSD and one of NCAC's Top Offenders Against Free Speech, allegedly attempted to ban The Absolute True Diary of a Part-Time Indian, Sherman Alexie's award-winning novel about race, poverty, and identity. After two months of debate, however, the CVUSD voted to keep Alexie's book as a part of the curriculum.
NCAC and local community members are working hard to convince the school board to "reconsider its overly aggressive policies that will inevitably lead to an increasingly long list of missed educational opportunities for the district's students."
CORRECTION: A previous version of this article stated that the book has been removed from the Conejo Valley Unified School District's middle school curriculum. The book is still on the curriculum.