These New Pictures Of Carrie Fisher Are So Powerful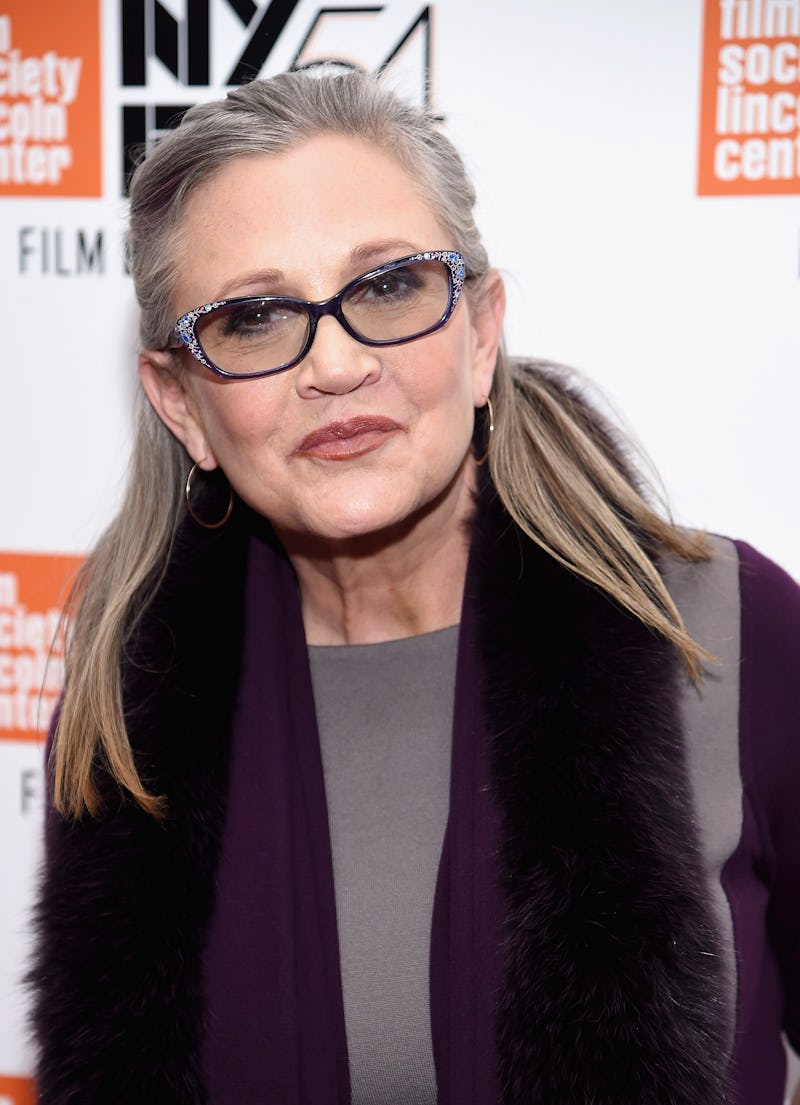 Dimitrios Kambouris/Getty Images Entertainment/Getty Images
When Carrie Fisher passed away in December 2016, it was an enormous loss. Fans, family, friends, and former co-stars gave the actor an outpouring of love, applauding not just her talent, but also her vibrant spirit. The star gave a few final performances that will be released posthumously — the first, the hilarious take on a pushy American mother in the British series Catastrophe, the second, a much anticipated return as General Leia Organa in Star Wars: The Last Jedi. To preview the film's release, the cast was photographed in their roles by the legendary Annie Leibovitz. While their are plenty of striking shots, the photos of Fisher with her co-stars will make you tear up. A couple of the snaps feel very personal as they are with cast members who also happen to be her friends and family.
The photos were taken for a Vanity Fair cover story intended to get fans excited for the next chapter of the Star Wars saga, but it ended up being a touching tribute to the late star, who was revered and beloved by fellow actors. In addition to their memorable stories, the spread features several photos of Fisher looking commanding in costume. Two snaps are particularly powerful; in one, Fisher poses with longtime friend and co-star Mark Hamill, in the other, she's with her daughter Billie Lourd. Hamill, who plays the Jedi Luke Skywalker and Fisher's on-screen twin brother, had been close with the late star since the original series filmed. Her daughter is newer to the franchise, and appears as Lieutenant Kaydel Connix in The Force Awakens and in the upcoming film.
In the Vanity Fair story, Hamill is unable to articulate how much Fisher meant to him as a friend and fellow artist. This photo says what he can not, a reflection of how these two stars' genuine care for each other. It is also an emotional throwback to press photos for the original George Lucas' movies, where the two were often seen enjoying each other's company.
If this photo doesn't yet have you on the verge of tears, the pictures of Fisher with her daughter are even more heartbreaking. Lourd is a rising actor who has also appeared in the show Scream Queens, and the chance to appear alongside her mother in a series so iconic was unique. Fisher was essential to the Star Wars series, and she passes this legacy on to Lourd by starring along with her.
For fans of Fisher and all her work as an actor, these photos are particularly devastating. Nobody in the cast could have known just how meaningful the shots would be, and they now represent a final chance to remember and appreciate Fisher. She was an amazing talent and an outspoken feminist icon, and these photos just further prove how deeply beloved she was by all.