Protest Poetry Collection Donates Proceeds To PP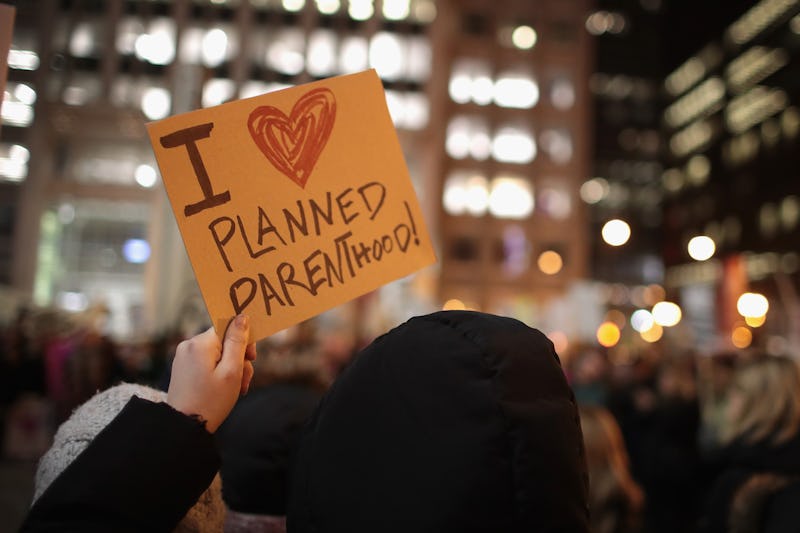 Scott Olson/Getty Images News/Getty Images
At a time when writers and poets are questioning the role of art in politics — while yet finding greater urgency behind the art they create — one new anthology seeks to reinforce poetry's role in the resistance. That anthology is Resist Much Obey Little: Inaugural Poems to the Resistance, published March 3 by Spuyten Duyvil; and, at a whopping 740 pages, this collection will keep you in protest poetry for awhile. If the first 50-some days of Trump's presidency are any indication, you're going to need it.
Resist Much Obey Little is an expansive collection of diverse voices — one that's inception speaks to the tension of today's political climate (and the imperative to resist it.) The idea for the collection sparked on the morning of November 9, 2016; mere hours after the results of the U.S. presidential election had been announced, and perhaps well before the reality of a Donald Trump presidency had really sunk in for most of us. Between November 9, 2016 and March 3, 2017, the team of editors behind Resist Much Obey Little turned that idea for a resistance poetry collection into a reality, assembling the writing of over 350 poets from around the world, finishing and publishing the collection in a whirlwind 115 days.
Resist Much Obey Little: Inaugural Poems to the Resistance published by Spuyten Duyvil, $30.00, Amazon
"There is good reason to believe that poetic practice, across the formal spectrum, may take on new dimensions of activist vision in the coming years," write Michael Boughn and Kent Johnson, editors at Dispatches Editions, an imprint of Resist Much Obey Little's publisher, Spuyten Duyvil, in the anthology's introduction.
"…world history shows, and in fairly recent times (not least in the nations to our south), that poetry, sometimes with surprising force and velocity, can have new and unsuspected impacts, especially in times of cultural upheaval," the editors go on to explain. "In Nicaragua, for instance, in the revolution against the Somoza dictatorship, it proved centripetal. In Chile, within the struggle against the Pinochet regime, avant-garde poetic shock actions had remarkable resonance. Plenty more examples are to hand."
The anthology takes its title from the poem "Walt Whitman's Caution", first published as one of the "Messenger Leaves" in the 1860 edition of Leaves of Grass and then later republished under the title "To The States." The poem, in addition to inspiring the title of Resist Much Obey Little, is also the epigraph for the collection.
"To The States, or any one of them, or any city of The States, Resist much, obey little; / Once unquestioning obedience, once fully enslaved; / Once fully enslaved, no nation, state, city, of this earth, ever afterward resumes its liberty." — "Walt Whitman's Caution"
It's a caution that Americans would do well to consider right now — in an age when putting the ideology of "party before country" has become a dangerous status quo. This was one of the things Whitman wrote against: that "unquestioning obedience" to any political movement or ideology, which would ultimately lead to the death of both individual and collective liberty. Another of Whitman's lesser-known poems, "Respondez!" concludes the anthology, in a burst of verbs and exclamation points.
RESPONDEZ! Respondez! / Let every one answer! let those who sleep be waked! / let none evade! / (How much longer must we go on with our affectations / and sneaking? / Let me bring this to a close — I pronounce openly for / a new distribution of roles;) / Let that which stood in front go behind! and let that / which was behind advance to the front and / speak. — "Respondez!"
"Whitman was one of the world's greatest poets of populist democracy, an idea that was still struggling to find a home in the middle of the 19th century," note Boughn and Johnson's introduction. "Like all historical beings, he suffered from biases of his time, but his commitment to democracy and to the common people who are its essential actors was passionate, visionary, and unshakable."
In addition to Whitman, poets featured in the lineup of 350-plus voices include: Rosa Alcalá, Barbara Barg, Brenda Cárdenas, Ching-In Chen, Ru Freeman, Anja Konig, Nathaniel Mackey, Eileen Myles, Margaret Randall, Eleni Stecopoulos, Anne Waldman, Tyrone Williams, and many, many more.
As an added component to the mission of the anthology — one that activist readers will love — Spuyten Duyvil plans to donate 50% of all net sales of Resist Much Obey Little to Planned Parenthood; a healthcare organization that has found itself under particular attack (as most of us well know) in the early days of a Trump presidency.
"This book announces — and this is immanent and key to its message and position," write Boughn and Johnson, "that though the new reality has stirred emotions of hopelessness, isolation, and fear, it has also given rise to deepening fellowship, stubborn hope, and fierce resistance."