How The Newest Senator Quietly Made History For Women This Week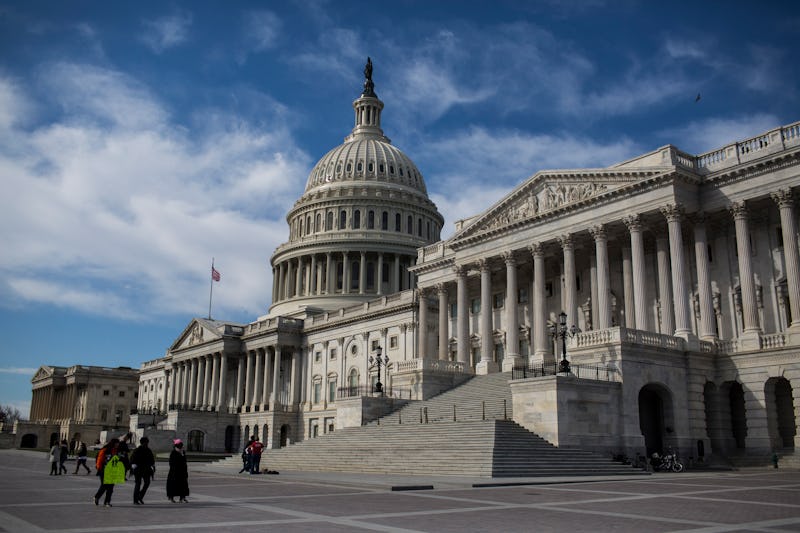 Zach Gibson/Getty Images News/Getty Images
The old and venerable institution that is the United States Senate has made great strides in terms of gender equality in recent years, but it's still got a long way to go — which is why it's necessary to recognize each little step that it makes. Now, with the swearing in of Mississippi Sen. Cindy Hyde-Smith, the Senate quietly made history. After Vice President Mike Pence swore Hyde-Smith in, the number of women serving in the Senate reached 23 — its highest total ever.
Hyde-Smith reached the Senate as an appointee of Mississippi Gov. Phil Bryant. She's filling in for former Sen. Thad Cochran, who recently announced his retirement due to heath concerns. There will be a special election in November to fill Sen. Cochran's seat until the end of his term in 2020, so Hyde-Smith will be serving at least until then.
In addition to being the 23rd woman in the current Senate, Hyde-Smith also made Mississippi history as the first female United States congressperson from the state. CNN reported that she'll likely run in the special election to remain in Cochran's seat, but she could be facing an uphill battle in that particular race against two other candidates, a Democrat and a Republican.
Hyde-Smith is a vocal Trump supporter, and the White House even considered her as a potential secretary of agriculture. However, she wasn't chosen for the job, because she was once a member of the Democratic party. The Hill reported that the White House apparently told Hyde-Smith that Trump would not endorse her in her potential run for Sen. Cochran's seat in November, because of that Democratic history.
Although she reportedly joined the GOP only in 2010, according to Hyde-Smith's Twitter profile, she is a "lifelong conservative shown by her strong voting record as a State Senator and her leadership as MS Commissioner of Agriculture [and] Commerce since 2012." Her tweets also portray her as a notably conservative voice.
"Even though this campaign is just beginning, I'm overwhelmed by all the Mississippians who've reached out the past 2 weeks—I'm honored to stand up for our conservative values in the US Senate," Hyde-Smith wrote last week.
Hyde-Smith comes to the Senate with over a decade of political experience in Mississippi's state senate and as the state's commissioner of agriculture and commerce. The upcoming midterms present a particular challenge for Republicans, though, as they're attempting to defend a majority of only 51-49 — and Mississippi GOP leaders believe that Hyde-Smith's conservative values today might not erase her history as a Democrat in the minds of the state's conservative voters. Both of Hyde-Smith's opponents in the November special election are men, but the high number of women in the Senate could be maintained if women prevailed in other elections across the country.
This is a big week for women's history in the Senate even besides Hyde-Smith's swearing in. Illinois Democratic Sen. Tammy Duckworth became the first serving Senator to give birth, and only the 10th congressperson overall. Just under a month ago, Ohio Rep. Marcy Kaptur became the longest-serving woman in Congressional history. And in the 2018 midterms, more women will be running for office than ever before. Of course there's no telling yet what the results will be, but Hyde-Smith's appointment could be just the beginning. Even if she does not end up holding onto her seat, there are numerous other seats that could end up in the hands of women from either party. Hyde-Smith is now the sixth female, Republican senator, but that number also has the potential to go up. She now has several months to prove herself to her voters, so perhaps her conservative credentials now will indeed allow them to forget about her past.