Washington Law Will Notify Survivors When Abuser Tries To Buy Gun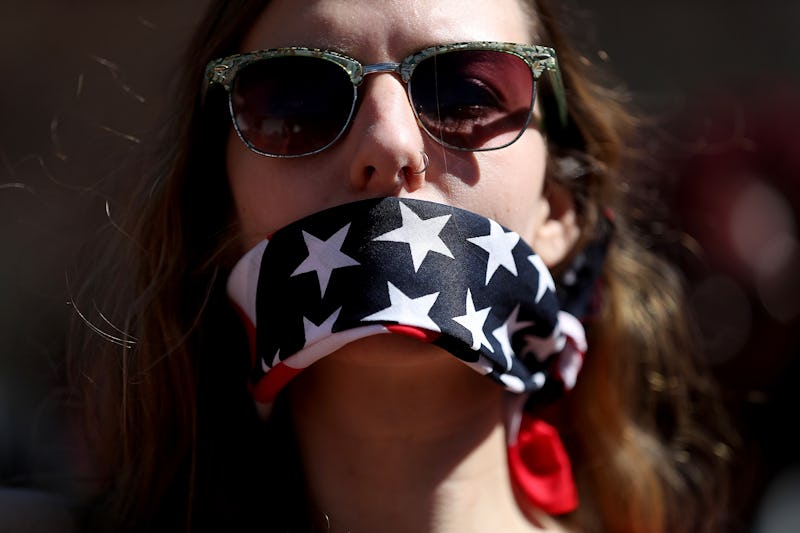 Justin Sullivan/Getty Images News/Getty Images
On Sunday, Washington will become the first state to enact a gun law that will alert domestic violence survivors if their abuser tries to buy a gun. This landmark piece of legislation could save the lives of countless women by making the safety and security of abuse victims a priority.
"Survivors of domestic violence and coercive control are the experts on their situation, and experts on the abuser's behavior," Natalie Dolci, a victim advocate with the Seattle Police Department's Victim Support Team, told The Trace, a nonprofit news org dedicated to coverage of America's gun epidemic. "If they learn that the abuser is attempting to access firearms illegally, they will know the significance of that red flag, and be able to plan accordingly."
It is currently illegal for anyone who has been convicted of misdemeanor domestic violence, or is under a protective order for domestic abuse, to purchase or possess a firearm. However, many in this category still attempt to purchase firearms nationwide in a practice that has come to be called "lie and try." These attempts often go unpunished and are not investigated.
The new bill will provide a grant that will require gun dealers to alert authorities within five days of a "lie and try" attempt. It will also fund a statewide notification system that will alert domestic violence survivors when their abuser attempts to buy a firearm but fails the background check.
The law will apply to survivors whose attackers were convicted in court or have obtained a court-ordered restraining order. Research has proven that this demographic in particular faces significant risk of being threatened by gun violence. One recent study in the American Journal of Public Health found that survivors of domestic abuse are five times more likely to be killed if their abuser has access to a firearm. Another study found that simply living in a state with high gun ownership increases a woman's chances of being killed by a firearm in a domestic violence incident.
While the new law's notification process will let women know when they may have cause for alarm based on an abuser's attempted firearm purchase, the benefits don't stop there, according to Think Progress. This process will also allow greater collaboration between police and survivors.
Under the new law, police will refer women to local domestic violence programs and help create personalized safety plans when informing women of the failed background check. The bill, which was signed into law by Washington governor Jay Inslee in May, will take effect on July 23.