These "New White House Job Requirements" Tweets Will Make You Laugh At The State Of Politics (For Once)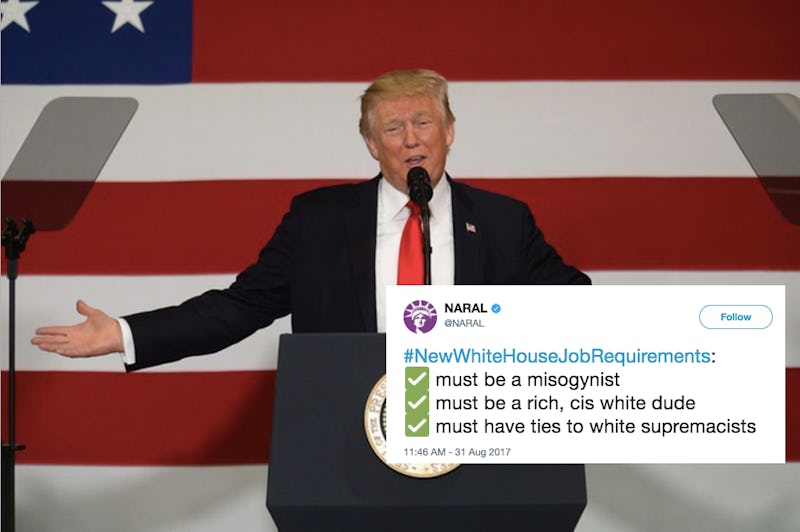 Michael B. Thomas/Getty Images News/Getty Images
What does it take to get hired at the White House nowadays? Social media users began pondering the specific qualifications and requirements one would need to land a job in the Trump administration on Thursday under the Twitter hashtag "New White House Job Requirements."
Will education, a breadth of experience, or a specific set of skills set you apart from other applicants? Or is finding employment at the White House more a matter of who you know and what you're willing to do and/or put up with? That's the basic question behind #NewWhiteHouseJobRequirements, the cheeky new hashtag that began trending Thursday on Twitter.
For most, the hashtag served as a way to not-so-subtly criticize Trump's White House. "#NewWhiteHouseJobRequirements: Must be a misogynist, must be a rich, cis white dude, must have ties to white supremacists," NARAL Pro-Choice America tweeted.
"Must be able to tackle a phone or nuclear football away from a 71yr old narcissistic maniac if needed," a Twitter user going by the name "Alt Fed Employee" tweeted.
For others, however, the hashtag was a way to poke fun at what seemed to be fairly common requirements for anyone working for President Trump in the White House. "Understand that this is a short term temporary position that will not lead to a full time job," Twitter user Eryn McCabe tweeted. Another user Steve Redmond wrote, "Experienced doormat willing to be humiliated at a moment's notice. Lack of humility and empathy a must."
According to multiple media reports, there are a number of high-ranking positions in administration still waiting to be filled in cabinet or cabinet-level agencies. As of late July, Trump had announced candidates for just 38 percent of those positions, The New York Times has reported. In contrast, Obama had reportedly filled 78 percent of those positions over the same period of time. "Trump has been exceptionally slow in nominating people to serve in leadership positions below the secretary level," the Times noted.
Critics have also observed that the string of departures from the White House suggest an internal instability. Most recently, Reince Priebus, Steve Bannon, Sean Spicer, Anthony Scaramucci, and Seb Gorka have left their roles in the White House — all either reportedly pushed out or, in Spicer's case, resigned after a disagreement with the president, according to the Times.
The tweets on Thursday were relentless. Regarding special skills required for a White House job, Twitter users had more than a few ideas about which talents might be in high demand "[Must have] experience with handling toddlers," Twitter user MikealaSunshine tweeted. "Must be able to shout 'fake news' when asked a difficult question," Twitter user Nolene Dougan quipped.
Others poked fun at White House surrogates' seeming inability to give a straight answer, remarked on the ongoing Russia-Trump investigation, as well as imagined what Trump's conditions of employment might entail. "Must sign a covfefe confidentiality agreement," Twitter user Shea Browning tweeted, referencing the president's infamous typo that became comedic fodder for weeks.
In all seriousness, applicants who are interested in applying to a non-career position within the Trump administration can reportedly apply with the White House via this online application.