A New Wisconsin Law Even Lets Toddlers Use Guns To Hunt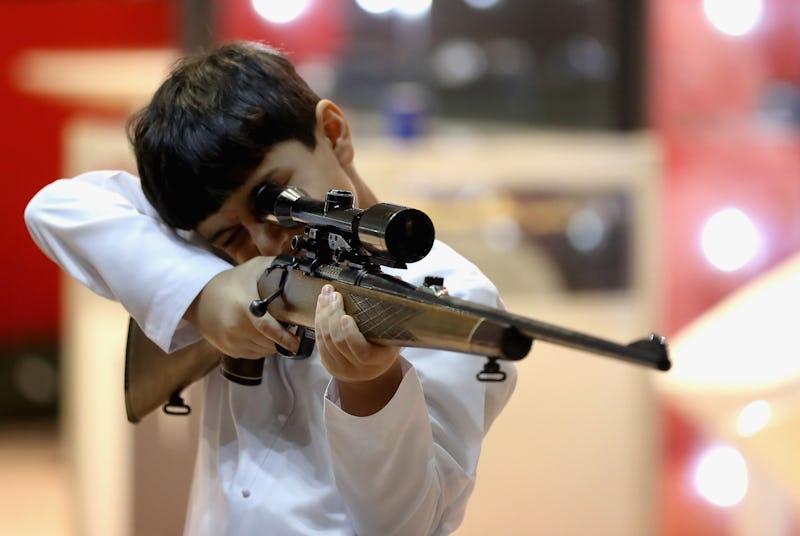 Francois Nel/Getty Images Sport/Getty Images
As of Saturday, a recently-enacted law in Wisconsin allows all children to hunt with guns as long as an adult is present, regardless of a child's age. The law's primary stipulation is that the adult has to be within arm's length of the child while hunting, though both the adult and child can have their own weapons. The new law is controversial, as some believe it poses a safety threat, while others note that it allows parents to determine what is best for their child, rather than the government.
Republican Governor Scott Walker signed the hunting bill into law on Saturday. Previously, in Wisconsin, children aged 10 and older could hunt if they were accompanied by an adult mentor who had undergone a hunter safety course or who had military training within a stipulated number of years. Now, the new law allows children of any age to participate in a "mentored hunt" and also allows the mentor and child to have more than one weapon between them — a new provision. Previously, the mentor and child could only collectively have one weapon. Notably, existing state law also allows children 14-years-old and beyond to hunt on their own.
The new law, which the National Rifle Association endorsed as a bill, makes Wisconsin the 35th state to have no minimum hunting age, though specific restrictions regarding child hunters vary from state-to-state.
Wisconsin's new law is not without controversy. As USA Today reported, some people are particularly uneasy about the provision that allows mentor and mentee to have individual guns. Ray Anderson, a hunting safety instructor in the state who testified against the bill before it became a law, spoke to these concerns, noting that he was only speaking on his own behalf:
How can your full attention be on the child [if you have your own gun]? It can't ... That's how accidents happen.
Others also took issue with the fact that the law permits someone so young to be in possession of a firearm — and worried what would happen if thorough adult supervision was not always in place. According to Chicago's WGN News , Jeri Bonavia, the executive director of the Wisconsin Anti-Violence Effort, an anti-gun violence organization that opposed the bill before it became law, feared the consequences of allowing young children to hunt:
Giving a firearm to a child when they can't understand the consequences is just incredibly foolish ... I honestly don't think there are a lot of Wisconsin moms and dads really pushing for this or desiring this, so I don't know if it will be a very common practice. I certainly hope not.
However, those that support the new law say that it allows parents, not the state, to have agency in deciding when their children are old enough to go hunting. State Representative Joel Kleefisch, a Republican and the chairman of the Assembly Committee on Natural Resources and Sporting Heritage, echoed these sentiments when speaking in support of the legislation. "This bill will allow responsible hunters to get kids off the couch and off the electronics and into the woods," Kleefisch said. "There's nothing more exciting than seeing the look on someone's face when they harvest their first animal."
As reported by the Washington Post, Jeff Schinkten, the President of Whitetails Unlimited, an organization dedicated to the preservation of the deer hunting tradition, took a slightly more moderate stance, noting that he understood people's concerns about young children going on mentored hunts. "[The law change] will put some extra people in the woods and hopefully the people mentoring them will do their job and stay safe. I get it," Schinkten told The Post. "It scares people that an 8-year-old or a 9-year-old has a high-powered rifle in his hands. But it's been done in other states." Schinkten noted that he planned to buy his 9-year-old grandson a mentored hunting license now that the law has been enacted.
The new hunting age law comes into effect a little less than a week before the beginning of Wisconsin's deer hunting season on Saturday. According to WGN, George Meyer, executive director of the Wisconsin Wildlife Federation, noted it's unlikely the new law will have significant effects on the number of people hunting, as many people already made their hunting season plans prior to its passage. However, time will tell whether or not the law has substantial implications on gun violence.