New Year's Eve Cocktail Ideas To Ring In 2017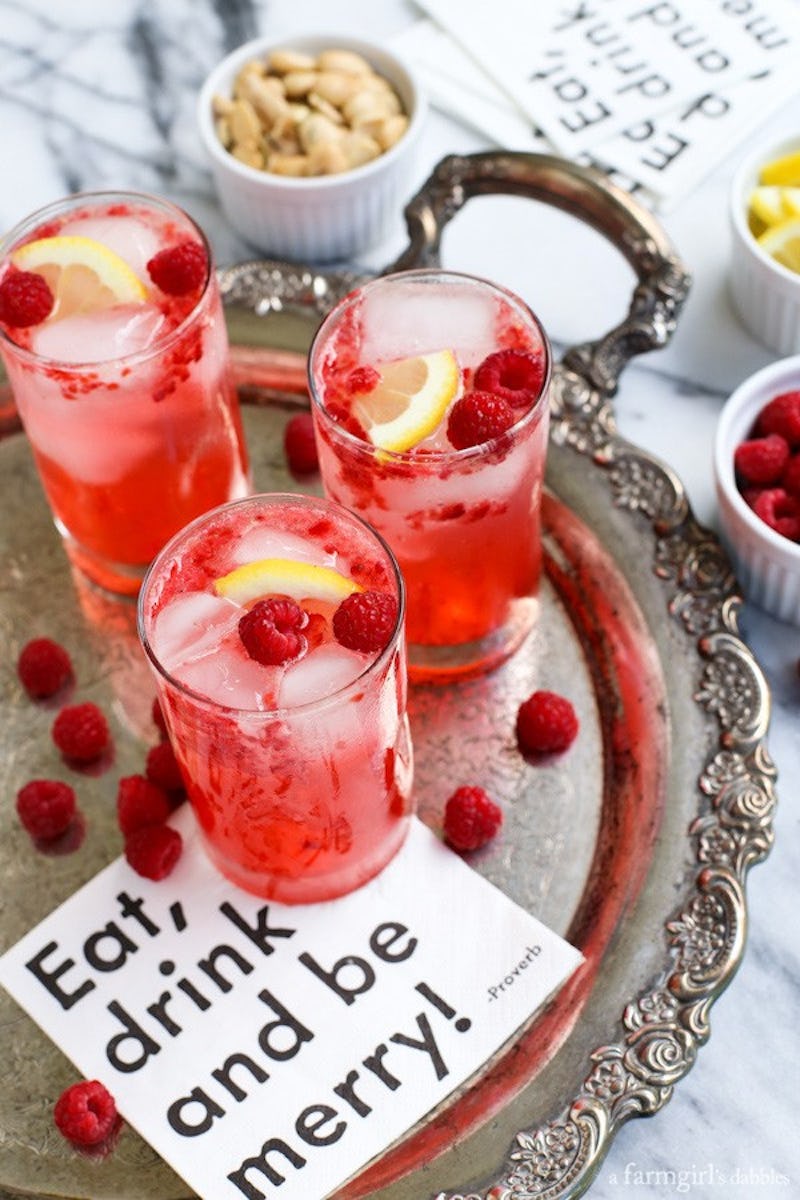 A lot of things go into making a party great, from the guest list to the decorations. These 24 New Year's Eve cocktail ideas will help you nail down a signature drink for your holiday party — because when it comes to perfecting a festive evening, booze goes a long way. Seriously, what's the first thing everybody asks for when they show up at a house party? A drink.
From blood orange punches and red wine hot chocolates to bourbon sidecars and whiskey lemonades, these 24 cocktails cover all sorts of ground, so much so that you might want to pick out more than one to serve at your New Year's Eve gathering. Even if you're not planning on hosting an enormous party, why not whip up something special for yourself and your loved ones this December 31st?
The recipes for these tasty beverages are simple, and their flavors will send you smiling to the moon and back. New Year's only comes around every 365 days, so make the most of it. And don't worry about the hangovers, because there's nothing a cart of steaming hot dim sum can't fix, am I right? Make some reservations and then get to brewing. Happy 2017!
1. Blood Orange Negroni Sbagliato Punch
Put the Prosecco to good use this New Year's Eve by combining it with fresh blood oranges in this Blood Orange Negroni Sbagliato Punch recipe by A Better Happier St. Sebastian.
2. Pear and Ginger-Sage Cocktail
Sage, peach nectar, and fresh ginger... sounds heavenly, right? Get the recipe for this Pear and Ginger-Sage Cocktail from A Cozy Kitchen.
3. Easy Sparkling Cranberry Orange Cocktails
A little white cranberry juice and dry white wine can go a long way, as this Easy Sparkling Cranberry Orange Cocktail by Cooking for Keeps proves.
4. Raspberry Smash
This Raspberry Smash recipe by A Farmgirl's Dabbles is just as refreshing as it looks and sounds.
5. Brooklyn Gin Mule
The Crepes of Wrath's Brooklyn Gin Mule only calls for four ingredients. Simple and delicious.
6. Red Wine Hot Chocolate
Skip the hard liquor this New Year's Eve with this Red Wine Hot Chocolate recipe by Wholefully.
7. Drunken Monkey Cocktail
Any drink that's named Drunken Monkey Cocktail is bound to be the perfect NYE menu addition. Find the recipe at A Spice Perspective.
8. Rhubarb Ginger-Berry Bourbon Cooler
Made with rhubarb, fresh mint, and blackberry, Climbing Grier Mountain's Rhubarb Ginger-Berry Bourbon Cooler is an eclectic mix of lively flavors.
9. Jalapeno-Cucumber Margaritas
Get a little spicy this year with this Jalapeno-Cucumber Margaritas by The Brewer and The Baker.
10. Bourbon Sidecar with Lemon Bitters
Sidecars are classic, and this Bourbon Sidecar with Lemon Bitters recipe by Food and Style recommends swapping the traditional bourbon for Cognac to mix things up.
11. The Green Belt
Any kale fans out there? Then this is your drink. Get The Green Belt recipe from Endless Simmer.
12. Spicy Ginger Rum Cocktail
Fresh ginger, dark brown sugar, and dark spiced rum? Um, yes please. Make sure you try this Spicy Ginger Rum Cocktail by Food Fanatic.
13. Spicy Sweet Infused Vodka Cocktail
This Spicy Sweet Infused Vodka Cocktail by Food Nasty is perfected by its Chili Salt Rim.
14. Whiskey Lemonade Recipe with Honey Simple Syrup
Who doesn't like lemonade? Add in a touch of whiskey, and you're set for the night. Foodie Crush's Whiskey Lemonade Recipe with Honey Simple Syrup is a must.
15. Mango-Raspberry Sangria
Good Life Eat's Mango-Raspberry Sangria calls for sparkling raspberry juice for a little bubble and agave nectar for a little sweetness.
16. 3 Ingredient Espresso Martinis
Want a three ingredient drink that will also give you a kick of energy? Then How Sweet It Is's 3 Ingredient Espresso Martinis are the way to go.
17. Tart Cherry Old Fashioned
Keep your guests puckering their lips all night long with this Tart Cherry Old Fashioned by Jelly Toast.
18. Peach Sorbet Mojito Float
Get fancy with a Peach Sorbet Mojito Float by Kitchen Confidante. Peach sorbet, mint leaves, lime wedges, and peach slices keep this drink tasting fresh.
19. Maple Bacon Hot Buttered Bourbon
Maple Bacon Hot Buttered Bourbon is a real thing. Thank you, thank you, thank you, Lick My Spoon.
20. Jello Shots
Jello Shots? Why not? It's New Year's Eve, after all. Recipe from Love U Madly.
21. Sparkling Cranberry Pineapple Punch
Fresh cranberries perfectly top off this Sparkling Cranberry Pineapple Punch by Natasha's Kitchen.
22. Alpine Mud
Offbeat + Inspired's Alpine Mud is a milky, chocolatey, minty, sage-filled bourbon delight.
23. Apple Butter Spiced Rum
This Hot Apple Butter Spiced Rum by Radical Possibility sounds like a drink that they would drink in Hogsmeade.
24. Santa's Nightcap
Santa might be done for this year, but that doesn't mean you can't enjoy his nightcap. Check out Half Baked Harvest's Santa's Nightcap recipe.